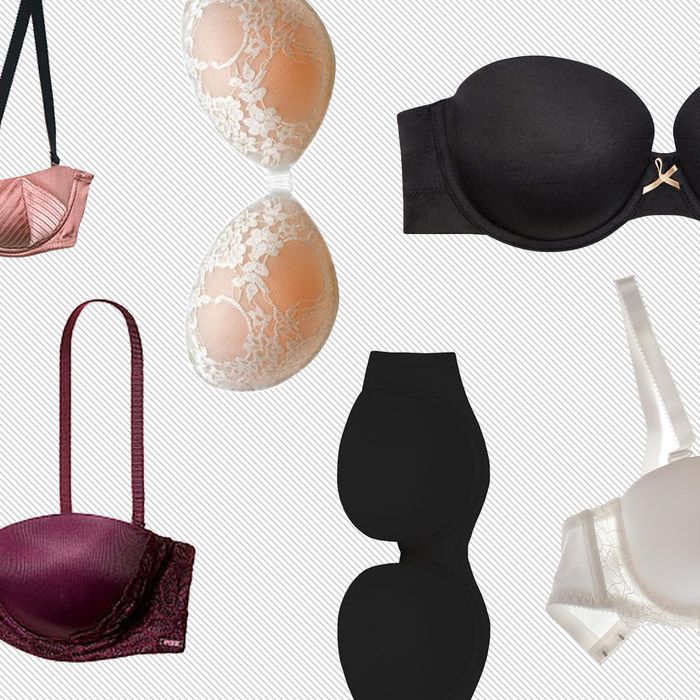 Having big boobs can be a wonderful thing. You have actual cleavage. You feel feminine. You can balance your cereal bowl on them when you're watching TV. But any woman with a cup size knows that there are specific challenges when it comes to taking care of your breast friends. I'm a 36D (on the days when I'm not a 36DD) and one of my biggest pet peeves is trying to wear off-the-shoulder tops and backless dresses. All of my bras have wide straps that are pretty unsightly paired with a cold-shoulder sundress. Enter: the strapless bra.
But I've tried many a strapless bra, and none have kept everything in the correct place. And what about women who were blessed with even more than I? You put on a strapless bra and it's around your waist in two seconds. Or you bend over and it gaps at the edges. Or you overflow out of the top. Or, worst of all, it's way too tight and results in the dreaded uniboob. I'm tired of the lack of options, so I set out with a goal in mind: to find the ultimate strapless bra for busty women.
I tried on 15 strapless bras in different sizes to see if a holy savior exists. When I tried each one, I did a few tests. I saw how it looked under a tank top, I jumped in place, I raised my arms, I danced around, doing everything short of the Macarena. I'm not proposing that you'll jump in place on a daily basis, but I wanted to cover all of my bases to truly determine which bra will keep a curvy girl satisfied. Now that I've done the dirty work, you can reap the benefits with me. Scroll down to see my top-five choices and find out which pick is the ultimate strapless bra for D cups and above.
5. The Prettiest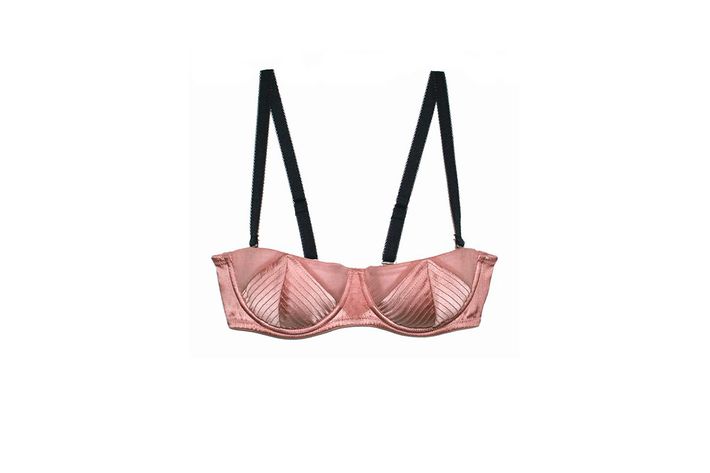 So often, strapless bras are nude and boring because they're not worn with the intention of being seen. So of course I tried the Fleur du Mal on first, because pink satin. The intricate stitching design made me feel a certain kind of luxuriousness that only pretty lingerie can. While a 36D fit when I was standing perfectly still, the second I moved … it didn't fit anymore. The low cups don't quite cover enough to possibly be functional, and there's only two clasps in the back — a problem for women my size and up. But I could easily see myself wearing this with the straps on. We all need a splurge bra that makes us feel like Dita Von Teese.
Satin convertible bra, $128 from Fleur du Mal
4. The Softest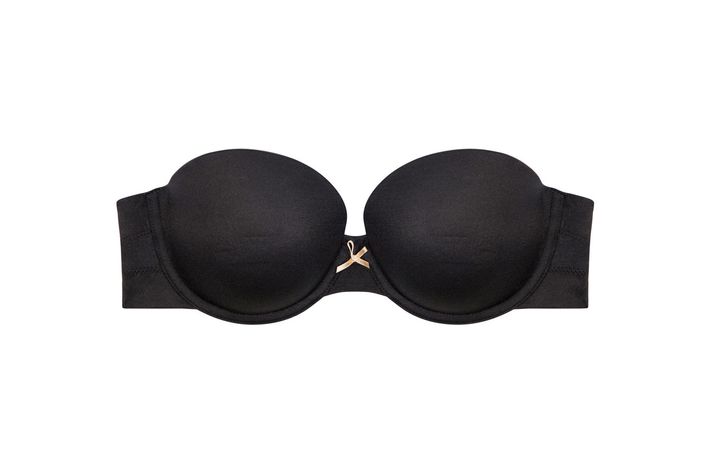 Heidi Klum Intimates has the softest strapless bra I've ever tried. The zigzag grip on the inside ensures that it's not going anywhere, and the cups are true to size. The 36D fit me perfectly, though it could have used more padding — it's very thin. I get the appeal, because summertime is hot and sweaty and this allows for a bit more ventilation. But it didn't quite defy as much gravity as I would have liked, and the smooth coverage I look for in a bra wasn't there, even when I put a shirt over it. Would I wear this bra with straps under a sweater come winter months? Absolutely.
Strapless T-shirt bra, $44 from Heidi by Heidi Klum Intimates
3. The One I Didn't Want to Take Off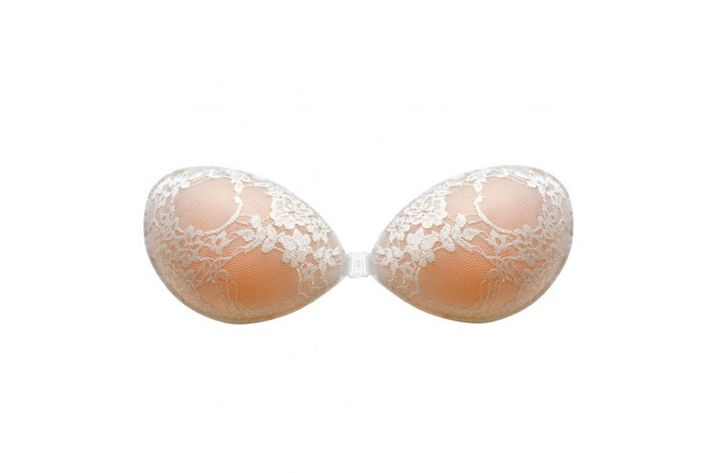 We're very lucky to be living in a time when we can literally stick silicone to the nipple and go bra-free, assuming you're comfortable with that sort of thing. I tried Nudwear's adhesive cups in size D, and they fit very well. The further apart I applied the cups, the more cleavage and lift I saw. It's all the functionality of a push-up bra, without the straps. I loved the way they felt — soft and natural — and the adhesive was so strong that they didn't budge during my testing exercises. However, I didn't like the way I looked wearing only the cups. It was kind of foreign and I didn't feel sexy.
Sophia, $48 from Nudwear
2. The Sleekest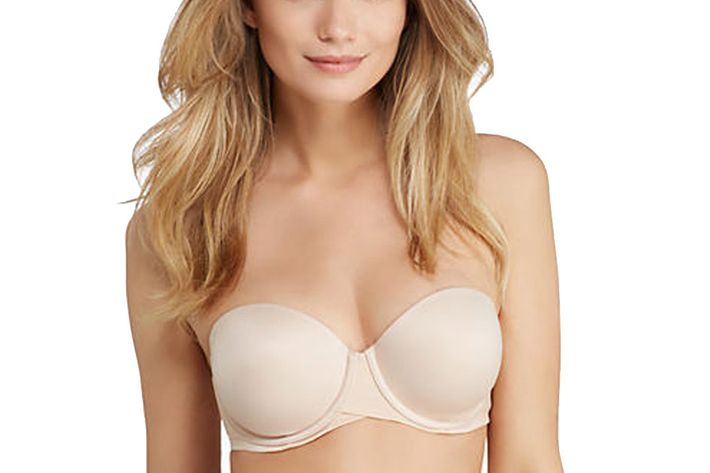 Spanx is known for their ultra-flattering shapewear, so it's no surprise that they have a strapless bra that's just as flattering on a D-cup girl. The cups run true to size, there are three clasps in the back, and the overall construction is smooth and sleek. Flirty and sexy aren't words usually used to describe colorless strapless bras, but this one is as attractive as it is functional. It's lightly padded for enhanced cleavage, and there's a cute wrap detail on the front. The cups near the top are too thin for my taste, showing through the tank top I tried on. But overall, this is a bra I'd want in both colors.
Pillow Cup Signature strapless bra, $68 from Spanx
1. The Ultimate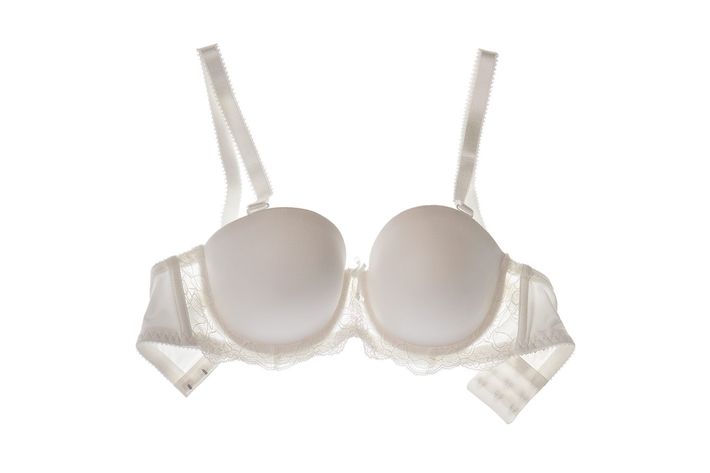 A drum roll is in order for the strapless bra that made me feel some kind of wonderful: the Elissa from Parfait by Affinitas. When I put it on, I think I experienced what brides do when they find the perfect dress. "Wow," I breathed, thankful that no one could hear me. At a 36D, this bra fit like a glove. It stayed put when I put it through my rigorous test. It's soft without being lax, and it's sturdy without being constricting. Appliques on the front of my bra aren't really my style, but the tiny crystal bow was adorable. This bra has lace panels on the side, but is smooth on the front, and looks great under any top or dress. The construction, the look, and the feel of this bra all contribute to my newfound love.
Elissa, $56 from Parfait by Affinitas