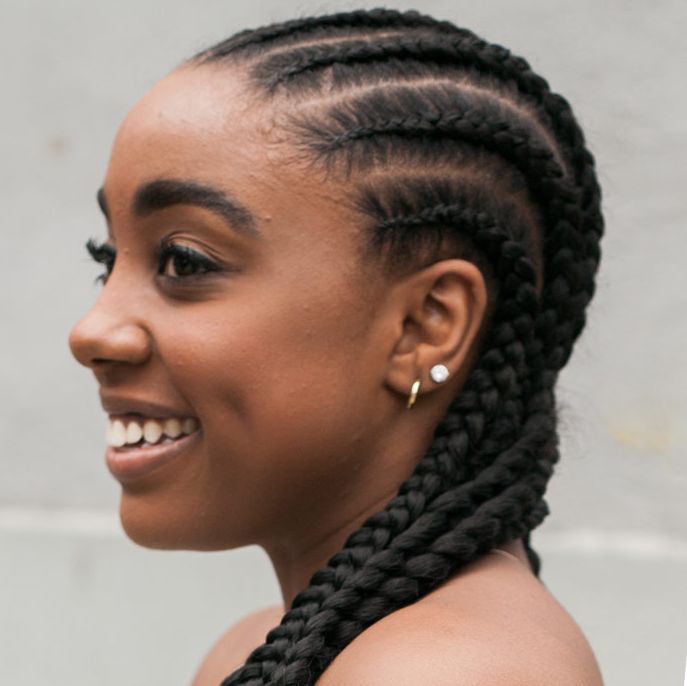 Seeing Beyoncé live in concert on her Formation Tour is one of the most important things a woman can ever experience. As the Cut's market and beauty editors, respectively, we get invited to a lot of fashion and beauty events, but nothing compares to Bey. Though we don't consider ourselves official members of the Beyhive, we do knew every word to every song, and we hoped that if we attended the concert, somehow she would impregnate us with her powers.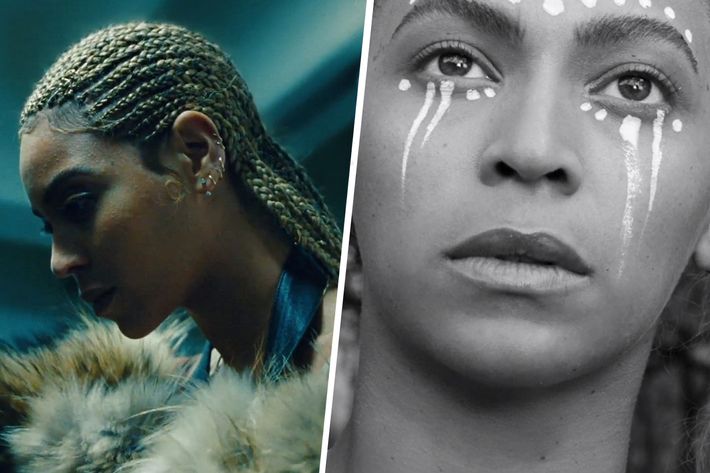 HAIR
Lindsay: My favorite image from Lemonade is when Beyoncé is singing 'Don't Hurt Yourself' in a full Yeezy look, draped fur and cornrow braids. It's part black-girl magic, part ghetto-fabulous chic, and all attitude, which is basically the aesthetic I'm trying to achieve in life.

Though I've had cornrows before, I wanted these to be smaller and not so chunky. Hairstylist Cynthia Alvarez recommended that we use a softer braiding hair, like Janet Collection Hair, to create sleek cornrows. She started by wetting the hair gently and blow-drying each section so the braids would lie flat and be able to last a few weeks. If you want to try to do the style yourself and don't know how, cornrows are very similar to french braids, but in reverse — instead of going outside in with the hair, go inside out.

With each braid she used a styling gel so that the braiding hair would adhere more easily to my hair, and then she oiled my scalp with Jane Carter Nourishing Shine to finish it off.
Ashley: I had a blowout a few days before the concert, but I needed a quick refresh. Using a flat iron, Cynthia twisted the tool back and forth around my strands to bring about beachy waves. To set the style and render it virtually sweat-proof, she misted Redken's Control Addict Hair Spray along the lengths of my hair. "You look sexy," Cynthia told me. I agreed.
MAKEUP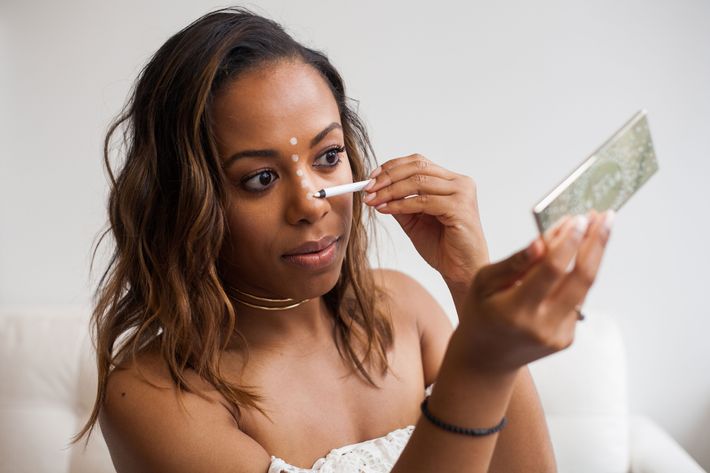 Ashley: Lemonade is a fantastic juggernaut of an album, and one of the more striking visual aspects can be found in several scenes where Beyoncé bathes her face in paint inspired by a Yoruba ritual. White dots and geometric lines cover the arch above her brows and the lengths of her cheeks.

Looking to these images as launchpad of my concert-day makeup, I plucked Ben Nye's Creme Color Pot in white from the beauty closet. I used an eyeliner brush to make small circles on the bridge of my nose. Then I layered Make Up For Ever's Aqua XL Eyeliner over the dots to ensure the longevity of the pigment, and guess what? It worked!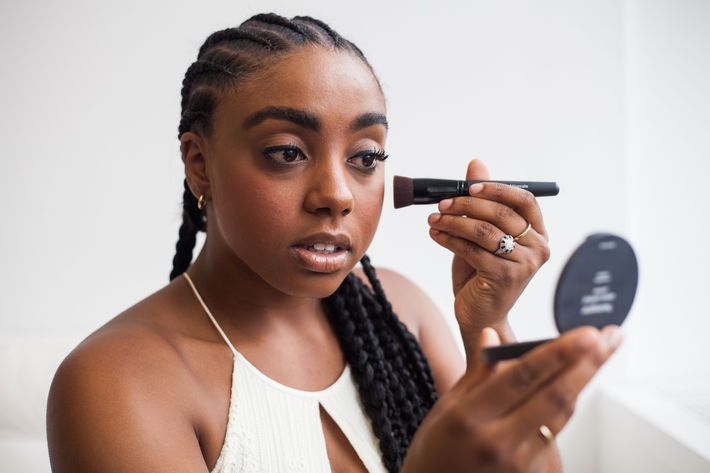 Lindsay: Every time I see Beyoncé, I wonder, "How does she have such a perfect glow?" There's definitely something in her DNA that isn't in mine, but I tried to use various highlighters and illuminators to be closer to her.

I started with my usual routine of Nars Velvet Skin Tint, Make Up For Ever-Matte Eyeliner, and Bobbi Brown Mascara and then went to town on making my face look illuminated. I did a couple layers of Black Up's Pressed Powder Blush and Black Up's Sublime Powder for a radiance boost and finished with Neutrogena Shine Control Powder.
CLOTHES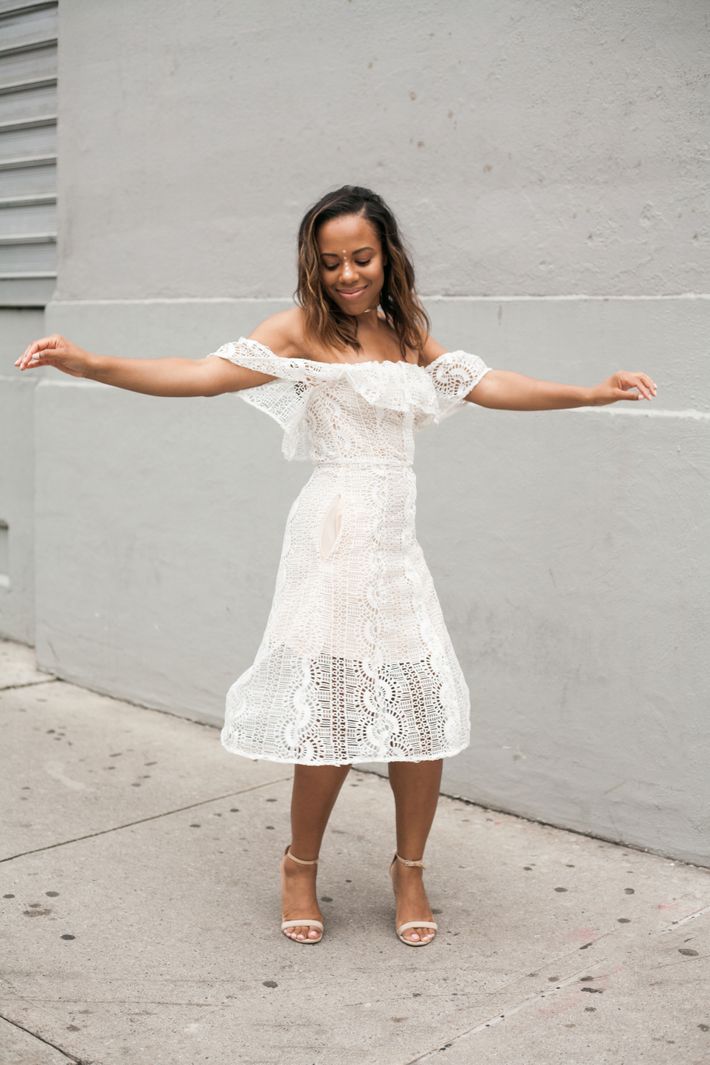 Ashley: What do you wear to see Beyoncé? A cult uniform, of course. I'd like to call my particular look "Bayou Bey." The lace overlay was not only pretty, but it lent a delicate blanket of fabric over my skin. What's more, this comfortable strapless Line + Dot dress from Revolve is anchored by an A-line hem that allotted plenty of pop-locking-and-dropping latitude.

The one drawback was the strapless neckline, which made lifting my hands as the spirit of Beyoncé washed over me a Herculean effort. Midway though the show I escaped from my cotton prison and released my arms from the dress's straps. Crisis averted. To complete the look, Lindsay suggested I add two Jennifer Fisher chokers that I'm now obsessed with.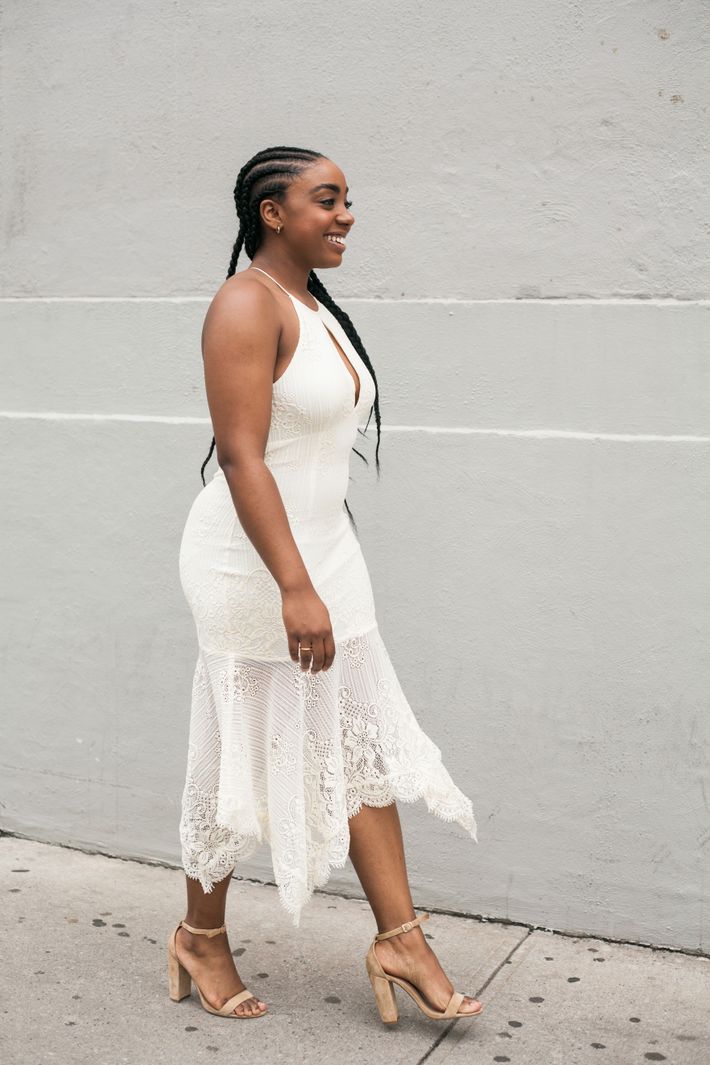 Lindsay: WWBD? Wear a traditional lace dress with a sexy twist, of course! I loved the modern, feminine silhouette of this Saylor dress from Revolve, and I knew that I could dance in it all night, which was my main priority. It made me feel like I was an extra in the Lemonade video, and that's all that really matters at the end of the day. It was just long enough so I wasn't cold, since the wind was blowing quite fiercely, and I loved that I didn't have to fuss with it while dancing like a madwoman.   
NOURISHMENT
Ashley: The last thing I wanted to experience while worshipping at the altar of Bey was a stomach cramp, so I kept my diet rather light. I loaded up on chips and Coke Zero at the office, and once we arrived at Citi Field, I sank my teeth into a stadium hot dog. All this carb-loading was not for naught. My diet of champions kept me energized during Beyonce's two-hour set. Halfway through the concert, the old-timers in our section punked out and took their seats. Not Lindsay and I. We stayed on our feet the entire time, dancing to the beat of Bey.
Lindsay:  There's no time for a headache or feeling light-headed when you're going to see Beyoncé. Like Ashley, I snacked on some chips and a Diet Coke at work and then fueled my dancing with a hot dog. I did wish I had one of those backpacks that hikers use with the water pack built in, because I was frequently thirsty from belting out every song, but I survived. Today, I might be mildly dehydrated, but, more importantly, I am now a changed woman, and it's all thanks to Beyoncé.