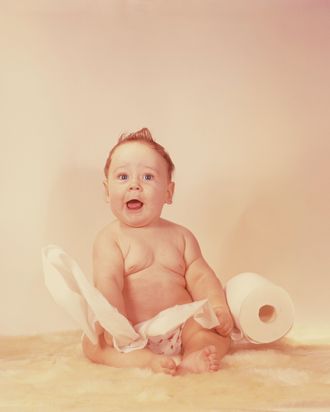 Photo: Constance Bannister Corp/© ReView
At the turn of the 20th century, the way America pooped went through a revolution when the at-home flushing toilet became a standard part of people's homes. But you needed a way to wipe that wouldn't clog up plumbing like catalogues or corn cobs would. Enter the entrepreneurial brothers Clarence and Irvin Scott, who in 1890 gave the world toilet paper on a roll, wrapped individually for sale.
It was huge: Without TP, says New York University microbiologist and pathologist Philip Tierno, there's "no standardization of hygiene." You name it and it was used to wipe the anus. One review of toilet technology notes that lots of places use water, grass, animal fur, corn cobs, seashells, snow, or hands.
Now it appears another revolution is afoot. In the reaches of the Upper East Side, the bidet is coming in a big way. As detailed in breathless New York Times trend pieces like "The Cult of the Toto Toilet," the next big Japanese import is looking to be a class of high-end toilet seats — the kinds with heated seats, deodorizers, and "tornado dual flush technology." (Owners are evangelists. After his wife bought him an automatic toilet, NBA star Steph Curry said "that toilet just makes me happy in life. I bet if I did a case study on my performance since I got that toilet, you'd see the difference.") In the words of Times reporter Steven Kurutz, the "need for toilet paper is virtually eliminated" thanks to an air dryer.
As soon as the price tag falls (substantially — they're currently priced from $499 to $9,800), toilet paper could become much less of a necessity.
After all, as Poop Culture: How America Is Shaped by Its Grossest National Product author David Praeger tells Science of Us, toilet paper isn't even the most hygienic approach to cleanup. If a bird poops on your arm while you're walking down the street, you don't smear it with a paper towel — you go to the bathroom and use soap and water.
There's the sustainability critique, too. According to one analysis, Americans use 36 billion (!) rolls — or 15 million trees' worth — of toilet paper a year, not to mention all the energy spent shipping the sheets around the world. That's a lot of paper and energy literally being flushed down the toilet.
Toilet paper is more "a psychological comfort, not a true measure of cleanliness," Praeger says. It's a way of keeping our bodies separate from the waste they produce. But "sometimes the paper rips and you're confronted with your own mortality," he says, "right on your fingers."
That's the rub with these fancy bidets: While the push-button bidet may seem foreign at first, you end up being less hands-on with your personal waste disposal. And if you're not able to part with a couple grand for a happier bum, you can take a lesson from the bidet's newfound cool: Use some water.
To Tierno, it's about elevating the TP technique. "Toilet paper itself, when used alone, is not the most hygienic way to wipe your anus after defecation," he says. If you're simply using dry toilet paper, you could be doing way better — he recommends alternating wet sheets with dry sheets, since the wet paper is important for getting all the fecal matter. "Two or three dry, then a wet, then a dry, then a wet, then a dry — that would be ideal," he says. "Using just water is probably more efficient." And with the right bidet, it's way more luxurious.