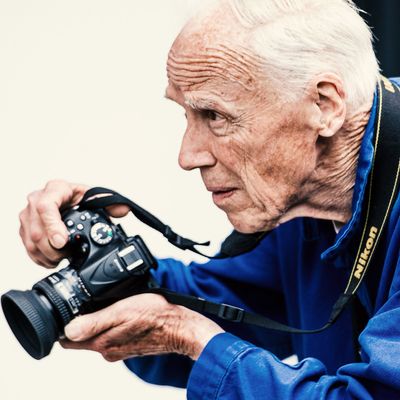 Bill Cunningham
Photo: Noam Galai/Getty Images
Everyone in fashion has a Bill Cunningham story. Here's mine. A couple of years ago, I was on my way to breakfast at Tiffany's (seriously) hovering at the corner of 57th and Fifth — one of Bill's favorite spots — and suddenly I saw him. The Schwinn-riding photographer, taking a picture of oblivious tourists with a selfie stick. I was crossing the street and still regret not taking that picture of the scene: an octogenarian with a film camera shooting the iPhone selfie generation. Unlike Bill, I wasn't quick enough to get the shot.

Cunningham, who died today at the age of 87 after falling victim to a stroke, was fashion photography's most democratic eye. He didn't see style in the top-down sense of what walked the runways and was decreed as fashionable by magazines and luxury advertising — a somewhat radical approach when he was starting out. Instead, he took in the street as a whole and picked out the seemingly random trendlets that real people were adopting. Fashion's near-obsessive emphasis on "personal style" and street fashion now owes a great deal to his influence.
Some of the details he identified over the years: fur coats worn with sneakers. MoMA's uber-minimalist shopping bag (a low-key status symbol, since it required the purchase of a $45 exhibition catalogue.) Businessmen on roller skates during a 1980 transit strike, T-shirts worn under slip dresses in the grunge era, skaters' wallet chains, Soviet-era surplus coats bought in Brighton Beach, Vuitton bags (real and fake intermingled), Prada gym bags, newsprint patterns inspired by John Galliano's infamous homeless-chic Dior collection, Balenciaga motorcycle bags, and the red-white-and-blue ribbons worn everywhere right after 9/11.

"I don't decide anything," he said in the 2010 documentary Bill Cunningham New York. "I let the street speak to me, and in order for the street to speak to you, you've got to stay out there and see what it is."

Sometimes, that meant heading outside the confines of the fashion establishment. In the '60s, he left an Oscar de la Renta show to take photos of a Vietnam war protest. Three decades later, he was one of the few mainstream fashion people milling about at X-Girl's DIY show on the street in Soho.

Cunningham started paying attention to people's clothes early on. After dropping out of Harvard in 1948, he worked at several women's clothing stores, including the New York boutique Chez Ninon. While there, he dyed a red suit black for Jackie Kennedy to wear to JFK's funeral. He also began designing ultra-fanciful hats for his own label, William J — his customers included Marilyn Monroe and Joan Crawford.

Cunningham quit millinery after he was hired by John Fairchild of Women's Wear Daily to cover fashion. He would go on to write for the Chicago Tribune and Details magazine, then a downtown bible. At the latter, with the first-to-the-party instincts that would later serve him as a photographer, he was the first to write about Azzedine Alaïa and Jean Paul Gaultier. He wasn't afraid to call designers out as well as praise them: During his tenure there, he accused both Giorgio Armani and Isaac Mizrahi of copying other designers.

In 1978, his first photo set published in the New York Times featured passers-by on the corner of his beloved 57th and 5th, including the elusive Greta Garbo wearing a fur coat, beanie and sunglasses. (He said didn't recognize her.) Over the years, he would photograph socialites, fashion editors, eccentric fashion plates like Patrick McDonald, and scores of regular people, too. As Anna Wintour said in the documentary, "We all dress for Bill."

But he stayed away from the well-trod party photographer beat. "I'm not interested in celebrities with their free dresses," he told WWD in 2008. That made him an anomaly among nightlife chroniclers.

And that was his biggest contradiction: despite being surrounded by so much excess, Cunningham lived a hyper-ascetic existence. He famously wouldn't take so much as a glass of water from event hosts for fear of seemingly unduly influenced. He was content living an apartment with little more than a bed and a file cabinet, eating at Chock Full o' Nuts and sporting a bright blue French street-cleaner's jacket as his uniform.

That kind of self-separation is rarer and rarer in fashion, where the chroniclers now want to be part of the story. Cunningham's detachment from the elites helped him connect to the part of fashion where the real energy was contained: young people, eccentric outliers, and the denizens  of the street.

The ad exec Ronnie Newhouse, once his fellow editor at Details, told the New York Times that one of Cunningham's favored phrases was "'Oh, no, child, you can't fall into the traps of the rich.' Or, we'd be at a show, and I'd say, 'Bill, it's really hard to see from the last row.' He'd say, 'All the people who tell the truth are in the last rows.'"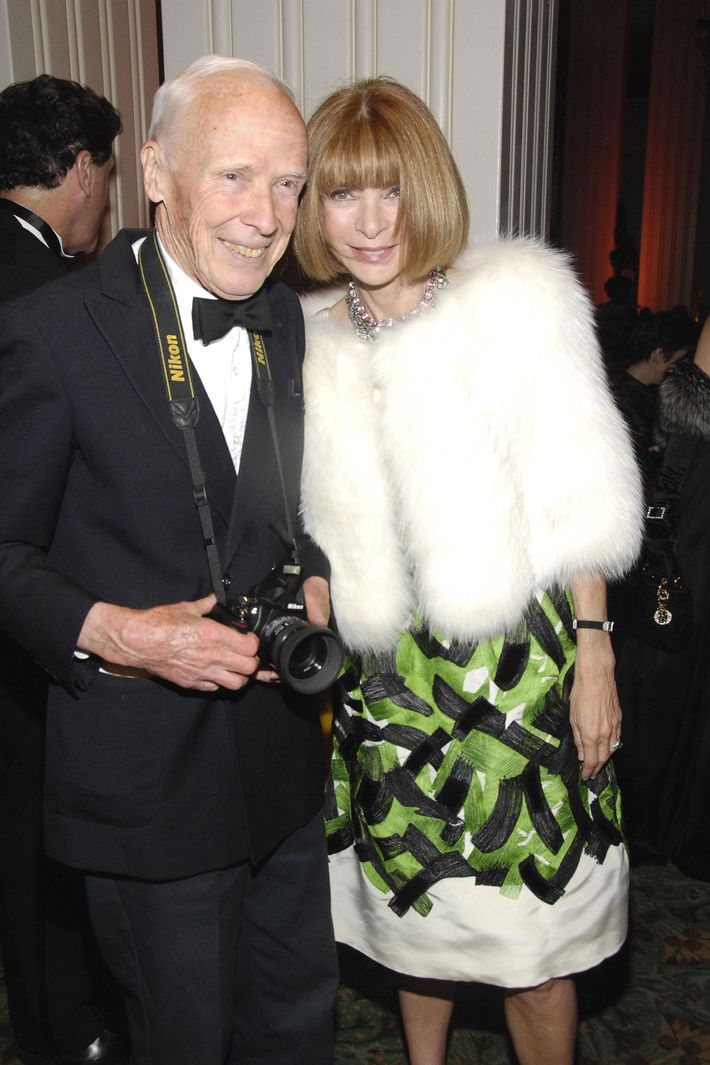 Bill Cunningham and Anna Wintour
Receiving the Carnegie Hall Medal of Excellence at the Waldorf Astoria in New York City, on April 23, 2012.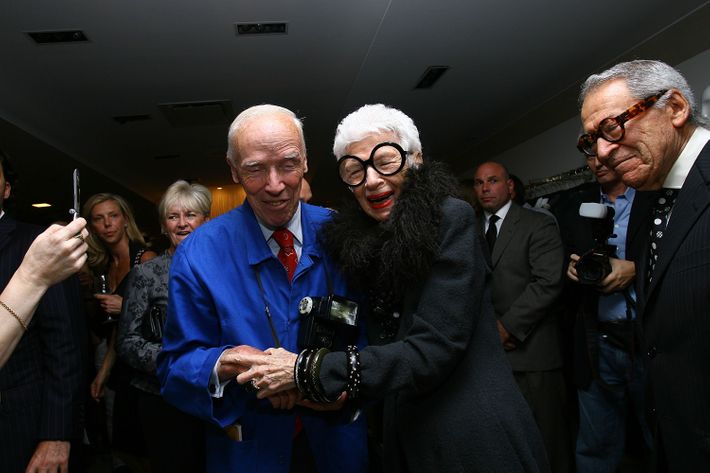 Bill Cunningham and Iris Apfel
Bergdorf Goodman on September 10, 2008.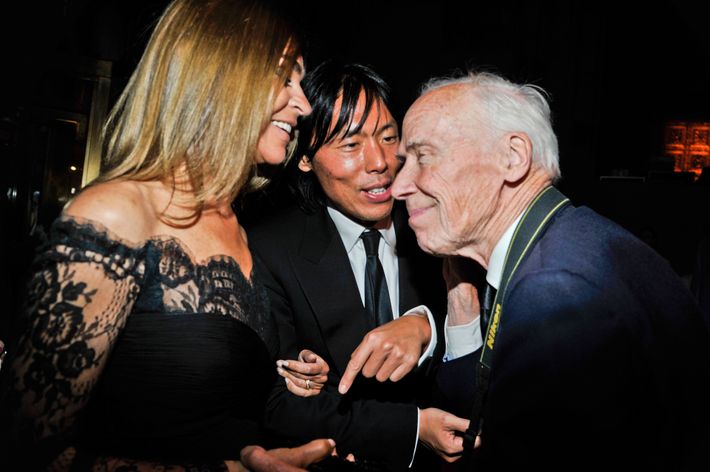 Carine Roitfeld, Stephen Gan, and Bill Cunningham
El Museo Del Barrio Gala at Cipriani 42nd Street on May 26, 2011.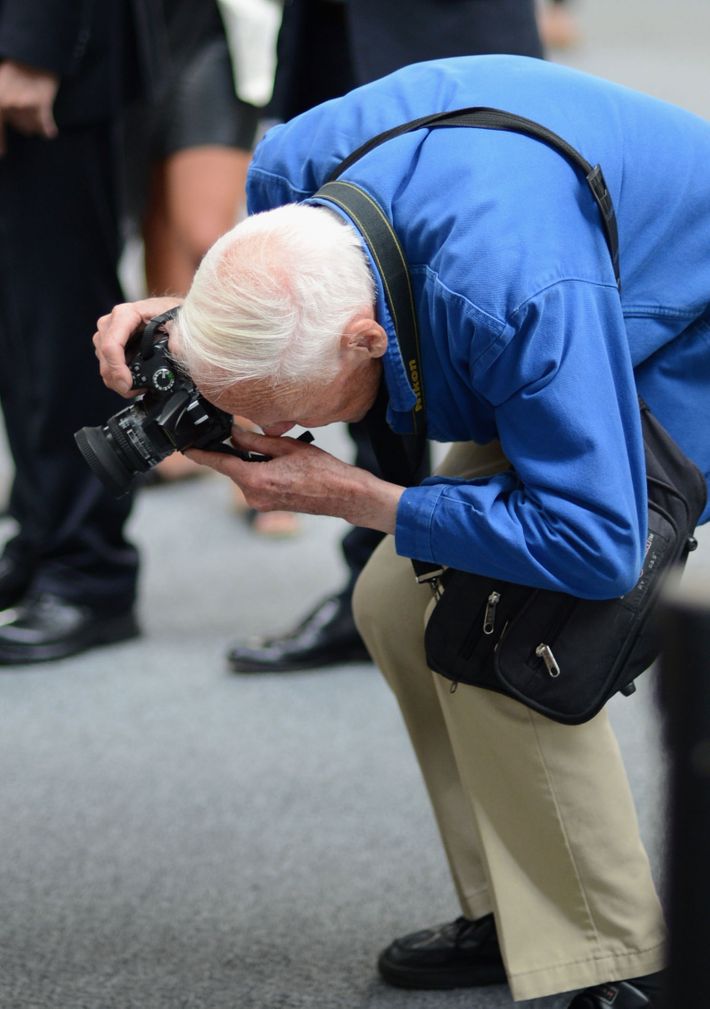 Bill Cunningham
Spring 2013 Mercedes-Benz Fashion Week at Lincoln Center on September 11, 2012, in New York City.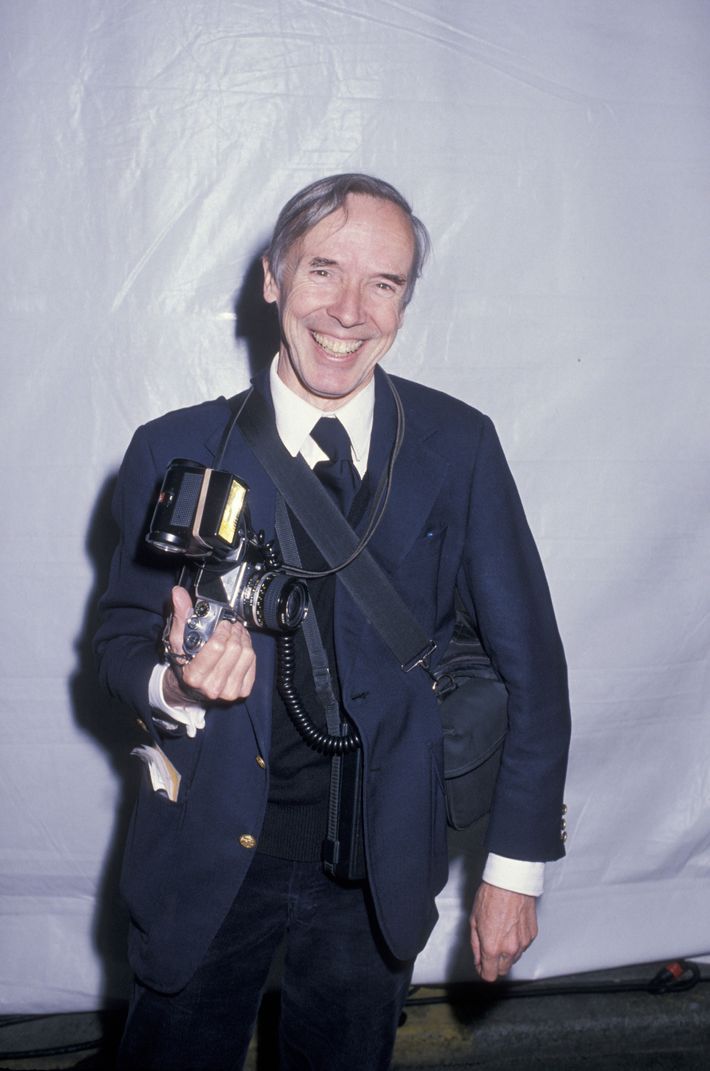 Bill Cunningham
Fete de Famille Benefit for AIDS Research on October 3, 1989, at Mortimer's Restaurant in New York City.