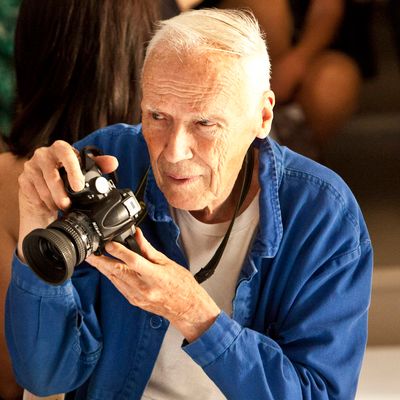 Photo: Skip Bolen/2012 Getty Images
Bill Cunningham was a fashion photographer, a street style tastemaker, an anthropologist, and a diarist. More importantly, he was a sort of modern bodhisattva, able to usher us into magic, compassion, and sweet surrender with the click of his camera. In all, he was the quintessential American photographer of modern life, and New York and the world are a lesser place without him.
For more than half a century, the stick-thin Cunningham — always in his signature blue French worker's jacket, khaki pants, and sneakers — documented what people wore wherever they wore it, as long as he thought they wore it well. His weekly columns in the Times were incredible pieces of delight and investigation, filled with the lightness of being and the love of being alive. He laid out his own columns and wrote the copy. Each was an elegant collage.
Cunningham didn't just photograph socialites, fashion models, famous editrixes, philanthropists, dignitaries, and rich people. He was always taking pictures of the way people looked here, now, with their own sense of style; not just being photographed because who they were or how much they made. He was one of the only artists I've ever seen who photographed movie stars, rich artists, pop stars, and all manner of the hipster elite without making me feel sorry for myself, sick to my stomach, or irked. His art didn't have a cynical bone in its body.
In the great 2010 documentary Bill Cunningham New York, Anna Wintour said, "We all get dressed for Bill." I was at the New York premiere of that film, and so was Cunningham. He rode his bike, parked it outside, went in and photographed the people, then left to shoot his other evening occasions. He said he never saw the film. Bill was famous for never accepting an invitation to join the party or be paid by anyone for anything. He once said, "Money's the cheapest thing … Once people own you, they can tell you what to do. So don't let them."
I loved seeing Bill Cunningham when I went out. I'm sure I'm not the only one who spent a New York lifetime hoping he just might point the camera my way. I have witnessed countless wannabes trying to sidle into his sights by parading past him repeatedly, but he knew what he wanted, and if you weren't it, that was that. I told myself that the fact he never photographed me wasn't because I have no style whatsoever but because I am married to one of the Times art critics, although he did love my wife. Of course, I tried to say hello to him at inappropriate times, just when he was poised on the periphery of an event, waiting for just the right moment. I also photographed him, an annoyance that became more prevalent after the film was released and he became even more widely recognized.
Art has many essences. One of the rarest is the joy of being alive, a sumptuous wonder about the way people look, how they dress and pose themselves in public, fantasizing out loud, being bouquets of our strange, strange relation to life, each other, and this passing moment. Bill Cunningham documented the everyday sublime.