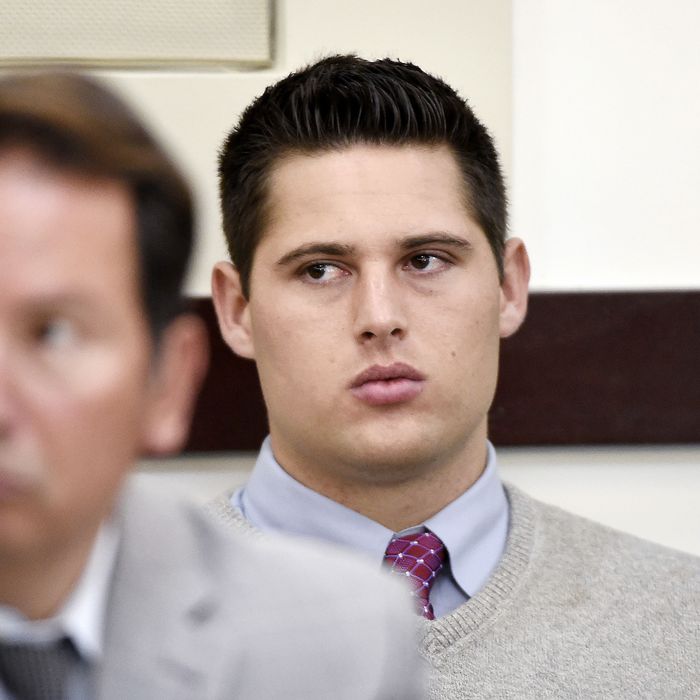 Brandon Vandenburg.
Photo: Larry McCormack/THE TENNESSEAN/AP
Former Vanderbilt football player Brandon Vandenburg was found guilty on Saturday of five counts of aggravated rape, two counts of aggravated sexual battery, and one count of unlawful photography for a horrifying 2013 incident in which he orchestrated and recorded the gang rape of his unconscious then-girlfriend, then sent the video of it to his friends. This is actually the second time a court has found him guilty in this case, but the first decision was thrown out in June 2015 because a juror didn't disclose he was the past victim of statutory rape.
In the summer of 2013, Vandenberg and several of his teammates were caught on surveillance video carrying an unconscious Vanderbilt neuroscience student into a dorm. Video footage showed the players giggling and laughing while they dragged her down the hallway and took photos of her naked body. Once inside the dorm room, one player penetrated her with a water bottle while another cheered him on. Vandenberg then passed out condoms and encouraged his teammates to assault her. Another player urinated on the victim and "made a racial statement."
Corey Batey, one of Vandenburg's teammates, was found guilty in a retrial in April; the other two, Jaborian McKenzie and Brandon Banks, have pleaded not guilty but have yet to face trial.
Vandenburg faces a minimum sentence of 15 years, which is at least a lot longer than six months.