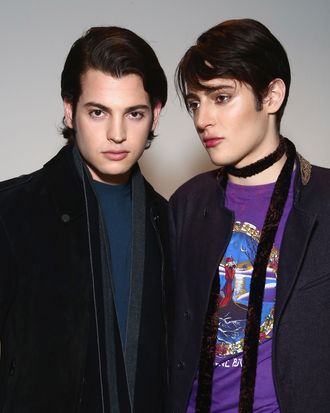 The Brant Brothers makeup.
Photo: Astrid Stawiarz/Getty Images for M.A.C.
Although all make-up is technically gender-fluid, you'd never be able to tell from the advertising and messaging from brands. Harry and Peter Brant II, the 19- and 23-year-old sons of supermodel (and not "bitch of the moment") Stephanie Seymour, are doing their part to make makeup more inclusive with an agender makeup line. The original collection, a collaboration with MAC Cosmetics, launched last year, but the brothers have added extensions like lip stains and contouring creams, available now. The Brant brothers talked to the Cut about getting teased for wearing makeup, how to tell you're doing highlighter wrong, and boring people. 
You've steered clear of commercial projects in favor of more editorial. What drew you to this commercial opportunity with M.A.C?
Harry Brant: I liked the idea of getting to have access to the demographic MAC provides. And they're probably the only people that would work with a 16-year-old. They're also not scared about pushing gender boundaries. The main concern isn't for profit. They do things that have impact on the beauty industry. I don't consider them to be commercial.
Recently, another makeup brand posted a picture of a guy in makeup and got some Instagram criticism from it. How would you respond to people who are critical about men in makeup?
H: Our society has a longstanding taboo with makeup. If you look back in history, in ancient Rome, Anthony was wearing makeup. The Egyptians mocked him for it all the time. It's always been a taboo, unless you're like a pirate.
But every guy that I know, he has a drawer that has makeup that "some girl" left there. It comes everyone's way at some point. This collection is really tailored in a way where everyone can wear it, and hopefully be more accepting of it in all its forms. Makeup is not done in a harmful way. It's an important form of self-expression.
I remember the first time when I talked about how I wore makeup, for Into the Gloss. And they told me, for months, they had to go and delete nasty comments because people would troll. People thought it was weird and abnormal. My makeup looks tend to be more outlandish. For a while, I was more self-conscious. Strangers on the street would laugh and giggle. I just learned to ignore it. You grow a thick skin. You have to have a confidence about it. They might be able to beat me up but not beat my outfit.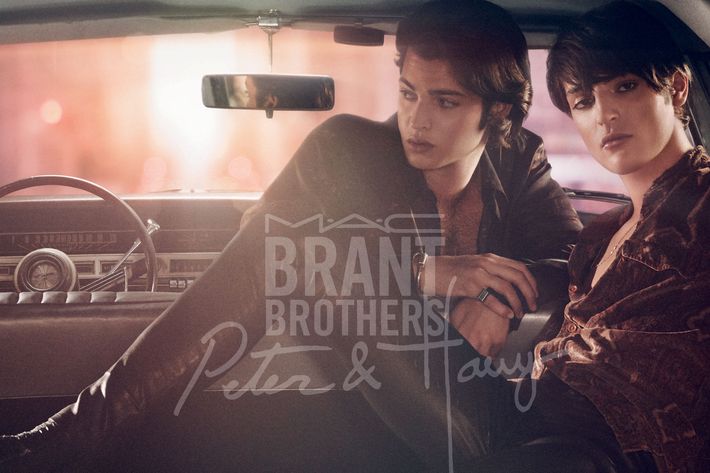 Even now, when people come after me and ask if I'm wearing makeup, it's like they're trying to catch me in a lie or something. There's a little bit of a derogatory sense with it.
Peter: It's like complimenting your makeup in a mean way.
H: I'm not trying to fool anyone. You're just jealous.
P: People who say nasty things online, their lives must be pretty sad.
What do you think about Instagram and makeup?
H: My little sister has an Instagram beauty account. I think with Instagram, you can't get a real feel of how makeup looks properly, especially with the light. You get more of a sense with YouTube.
P: Our sculpting kit makes you look hot in pictures but also in real-life.
What is your beauty routine like day-to-day?
H: If I'm going to see people, I'll try to make myself feel special, I'll use everything in the collection. Except maybe not the gold and pearlescent liner. It seems like a lot of product. But with each item, a small amount that can transform your face. If you use a really small amount, you can do it in a natural way.
Since I'm a teenager, I carry around a little emergency 911 kit for acne. It contains benzoyl peroxide, a deep moisturizer, and salicylic acid. If you go to the gym, you need to wash all the toxins off your face. If I don't use it religiously and wear makeup, it's really bad for my skin.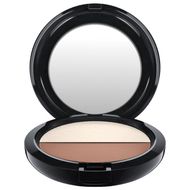 P: I never do the same thing every day. I'll do some eyebrow gel. I usually feel like sculpting when I go out. But sometimes I do nothing. Sometimes I want that extra touch because it seems fun or I want to look extra hot. Bad things can happen when you're too hot. You can be too hot. It could be dangerous. But other than that, I just wash with soap and water.
Really?
H: Fuck you. [Laughing] You know what? Fuck you. [Laughing] 
P: I put some cream on my face. Remember, when they gave me that thing of Creme de la Mer? I haven't even used it all yet. 
What feels boring to you right now?
H: Gender binaries.
P: What are gender binaries?
H: Gender norms. Although we're in a time where we have more freedom, it's still prevalent. It's a lot more liberal in fashion and beauty. But In mainstream America, it's still pretty rough. If you do anything frivolous, you're considered a freak. So for that to stop, that would be nice. And if I were president, eyeliner for everybody. And highlighter.
P: It's true, everyone looks better in highlighter.
H: Instead of "Let them eat cake," my slogan would be "Let them have highlighter."
Where do you guys put highlighter?
H: On the cheekbones —
P: Where don't you put the highlighter?
H: If there's a part of you that doesn't have the highlighter, you're doing it wrong.
P: For me, I don't know. I'm having a lot of fun all the time.
H: To be bored, you have to be boring. Only boring people get bored. You have to make yourself laugh. Even if nobody else is laughing but me. [Laughing]