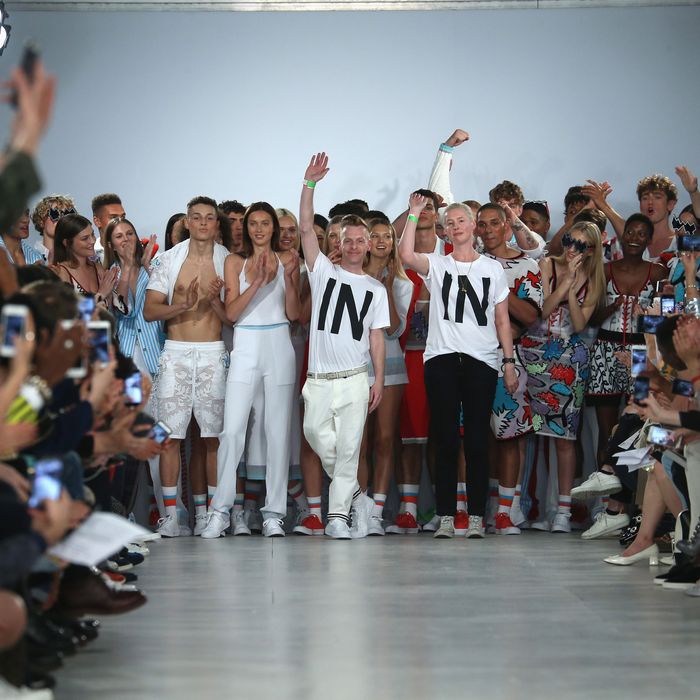 Sibling's fall 2016 show.
Photo: Luca Teuchmann/Getty Images
As Samantha Cameron stood with her husband today outside Number Ten amidst his resignation, she made a subtle sartorial statement — wearing a dress by Preen, an independent British label designed by Justin Thornton and Thea Bregazzi. Cameron has been an active supporter of the country's fashion industry, working with the British Fashion Council, and even inviting fashion editors into her home during a recent London Fashion Week to mingle with designers. So she definitely knew what she was doing with this particular photo op. The dress she chose represents the ur-London aesthetic, featuring a digital print (a hallmark of London's tech-savvy designs) and Victorian florals — a juxtaposition of new and old Britain.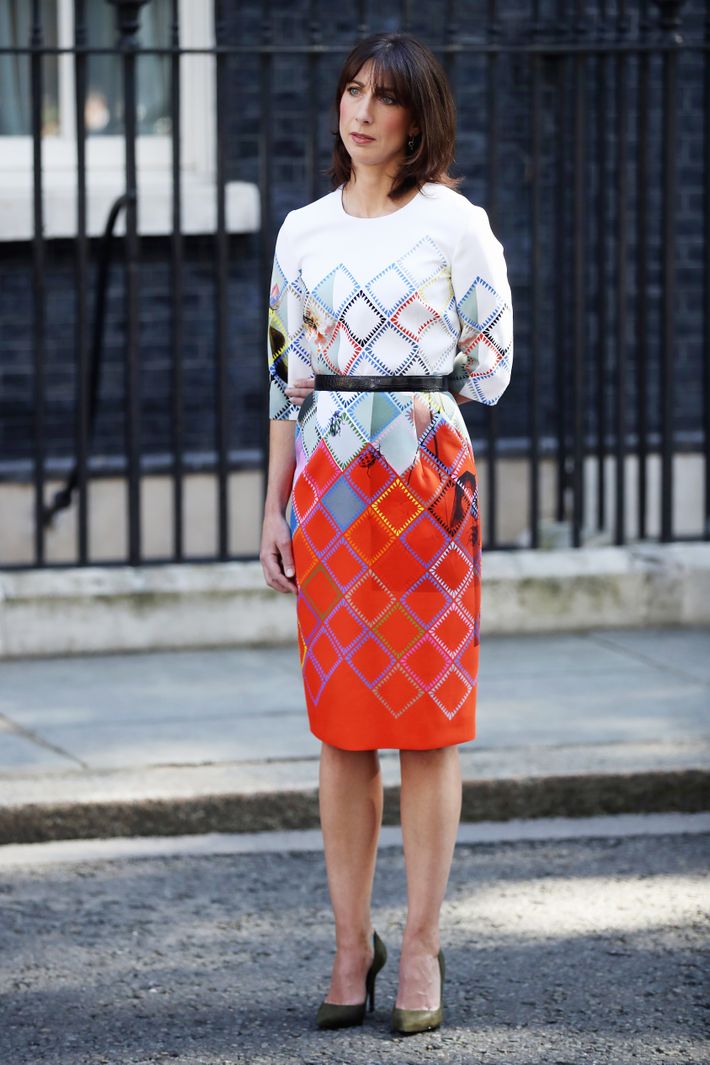 The British fashion industry has thrived on that kind of cross-pollination — English rose meets inkjet printing — and on the interchange between different viewpoints, absent the stodgy hierarchy that exists in Milan and Paris. So it's unsurprising that most of its members are anti-isolationist. According to a British Fashion Council poll taken before the country voted on the proposition, 90 percent of designers opposed Brexit.

In the run-up to the vote, big names like Victoria Beckham and Vivienne Westwood were firmly in the Remain camp and were quite public about their stance. Burberry's Christopher Bailey signed a petition in the Times of London earlier this year opposing an exit from the EU. And Sibling's Cozette McCreery and Sid Bryan took their bows at London Fashion Week wearing T-shirts that clearly advertised their take. (They read, simply, "IN.")

Now that Britain has voted in favor of leaving the EU, a result that was followed by an immediate drop in the pound's valuation, the reactions are pouring in on Instagram. Said J.W. Anderson in a post, "Such a sad day. It upsets me that we have to get to this point. FEAR IS JUST A VIRUS." LOVE magazine EIC Katie Grand said on Instagram, "I've never been so unproud to be British."
While London fashion has always celebrated its uniqueness, from the eccentricity of brands like Sibling and Giles to Burberry's embrace of British heritage, it has also always been dependent on the outside world. For raw materials, yes — many British luxury goods are made in Italy, including most of Burberry's clothes and leather goods — but also for raw talent.

A huge swath of young London designers immigrated from elsewhere in the EU: Anderson and Simone Rocha (Ireland); Marta Marques and Paulo Almeida of Marques'Almeida (Portugal); Mary Katrantzou (Greece); David Koma (Georgia and Russia); and Emilio de la Morena (Spain.) And that's not counting the many who come from areas outside Europe, including Erdem Morialioglu, Thomas Tait, Eudon Choi, and Huishan Zhang.

Whether they're lured by schools like Central Saint Martins or simply by the city's reputation as a creative melting pot that encourages experimentation, designers from outside Britain have made British fashion richer as a result. What happens to the next generation of Katrantzous and Rochas post-graduation if they can't stay in the country?

If Britain becomes more closed off, its fashion industry won't just suffer economically — it could take a creative hit.