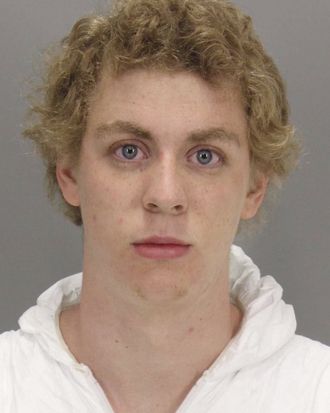 Brock Allen Turner
Photo: Santa Clara County Sheriff's Office
In March, a jury of 12 unanimously convicted 20-year-old Stanford swimmer Brock Turner of three counts of sexual assault after he was found assaulting an unconscious woman behind a dumpster. On June 2, Judge Aaron Persky handed down a lenient sentence of six months, of which Turner will only be serving three.

Since then, the case has gained unprecedented attention and Turner's light sentencing has sparked outrage to the point that a movement has started to recall Judge Persky. And now, for the first time, a juror on the case has spoken publicly.
Palo Alto Weekly published a letter from an anonymous juror to Judge Persky in which the juror expresses that he's "shocked and appalled" at the "ridiculously lenient sentence" that Turner received. The juror noted that he had become an American citizen after 30 years of living in this country and that he was "frankly disappointed" by his first experience of serving on a jury.
"After the guilty verdict I expected that this case would serve as a very strong deterrent to on-campus assaults but with the ridiculously lenient sentence that Brock Turner received, I am afraid that it makes a mockery of the whole trial and the ability of the justice system to protect victims of assault and rape," he wrote. "Clearly there are few to no consequences for a rapist even if they are caught in the act of assaulting a defenseless, unconscious person."
When Persky handed down the light sentence, he reasoned that "a prison sentence would have a severe impact on [Turner]" and said "I think he will not be a danger to others." He was also presumably swayed by the numerous letters in Turner's defense that he received from friends and family members. But the juror also told Palo Alto Weekly that he doubted Turner's credibility because his story "seemed to change quite a bit."
Read the full letter from the juror to Judge Persky, below:
Brock Turner Juror Pens Angry Letter to Judge
Every product is independently selected by (obsessive) editors. Things you buy through our links may earn us a commission.