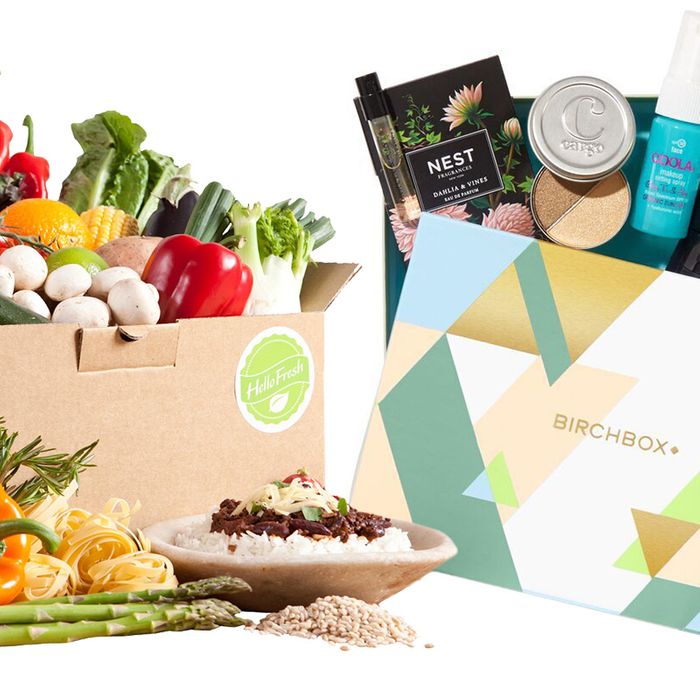 Like presents you send yourself!
Photo: Courtesy of Hello Fresh, Birchbox
A few years ago, while working as the evening manager at a yoga studio, I was just about to close up for the night when a woman burst through the door and declared, "I'm changing EVERYTHING." Her hands were shaking. Her cheeks were red like she'd been crying. Inside of ten minutes, she'd bought  hundreds of dollars worth of clothes and candles, plus our biggest class pass.
And then? I never saw her again.
Which was too bad, because she was my people. I could guess her backstory – freshly dumped, resolved to quit smoking, take up yoga, finish Middlemarch, become fluent in Spanish, practice self-care. I knew this because it was my backstory. Silently bagging her tops and culottes, I wanted to grab her forearm and say, "Girl, I feel you."
Some people can do self-improvement without self-loathing or recrimination, without descending into the kind of zealous frenzy that prompts strangers to ask, "Is there someone I can call?" I am not one of them. In fact, this tendency to self-improvement binges is another thing I'd like to change about myself, but I can't.
So, last month, when I felt the cold tingle along my scalp indicating the onset of yet another fervor, I did not worry. I didn't even hope for success. All I wanted was for the urge to pass, and from experience, I knew that the only way out is through.
I'd spent the previous few weeks inside a red kid's-size hoodie, subsisting on Raisin Bran and Advil while hunched like a T-Rex over my laptop, trying to meet a bunch of deadlines. In short, I was my schlubbiest ever, a pale-faced creature of the internet, grimly scuttling from one task to the next. This is where the ads found me.
You've probably seen them, too, on Facebook and Twitter — ads for the wine club Bright Cellars, the meal-delivery company HelloFresh, the personal-shopping services Stitch Fix and Birchbox, and that gushing font of streamable workouts Daily Burn — all of them bearing the subscription economy's promise to solve your problems without requiring anything except your credit-card number.
I signed up – but, in keeping with my m.o., really only as prelude to canceling, to giving up. Soon the deliveries started arriving. Here's what I learned.
Bright Cellars
My Bright Cellars shipment was the first box to arrive, four bottles of white wine wrapped in turquoise tissue paper and sealed with stickers reading "Dinner is poured" and "Let's go wine-tasting on the couch." This set me back a not-unreasonable $71 with shipping and taxes, and a quick Google showed I didn't pay much of a markup per bottle.
Neither did I have to suffer the dual indignities of schlepping to the drugstore and pretending to consider the alternatives to on-sale Chardonnay. I could, and did, go wine-tasting on my couch. And for this the customer-service team sent me a handwritten thank-you note. Bright Cellars, I love you, too. Don't ever change. Four stars. Four empty bottles, that is.

HelloFresh
Then came the massive box from HelloFresh, kitted out with all the ingredients for three vegetarian meals, down to the oregano. It was 4 p.m. on a Saturday and I'd been just about to order takeout, or even more likely, pour out some Raisin Bran. Instead I was, for the first time ever, induced to roast vegetables and mince garlic.
This three-meal vegetarian option runs $59 a week in my zip code. That's about the same cost as one Seamless order from my go-to Thai place, but doesn't include the elaborate praise I received for assembling and cooking the HelloFresh meals – a serious plus. I came away grateful that no 21-meal-a-week option is yet available.

Stitch Fix
Imagine if your great aunt sent you a box of clothes for your birthday – making it clear she pictures you as an up-and-coming real-estate agent in some non-capital Midwestern city — and also included an itemized bill for anything you'd like to keep. On the (scant) plus side, the shipping is free and the packaging is adorable.

Daily Burn
Turns out you actually have to do the workouts. None of Daily Burn's subscription options, which start at $12.95 a month and climb from there to cover more personalized coaching, include someone doing the workouts to you. That's the problem.

Birchbox
Finally, my first Birchbox arrived with a perfume sample — "inspired by delicate flower petals falling from the sky and dancing on water, the scent embodies a strong, feminine woman with notes of Tunisian neroli, orange blossom, and sensual sandalwood" — and small-batch Italian shampoo.
I'd essentially sent these things to myself, yet I was deeply flattered. How thoughtful of me! How delightful to receive this sweet little package of dollhouse-sized presents! This would have cost $10.53 a month, but I ordered a full bottle of the perfume, upping the grand total to $71. (I have to think that, in future months, I'll spend a similar amount, so I'm projecting out the cost on this basis.)
The next thing I know, I smell like whatever Tunisian neroli is. I'm gently sore from Pilates and getting half-drunk on Chenin Blanc as I cook a caramelized-shallot risotto for my husband. Which, friends, has to be classified as Peak White Lady, the Everest of ridiculous privilege. Even though none of the clothes sent by Stitch Fix were keepers (emphatic cancel), and I only half-assed my way through a single Daily Burn workout (guilty cancel), there was something obscenely gratifying in having tackled so many of my issues at once.
It's true that Bright Cellars, HelloFresh, and Birchbox improved my life. I'm a better cook and a marginally more sophisticated drinker, too. In other words, now I am fancy — or at least, fancier — and now I have to make peace with the $400-a-month subscription monkey on my back that made me so. Another item for my self-improvement list.
Still, wishing I'd never embarked on this project won't help. It's too late. I have eaten of the open-faced portobello-mushroom sandwiches of the tree of knowledge. I have uttered this sentence to my husband, "Darling, I'm afraid the risotto is a little bit crunchy." And I have sent an email to my one-time personal stylist, Tiffani, saying, "Sorry! I can't wear drape-y things on my upper body because I have breasts, so anything loose and layered just makes me look bulky. ☹" I have finally left college behind – Good-bye, Franzia! Farewell, Pantene! – and in place of these familiar touchstones, developed opinions about the freshness of the herbs.
More than anything, the experience confirmed some of my worst suspicions about the world: That the only thing separating us from a better life, from Gwyneth Paltrow's life, is not brains or talent or even beauty, but simply money. I subscribed my way to a more satisfying existence, and I lost my innocence. Plus $400.
Now I can pass on this advice: Think twice before you become your best self. Maybe just stay schlubby, Ponyboy.