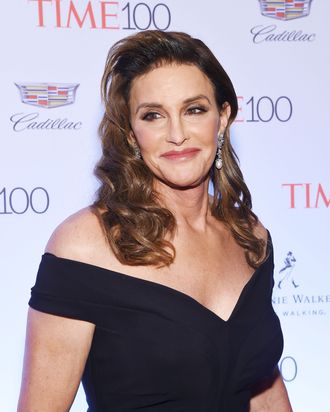 Girl, no.
Photo: Larry Busacca/Getty Images
Famous Republican Caitlyn Jenner is giving presumptive GOP nominee Donald Trump the benefit of the doubt. In an interview with Stat, Jenner said that while Democrats have historically been "very good" on LGBT issues, Trump's response to the North Carolina bathroom law proves he could be just as strong an advocate for people like her.
"He seems very much behind the LGBT community because of what happened in North Carolina with the bathroom issue," Jenner said. "He backed the LGBT community." She did acknowledge that, as Trump has no voting record to speak of, "In Trump's case, there's a lot more unknowns. With Hillary, you pretty much know what you're gonna get with the LGBT community."
She added, "Everybody looks at the Democrats as being better with these issues. But Trump seems to be very much for women." If by "very much" Jenner means demeaning, degrading, and overtly sexist, then yes, Trump is "very much" for women. Perhaps Jenner is being swayed by the gold-plated toilets of Trump Tower.