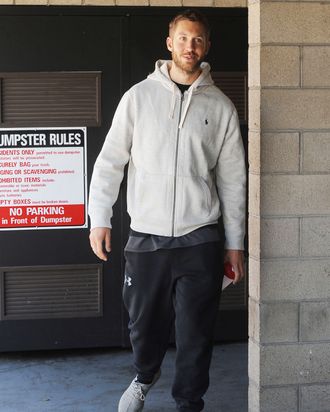 Calvin Harris, in Yeezys.
Photo: Aficionado Group/Splash News
In the past two weeks, Taylor Swift has broken up with Calvin Harris, made out with Tom Hiddleston on a rock in front of paparazzi, and released a 192-word statement to GQ claiming that she did not lie about her feud with Kanye West, even though Kanye and Kim Kardashian are confident she did. How does Calvin Harris feel about all that?
"All good, all good," he told TMZ this afternoon as he exited his Range Rover and entered a cinder-block stairwell leading to chambers unknown. "She's just doin' her thing, dude." He was wearing Yeezys.
What is Calvin Harris's thing?
DJ-ing!
This post has been corrected to show that Calvin said "she's doin' her thing" not "just doin' my thing." We regret mangling his beautiful words.