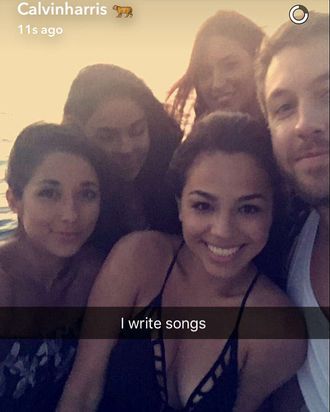 Calvin Harris and laaaddiiieeeeessss.
Photo: Calvin Harris/Snapchat
Calvin Harris (a pseudonym) recently broke up with Taylor Swift, who is now on a worldwide promotional tour with her new boyfriend, Tom Hiddleston. How's Calvin Harris (a DJ) taking it? Extremely chill, mate.
According to Snapchat, Harris is on a yacht with at least four whole women. He posted a selfie with these gals with the caption "I write songs." Not sure if that's true (do DJs write songs?), but the ladies … the ladies are real.
Harris's personal KCNA (TMZ) reports that this is totally what Harris wants now: a life with normal women. "Calvin Harris is DONE dating famous chicks, and blames his terrible experience with Taylor Swift for the change of heart," the website claims. "Sources close to the DJ tell TMZ … Calvin believes celebs are narcissistic, and all he wants is a normal girl. As for his type … he's very, very clear — sexy latina … a Sophia Vergara-type who is not famous."
Okay.
Yesterday, Harris got so flustered by paparazzi that he accidentally drove his car door into a wall. Afterward, this man who is so disgusted by fame apologized to the photographers who are still deigning to take his picture.
What will Calvin Harris do next? Something embarrassing, probably.