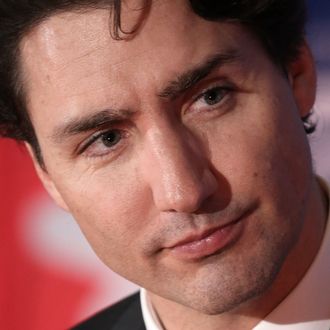 Photo: Win McNamee/Getty Images
North America's assisted-suicide landscape changed in a profound, historic way on Friday. As NPR reported, that was when Canada's Senate approved that nation's new physician-assisted-suicide law. The law was initially brought about by a ruling from Canada's Supreme Court last year that banned a law against physician-assisted suicide, but left it to the country's legislature to regulate and determine the scope of the practice.
One interesting aspect of Canada's version of physician-assisted suicide is that only Canadians are eligible for it. This mirrors how it's done in the handful of U.S. states where physician-assisted suicide is already legal, which include Washington, Oregon, and Vermont (California's state legislature approved assisted suicide there recently, but things haven't been finalized).
The criteria for establishing residency in a U.S. state don't tend to be onerous (though one should always keep in mind that it's hard to get certain forms of ID if you're low-income). In Washington, for example, "Examples of proof of residency include, but are not limited to, possession of a Washington driver's license, registration to vote in Washington, or evidence that the qualified patient owns or leases property in Washington." And in Vermont, the law leaves things intentionally vague on this front, as the FAQ for Vermont's Patient Choice and Control at End of Life Act puts it: "The Act [does not specify what qualifies a person as a resident: it is up to the patient's physician to make that determination. Factors demonstrating residency include, but are not limited to 1) Possession of a Vermont driver's license; 2) Registration to vote in Vermont; 3) Evidence that a person leases/owns property in Vermont; or 4) Filing of a Vermont tax return for the most recent tax year."
Setting aside the serious resources required to uproot and move somewhere, it is (of course) harder to establish citizenship in Canada than it is for an American to change their state of residency. It sounds as though Canada did not want to end up as a destination for so-called "suicide tourism."
It's a weird, grim-sounding phrase, but this isn't a hypothetical concern. Take Switzerland: There, CNN noted in 2014, "there are no rules to regulate under which conditions someone can receive assisted suicide, though medical professional codes allow it in certain circumstances." Nor are there residency requirements, and that's why hundreds of people have come to Switzerland from elsewhere to end their lives.
Canada's decision to enact a much more liberal stance on assisted suicide than the U.S., but to make sure people can't cross the border to end their lives, represents one of the trillion tricky issues that accompany this debate. Some EU states are effectively serving as lab rats at the moment, and there's a sense in some of them that people are being allowed to end their lives for an increasingly broader array of reasons.
Belgium, which enacted its euthanasia law in 2002, is seen as taking one of the most liberal approaches, which has led to some rather strange and heart-wrenching stories. "In 2013, [the famous/infamous Belgian euthanasia physician] Wim Distelmans euthanized a forty-four-year-old transgender man, Nathan Verhelst, because Verhelst was devastated by the failure of his sex-change surgeries; he said that he felt like a monster when he looked in the mirror," wrote Rachel Aviv in her absolute must-read piece on this subject for The New Yorker a year ago. "'Farewell, everybody,' Verhelst said from his hospital bed, seconds before receiving a lethal injection." More recently, the BBC reported on a Belgian man who wants to end his life because, he says, he can't live with his pedophilia; the first step of his application was approved. As the BBC noted, "There were 1,807 confirmed cases of euthanasia in 2013, the most recent year for which figures are available."
There are no easy or obvious answers for any of this, but if you want to know more about how physician-assisted suicide works in Europe, definitely read that New Yorker article or watch VICE's recent mini-doc, which I mentioned in another recent post on the subject. These controversies are only going to grow more heated.
Sources