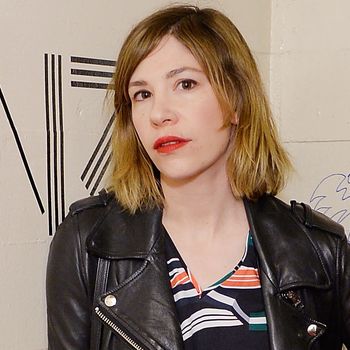 Photo: Stefanie Keenan/Getty
Carrie Brownstein is making her directorial debut with a short film for Kenzo, which will premiere at New York Fashion Week. It will also be part of the label's fall campaign.
The Realest Real, which will take aim at our tech-obsessed society, has a pretty juicy (and cool) cast, including fellow rocker Kim Gordon, NYC babe Natasha Lyonne, Mahershala Ali from House of Cards, and up-and-coming actresses Rowan Blanchard and Laura Harrier.
It's not new for fashion labels to snag directors for short films or extra-fancy commercials. Michel Gondry, Baz Luhrmann, Sofia Coppola, David Lynch, and David Fincher are just a few big names that have shot commercials and/or short films for brands. Most recently, Kenzo has worked with Tangerine's Sean Baker on the short film Snowbird, starring model and Mad Max mama Abbey Lee, as well as the edgy Gregg Araki for Here Now.
Brownstein's fashion sense is as sharp as her comedic chops, wordsmithing, and riot grrrl badassery, so it will be really fun to see her take a crack at directing for this fancy fashion house.