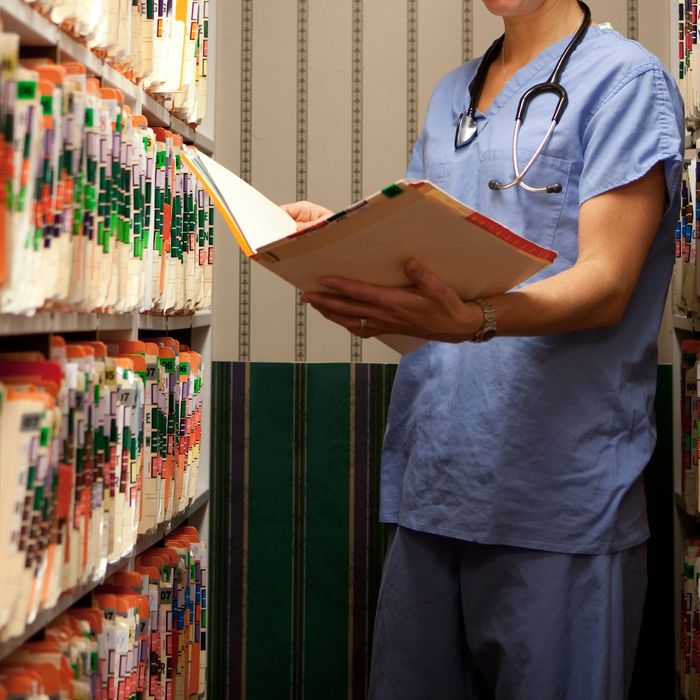 Photo: Heath Korvola/Getty Images
A bill in Illinois would require religiously affiliated hospitals that refuse to perform certain procedures on religious grounds (hint: abortion and sterilization) to give patients a list of providers "who they reasonably believe" will provide the service.
The legislation, SB 1564, would amend the state Health Care Right of Conscience Act to require either the provision of such a provider list or for the hospital to refer or transfer patients to another facility upon their request. It's awaiting Gov. Bruce Rauner's signature.
A recent report from the American Civil Liberties Union found that there are now more than 500 Catholic hospitals across the United States, and they routinely deny medical care, including emergency contraception, tubal ligation, abortion, or inducing labor when a woman is miscarrying before fetal viability. Per the report, nearly 30 percent of Illinois' hospital beds are in Catholic facilities.
This is a great step forward, but it could have been better. As Rewire notes:
Patrick Cacchione, executive director of the Illinois Catholic Health Association, said the organization, which represents the state's 43 Catholic hospitals, opposed an early version of the bill requiring religious health-care facilities to give patients a written list of known medical providers that perform the treatments that the religious institutions oppose.

Cacchione said such a direct referral would have made Catholic hospitals "complicit."

"We will provide all the information you need, but we will not make a direct referral," he told Rewire in a phone interview Monday. The new version of the legislation does not require hospitals to confirm that providers perform the treatments; the facilities must only have a "reasonable belief" that they do.
Let's hope there are no dentists on these lists.