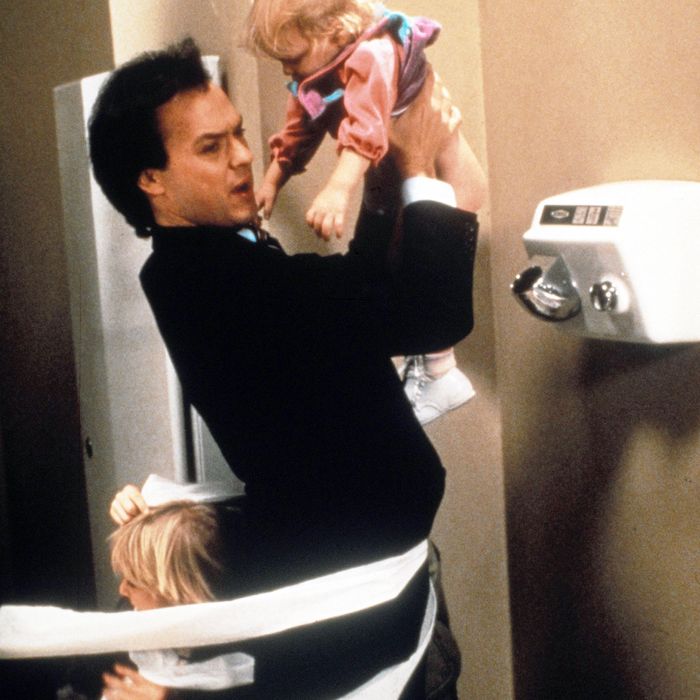 Photo: MGM/Courtesy Everett
Out of all Hollywood's parenting stereotypes, the bumbling man who redeems himself by caring for children might be the most exhausting. For decades, these movies been a blight on our multiplexes, parroting outdated gender norms while encouraging dads to pat themselves on the back for successfully changing a diaper.
But this Father's Day, let's pour one out for some of the worst offenders.
Three Men and a Baby (1987)
Synopsis: Inexplicably the biggest film of 1987, this movie centers on three horny, carefree bachelors (Ted Danson, Tom Selleck, and Steve Guttenberg) whose lives are thrown into disarray when Ted Danson's love child gets left on their doorsteps. But eventually they learn to love fatherhood, and it also teaches them a little bit about themselves! Or, per the trailer, "They're about to discover the only thing worse than raising her is losing her."
Tasks dad(s) struggle with: Lifting up the baby, buying formula, changing a diaper, what to do when the baby cries.
Worst dad faux pas: Mistaking the baby for a bag of heroin and giving her away to drug dealers.
Best "cool dad" innovation: Putting a phone in the shower so all dads can be reached at all times (this is actually an okay idea).
Parenting philosophy: Three heads are better than one!
Choice quote: "I'm an architect for Christ's sake, I build 50-story skyscrapers, I assemble cities of the future, I can certainly put together a goddamn diaper."
Big Daddy (1999)
Synopsis: An immature man-child (Adam Sandler) is forced to step up when his friend's 5-year-old son Julian is dumped on his doorstep.
Tasks surrogate-dad struggles with: Maintaing any sort of discipline or structure whatsoever, bathing.
Worst dad faux pas: Feeding Julian 30 packets of ketchup for lunch, taking him to a bar, teaching him it's okay to urinate on the streets of downtown Manhattan.
Best "cool dad" innovation: Letting Julian change his name to Frankenstein.
Parenting philosophy: LOL, dunno.
Choice quote: "This is like a whole new school of child-raising I'm doing, you give the kid options instead of orders, let him make the decisions."
Daddy Day Care (2003)
Synopsis: When a fancy big-time businessman (Eddie Murphy) gets laid off from his job, he and friend Jeff Garlin start a daycare center to prove that dads can do childcare, too!
Tasks dad(s) struggle with: Changing a diaper, feeding the children, maintaining any sense of control or discipline.
Worst dad faux pas: Feeding a group of hyper children a buffet of sugary desserts and letting things dissolve into anarchy.
Best "cool dad" innovation: Entertaining the kids by wrestling each other while dressed up as giant vegetables. 
Parenting philosophy: Dads can be fun, too!
Choice quote: "Look, don't panic, because they're like animals, they can smell fear."
The Game Plan (2007)
Synopsis: A successful yet immature football player (Dwayne "The Rock" Johnson) has a daughter he never knew about dumped on his doorstep, eventually he learns things.
Tasks dad struggles with: Not treating his daughter like a football player.
Worst dad faux pas: Leaving his daughter at a nightclub.
Best "cool dad" moment: Sprinting across the city to take his daughter to hospital (arguably much faster than the identical scene with Dustin Hoffman in Kramer vs Kramer).
Parenting philosophy: Parenting is pretty similar to football!
Choice quote: "You've been playing kid your entire life. And I just joined the Dad team."