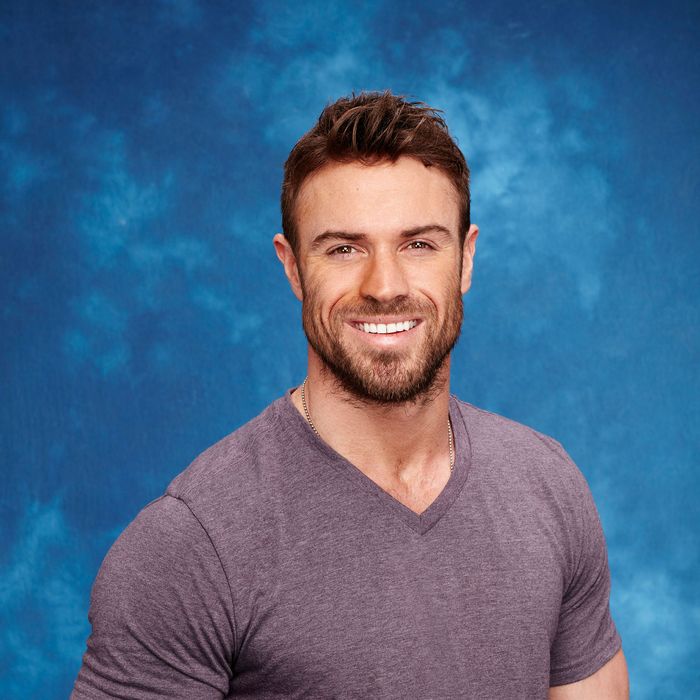 Chad Johnson.
Photo: Craig Sjodin/ABC
Looks like The Bachelorette's resident bad guy Chad — whose villainous habits include strapping a suitcase full of protein powder to a weight belt and having meat in his pocket at all hours — may be even more evil than we had previously thought.
According to Mashable, the reality star appears to have been squatting on a number of web domains, all of which lead back to his Instagram. These include the name of the Bachelorette, joelle-fletcher.com, and a bunch of his fellow suitors, including robbyhayes.com, derekpeth.com, lucaspell.com, danmaguire.com, chasemcnary.com and alexwoytkiw.com. He also purchased jjhlane.com, the name of a former contestant, shortly after Lane called him a "fucking dickhead" in US Weekly.
Also registered to the same email address: Thechadelor.com (would watch!), a bunch of luxury real-estate sites, and a number of unused porn sites, including oklahomaporn.com, oklahomagay.com, djresurrection.com and attractionwiki.com.
Chad (whose real name is, disappointingly, Brian) confirmed his evil plan to the Daily Dot, explaining that he is a veteran domain flipper who owns hundreds of websites that he always reroutes to his own projects. "Haha yes! I bought the domain names," he wrote, explaining "that's business!" and "it's hilarious!"
Bachelorette contestants who don't want their names redirecting to pictures of Chad's abs better be ready to pony up: "I will gladly sell the domains back (at a price lol)," he wrote.
Truly bone-chilling.