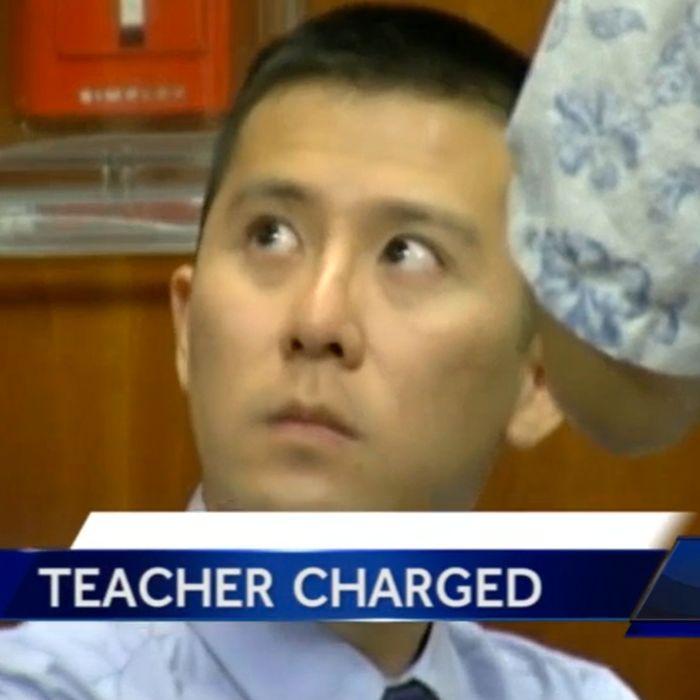 Douglas Le in court.
Photo: KSBW
A former California high-school teacher allegedly catfished boys into sexting with him by using a female porn-star avatar to pose as a teenage girl. He appeared in court on Monday. Attorney Gloria Allred has filed three suits against the school district.
Twenty-five-year-old Douglas Le taught honors chemistry, coached the track team, and was apparently well-liked at Gilroy High School in Northern California, where he had worked for three years. Online, starting in June 2014, he allegedly started using a fake Facebook profile under the name "Rae Pelletier," posing as a teen girl with a photo of a porn actress.
For at least a year and a half on Facebook Messenger, "Rae Pelletier" sent nude pictures and videos to nine high-school boys in the area (at least five of whom were in Le's classes) and solicited them for sexts in return. Evidence suggests more boys were targeted in Le's catfishing scheme, Santa Clara Deputy District Attorney Jaron Shipp told the Washington Post. The exchanges continued until at least January 2016.
Facebook flagged the account this past April, warning the National Center for Missing and Exploited Children of possible inappropriate contact with a minor, and the Silicon Valley Internet Crimes Against Children Task Force opened an investigation. On April 26, police entered Le's home with a search warrant and seized his computers, hard drives, and other media. They arrested Le that day in the middle of his honors chemistry class.
Le now faces 20 criminal charges, including nine felony counts of sending harmful matter to a minor; nine felony counts of communicating with a minor while intending to commit a specified crime; one felony count of possessing matter depicting a minor engaging or simulating sexual conduct; and one misdemeanor count of annoying or molesting a child.
The school district is now facing blowback for ignoring red flags about Le's inappropriate behavior. Le's misdemeanor count noted above is unrelated to the alleged catfishing scheme; it's from a lawsuit filed last week by Gloria Allred, in which a mother says she reported an explicit text exchange between Le and her daughter in 2014, and the school didn't take her seriously. Le apparently texted the girl about oral sex, the size of her mouth, and threatened to defecate on her.
Allred is representing two other suits filed against the school district that claim Le sexually harassed students. He also appears to have manipulated grades: One suit says he liked to "assign the students who triggered his pedophilic tendencies … an 'F' on the progress reports." To get a better grade, students had to attend "after school 'tutoring' sessions" in which Le would "verbally and sexually harass, intimidate and abuse" them. Allred told the Washington Post more students could come forward.
In a statement, the school district commented on Le's alleged catfishing scheme while acknowledging the 2014 incident:
Mr. Le's 'Catfishing' did not happen at school. It happened in private homes on personal computers. In 2014, the District received a complaint that Mr. Le exchanged texts which contained inappropriate language with students. It was unprofessional and unacceptable, but there was no criminal activity and it did not rise to the level required for dismissal. The District took immediate strong disciplinary action. The District served him with a Notice of Unprofessional Conduct. There was no indication he was 'Catfishing' and we received no further complaints of any kind.
Le next appears in court on July 20. If convicted on all 20 counts, he could face over eight years in prison.