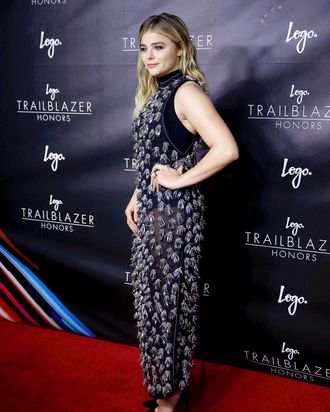 Chloë Grace Moretz.
Photo: John Lamparski/Getty Images
Chloë Grace Moretz, a teenage actress who dates Brooklyn Beckham and tweets rude things at Kim Kardashian, once considered "butt reduction" surgery. She did not go through with it, however, and she now feels empowered by that decision. Chloë revealed this set of facts in a recent interview with elle.com.
"When I was 16," she said, "I wanted a boob job. I wanted the fat pad under my chin to be removed. I wanted a butt reduction, or whatever. And my mom said, 'Absolutely not, you're not allowed to have plastic surgery.' And because of that, I found a lot of power within my insecurities. They're what make me who I am now."
That's just who Chloë is: a person with a butt that has not been reduced. She is also a person who did not go to college. Chloë explained that decision to elle.com this way:
When I turned 18, I decided that I couldn't justify the expense of college. I've made all my own money — I've worked my butt off, and all of [my] savings, I've made those myself. And I can't justify spending my own money and throwing it away to go to college just to pay it back for 15 years. That's going to make me resent an experience that should be so fulfilling. It feels really inappropriate, like I'm getting robbed …
Chloë Grace Moretz has a reported net worth of $8 million.