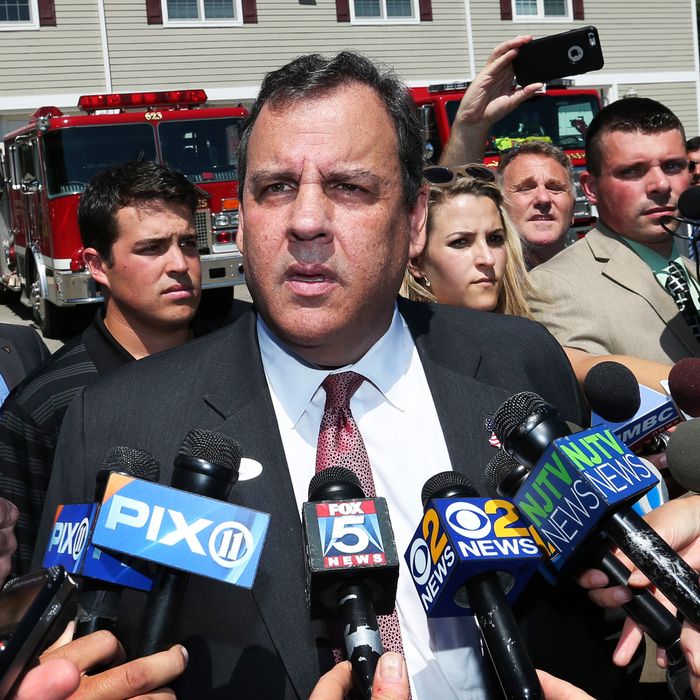 Chris Christie.
Photo: Mel Evans/AP
While co-hosting the sports talk show "Boomer & Carton" on WFAN radio this morning, New Jersey governor Chris Christie shared his thoughts on the attractiveness of female tennis players. Finally.
Christie is adamantly opposed to the suspension of Maria Sharapova, which she received for failing a drug test at the Australian Open. While discussing the topic, the host of the show, Craig Carton, insisted, "They're all in phenomenal aerobic shape." To which Christie heartily replied, "Yeah, she is." Blegh.
"We need Sharapova," Christie concluded. The host of the show followed up: "You need attractive European tennis players so that you have something to do other than watch the — listen, I love the Williams sisters, they're American and they win all the time. But for the sport, you need some of — "
"You need Wozniacki," Christie cut in, referring to Caroline Wozniacki, a Danish player who, like Sharapova, is blonde and white.
"You need more models playing tennis," Carton continued. "I would go right to Victoria's Secret and put a tennis racket in their hands. Pretend like you can play."
"See that's not right," Christie replied, because he's clearly a good guy. Someone reward him with an Oreo.