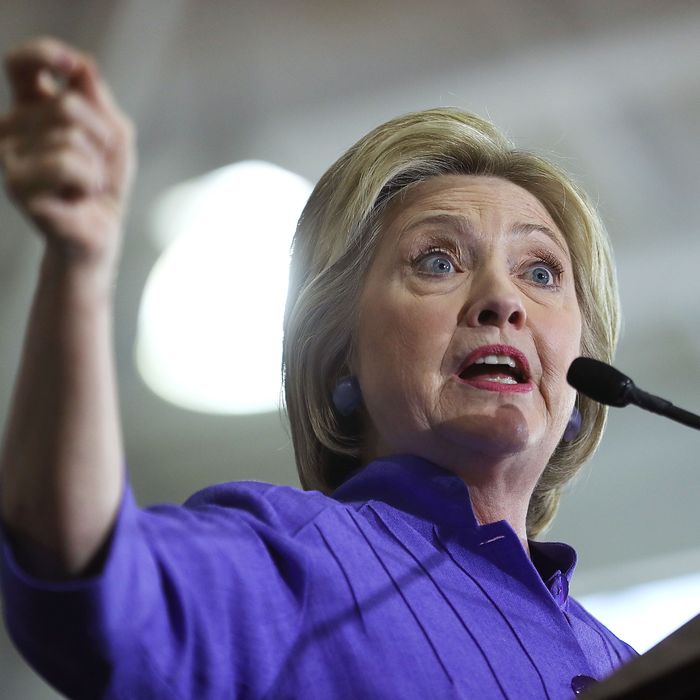 Photo: Justin Sullivan/Getty Images
During a rally in Los Angeles on Friday, Hillary Clinton devoted a few words to gender bias in Hollywood; in particular, the lack of women working behind the scenes.
"We're holding this event during the L.A. Film Festival, and in fact, this year I'm told about half of the directors are women," said Clinton, speaking to an audience that included actresses like Elizabeth Banks, Sally Field, and Mary Steenburgen. "So we're moving toward answering the age-old question: Are Americans ready for a woman director?"
While Hollywood's gender gap has increasingly become a cause célèbre, the industry still looks an awful lot like it did back in the 1950s (aside from a few bright spots): white, male, and full of pervy dudes. The 2015 Celluloid Ceiling report compiled by the Center for the Study of Women in Television and Film found that women accounted for just 9 percent of directors in the top 250 domestic-grossing films (just one of many bleak statistics). Still, Clinton, took an optimistic view.
"We are going to break the celluloid ceiling," Clinton continued. "Then, starting next Tuesday we are on our way to breaking the highest and hardest ceiling."
What say you, Meryl?