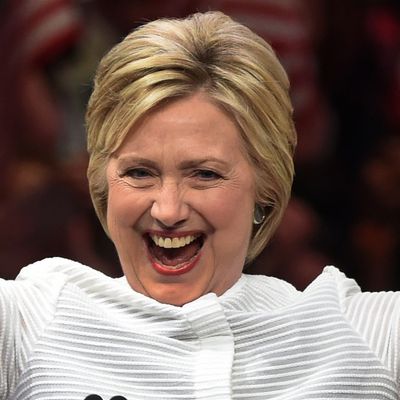 John Lennon's Imagine starts playing.
Photo: TIMOTHY A. CLARY/ABC/Getty Images
Like a lot of women, I spent part of last night pinching myself. A woman. A woman! A woman. Finally, a woman. Eight years after Hillary Clinton conceded to Barack Obama, telling us, "Although we weren't able to shatter that highest, hardest glass ceiling this time, thanks to you, it's got about 18 million cracks in it." One hundred years after the first woman was elected to Congress. And 240 years after this country's founding.
The moment could not be more historic. Or could it?
Let's imagine that it is January, post-inauguration, with Clinton finally occupying the Oval Office and the Orange Man finally more farce than threat. She chooses the strongest liberal candidate to head the Treasury Department. Lael Brainard accepts. She chooses the person most often tipped as next in line to lead the Pentagon. Michèle Flournoy agrees. For State, she goes with a seasoned, trusted diplomat, Republican opposition be damned: Susan Rice. And for her chief of staff, she appoints Neera Tanden, currently the president of the Center for American Progress. I suppose she might need a token dude in there somewhere.
Now, with her cabinet in place and her White House up and running, Clinton decides to get to work. She calls the single most powerful person on Earth without an army at her beck and call. Janet Yellen picks up. She calls Europe, the world's largest economy. Angela Merkel picks up. She rings over to the world's most important international financial institution. Christine Lagarde picks up. This is not fantasy. If Hillary wins, this is simple reality. Her most powerful peers — save for the president of the People's Republic of China — will all be women.
Pinch yourselves again, ladies. Come 2017, it won't just be a woman running America. It could be women running America. And it will be women running the world.