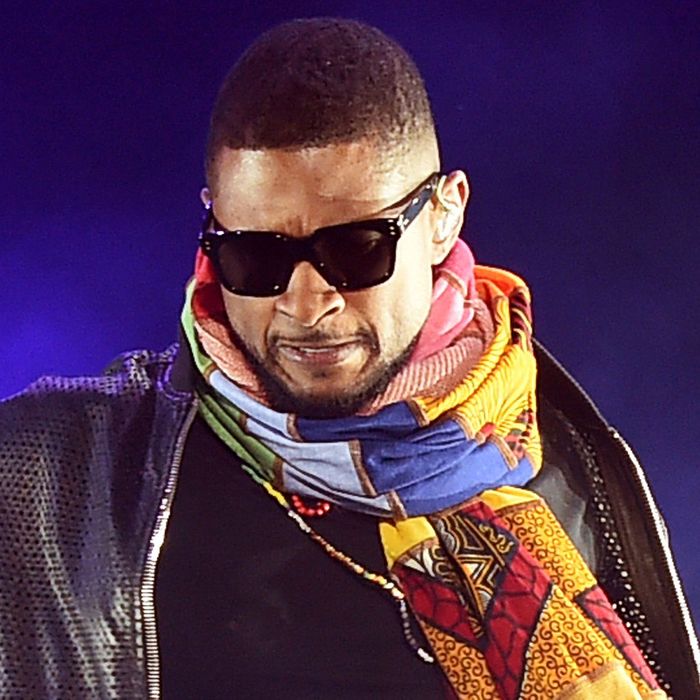 Photo: Kevin Winter/Getty Images
I can't say for sure whether my first kiss (or my second, third, or fourth kiss) happened while an Usher song was playing, but I'd put good money on it.
By 2004, when I was 14, Usher's Confessions had made him one of the best-selling artists of the decade, and, later, one of the best-selling artists in American music history. There was not a carpool ride or school dance or "summer bangers" mixtape that did not feature at least one Usher song, and usually more. For youth who came of age in the early aughts, there is possibly no artist in history who made better grinding music. (Remember grinding?!) Seriously, show me one other artist whose music you'd rather listen to while your ninth-grade English teacher watches you gyrate your pelvic bone into a strange boy's crotch, and I will show you a person in denial.
Last night, my roommates and I were tipped off that Questlove would be hosting Usher for a surprise concert at his weekly Bowl Train event at Brooklyn Bowl. There, for a very affordable $10, Usher did a two-hour concert, backed by the Roots, to a crowd of a couple hundred. We were so close, Usher could have dripped sweat on me, in which case I would have probably attempted to bottle it and sell it on Etsy as some sort of artisanal aphrodisiac. Yes, ladies, he is that good.
It's easy to forget (or at least I sort of had) so let me remind you now: Usher is a goddamn superstar. He sold out sports stadiums. He performed at the Super Bowl. He has eight Grammys. He danced with MJ. Much like, say, Justin Timberlake, Usher is an old-school showman who has been performing since childhood: a dancer, a singer, five feet and seven inches of raw charm and taut musculature. I've seen superstars perform before, but always in large venues, where they are isolated from the plebes by an appropriate distance. Seeing Usher in such a small venue, beaming ear-to-ear the whole evening, I was bowled over by the sheer amount of raw talent and charisma on display.
Even though Usher hasn't released an album in quite a while, nothing about his set felt cheesy or old-school (the backing stylings of the Roots were a welcome addition). Unlike JT, whose sexiness was cruelly taken away by years of unsexy career decisions (I blame Jimmy Fallon, Lorne Michaels, and the Trolls movie, in that order), Usher's sexy is firmly in place. In fact, somehow he looks even better, even sexier, than he did 15 years ago. Much like D'Angelo, Usher has the kind of sex appeal that can reduce grown-ass women to squealing teens, as evidenced by the hordes of women clamoring to touch his sweaty hands after the show ended. Or, as my friend put it after the show: "I think I would pay $200,000 to sleep with Usher." (She does not have $200,000.)
But in addition to rediscovering Usher's sexual potency, the overriding feeling was a sense of joyful nostalgia. Last night, I was stunned to remember just how many hits Usher has: "Yeah!," "Burn," "Confessions Part II," "My Boo," "Love in This Club," "OMG," "DJ Got Us Fallin' in Love," and on. These are all songs that I (and, it seemed, everyone in the venue) know every single word to. I've seen artists whom I listen to with much more frequency yet can barely sing along to. But it turns out that much like riding a bike, the ability to appreciate Usher never goes away, especially after it's been quietly burned into your soul at the most primal and formative moments.
Listening to these songs, I was taken back to nights filled with red cups and foamy keg beer and aggressive teenage hormones, and looking over at my roommates, I knew they were having similar flashbacks, so omnipresent was this music at such an essential stage of our lives. It was one of those magical concert experiences that sneaks up on you, bringing up a whole wave of emotions and memories you never knew were locked up inside of you, just waiting for a few bars of Usher's smooth falsetto to unlock them.
In conclusion: If you can attend a last-minute, $10 Usher show at any point in your life, I highly recommend it. If not: Well, the man finally has a new album coming out this year, so there's no better time to get reacquainted.