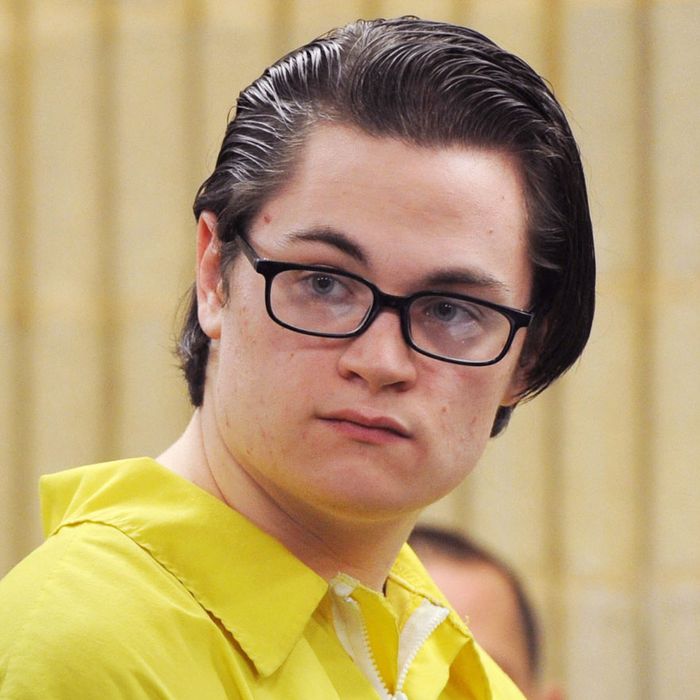 Christopher Plaskon fatally stabbed Maren Sanchez the day of prom.
Photo: Ned Gerard/Hearst Connecticut Media via AP, Pool
Christopher Plaskon — a 19-year-old Connecticut teen who stabbed and murdered a girl in 2014 after she refused to go to prom with him — was sentenced to 25 years in prison on Monday. But new state juvenile sentencing laws make him eligible for parole in 13 years.
Plaskon attacked Sanchez in a first-floor hallway the morning of their junior prom on April 25, 2014, fatally stabbing her in the neck and torso. During the assault, someone tried to pull him off Sanchez; another witness saw him cast aside a bloody knife. "I did it," he reportedly told police in the principal's office after the murder, his clothing covered in blood. "Just arrest me."
The boy's father and friends told police he was upset after Sanchez, a National Honor Society member involved with theater and other extracurriculars, refused to go to prom with him. She planned to go with a new boyfriend and was excited about the dance for days leading up to the killing, posting a Facebook photo of herself in a blue dress.
Plaskon's attorneys had considered an insanity defense: The teen's parents claimed he grew up receiving treatment for mental-health issues including mood swings, depression, suicidal thoughts, and self-mutilating behavior. He also wrote to his dad from prison claiming he heard "voices," which he said caused him to kill Sanchez. But last March Plaskon chose to plead no contest, declining to fight the murder charge.
Jonathan Law High School seems to have ignored warning signs five months before the killing, when Sanchez told her guidance counselor that Plaskon seemed disturbed, "threatening to commit suicide or acts of serious self-harm by cutting himself with a knife." That was in November of 2013. Sanchez's mother, Donna Cimarelli-Sanchez, filed a lawsuit in March alleging the school didn't work to keep her daughter safe after Sanchez voiced those concerns. The lawsuit seeks damages over $15,000 from Plaskon, his parents, and the Milford school system.
In court on Monday, Sanchez's parents were upset the 25-year sentence wasn't longer. "The message that it sends is that if you commit a crime as heinous as murder in the state of Connecticut, you're going to do very little time, you're going to walk out with a college degree and you have your life back at one point," her father, Jose Sanchez, said after the hearing. "It's not the message that we want to send to the children in our schools when this has become an epidemic throughout the country. … I never get my daughter back. My daughter will always be dead."