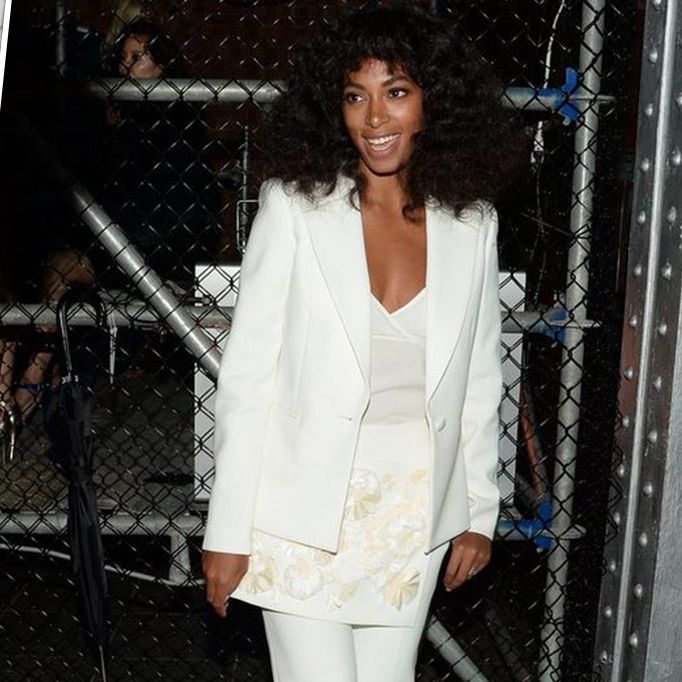 Getting dressed for work can get stale fast, and if your office errs on the more conservative side, you're probably already lost in a monotonous sea of white button-downs and black trousers. If you find yourself constantly praying for the weekend just so you can finally wear something interesting, it's time to consider investing in a few work coordinates.

We're not talking about a basic black suit here. Take a cue from Gigi and Solange and think bright and patterned with off-beat tailoring and details. In the spirit of mixing things up, we've collected nine work coordinates that look polished but never boring.
When the job calls for a tailored suit, rely on color for a fresh take. This pretty pastel suit can go from soft to hard-edged with the right accessories.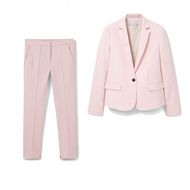 Mango Structured Cotton Blazer, $70 at Mango; Mango Straight Cotton Trousers, $55 at Mango
A flowing midi skirt and silk button-down mirror the polish of a sharp suit but still let you breathe.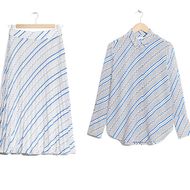 & Other Stories Distant Highway Midi Skirt, $85 at & Other Stories; & Other Stories Distant Highway Silk Shirt, $58 at & Other Stories
River Island's color-blocked duster-and-pant combo is a chic way to venture into color without going off the rails.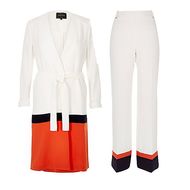 River Island Cream Color Block Duster Jacket, $120 at River Island; River Island White Color Block Pants, $80 at River Island
Nothing says summer like a dose of Vitamin-D yellow. Style it like Kendall for a casual night out, or tuck in the shirt and top if off with a work-ready sandal.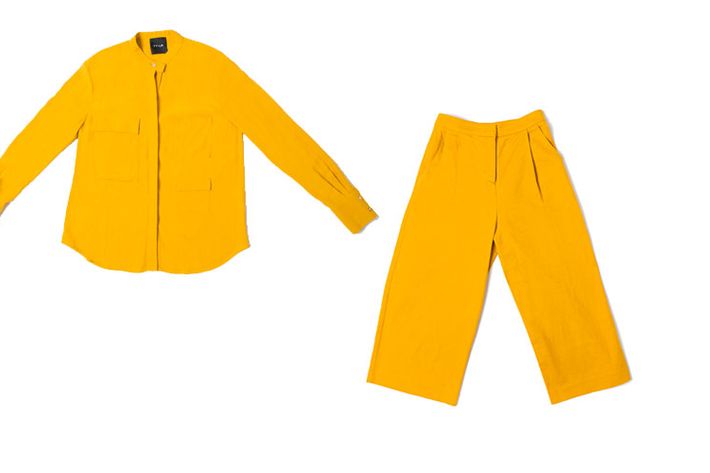 TY-LR the Lucid Shirt in Golden Sands, $164 at TY-LR; TY-LR the Ardent Culotte in Golden Sands, $170 at TY-LR
This coordinate combo is made from silk, so you won't be dripping buckets of sweat during your daily commute. Wear it with loafers during the day and swap out strappy sandals at night.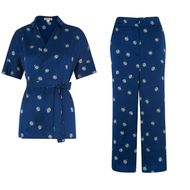 Whistles Edwina Print Silk Trouser, $330 at Whistles; Whistles Edwina Floral Wrap Top, $330 at Whistles
If you can't pry yourself away from neutrals, try coordinates with interesting details and shapes like this drapey pajama-inspired set from Zara, complete with a cool stitched finish.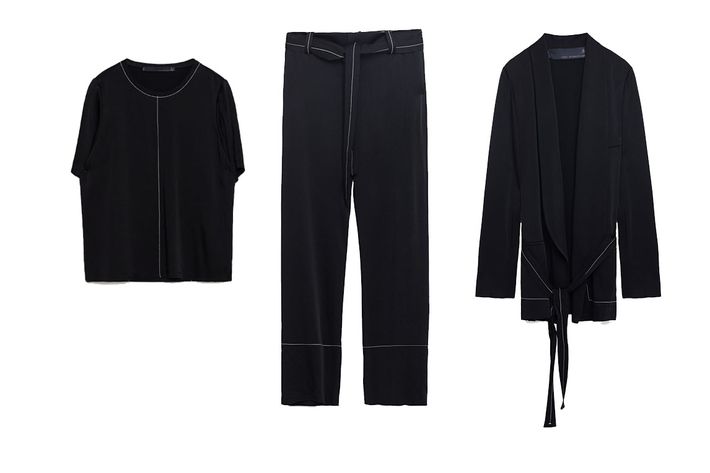 Zara Studio Jacket, $170 at Zara; Zara Wide-Leg Studio Trousers, $129 at Zara; Zara Top With Contrast Stitching, $70 at Zara
To avoid looking like Beetlejuice, pair this bold suit with a black-silk cami and simple single-strap heels.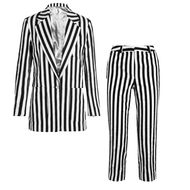 Topshop Unique Harleyford Striped Blazer, $425 at Net-a-Porter; Topshop Unique Harleyford Striped Slim-Leg Pants, $255 at Net-a-Porter
To get the most out of your work wardrobe, try coordinates that can make a statement either together or apart. This poplin top would look great layered underneath a denim pinafore.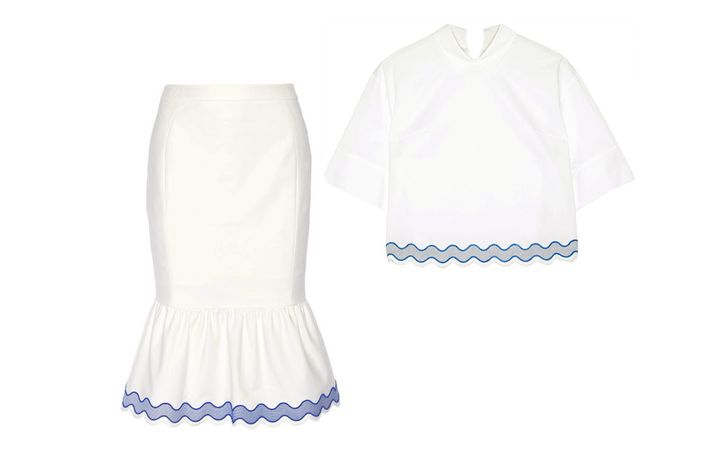 Steve J & Yoni P Embroidered Cotton-Poplin Top, $216 at Net-a-Porter; Steve J and Yoni P Fluted Embroidered Poplin Skirt, $244 at Net-a-Porter