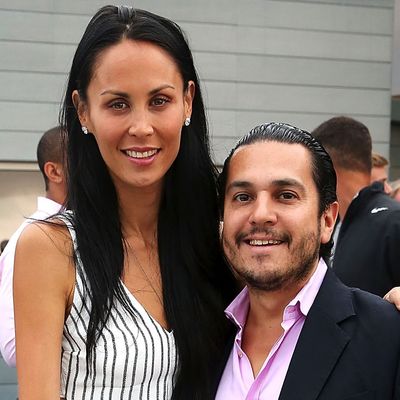 The Wainsteins.
Photo: Sonia Moskowitz/Getty Images
There have been several contentious Real Housewives divorces over the last ten years: Vicki and Don, Bethenny and Jason, Cynthia and Peter, Yolanda and David, Ramona and Mario … the list literally goes on. As E! News pointed out with terrifying precision last week, the divorce rate across the franchise is sky high: About a third of the couples who join the show break up shortly thereafter. So it happened to the Real Housewives of New York's Jules and Michael Wainstein, who joined the show this season and announced their divorce (after eight years of marriage) last week.
Jules, a 35-year-old mother of two, has not made much of an impression on the show so far. (Her tagline: "A Jew and an Asian walked into a bar. Then they had me!") Her divorce, however, promises to be more dramatic than anything we've seen on the series. Below, a series of unfortunate events.
June 15, 2016: Michael files for divorce. A rep for Jules confirms the split to multiple outlets and claims right out of the gate that Jules caught Michael cheating on her. The rep's official statement to Bravo: "[Jules] appreciates the support of her Bravo family and fans. Her main concern right now is taking care of her kids and focusing on her Modern Alkeme drink."
(Modern Alkeme is a "Japanese superdrink" designed by Jules that is now available at Whole Foods.)
June 16, 2016: Jules's co-star Ramona Singer tells Us Weekly she hopes the divorce proceedings can stay private. (Oh, Ramona.)
"I know she's heartbroken, and I think it's really sad," she says. "I mean, listen, let's face it: Half the marriages [on Real Housewives] do end in divorce, and they end in divorce for a lot of assorted reasons. I think it's a really sad thing that it becomes public. I mean, something like this, you want to keep private. You want to protect your children and it's just hard enough to deal with without it being all over the media."
The divorce does not stay private. Hours later, Jules calls the police to the Wainsteins' shared apartment in New York. Here's the resulting Daily Mail headline:
"EXCLUSIVE: Police swarm Housewives star Jules Wainstein's apartment as she accuses husband of 'threatening' behaviour after she catches him 'cheating with her friend.'"
In the corresponding report, there are multiple photos of police outside the apartment, and one photo of a cop carrying a witness statement in which the words "threatening me … going to ruin my life" are visible. (!) See here.
A source tells People, "[Jules] was in an environment in which she genuinely did not feel safe."
In response, Michael's attorney releases this insane statement to "Page Six":
"[Jules] regularly calls the police with false allegations, and the police arrive and find there was no incident. She is trying to create an incident to get him arrested so she can get an order of protection and get exclusive occupancy of the house for herself. That's a tactic that some women use … This is a tactic she is using to enhance the drama."
He also denies that Michael cheated:
"[Jules's] 'reality show persona' has caused her to morph into a wannabe 'drama queen' who is totally out of sync with reality to the grave detriment of her long-suffering husband, who no longer chooses to be her foil and assume the role of 'drama king.' The marriage is over! But, not due to any fault [of Michael] who was not 'busted' for cheating as incorrectly alleged."
Jules's rep calls the statements "disgusting."
June 17, 2016: Michael's attorney claims to Us Weekly that Jules was the abusive partner in the relationship.
"In the winter of 2012, Julianne brutally and viciously assaulted her diminutive but brave husband," he says.
(Michael is shorter than Jules.)
Jules's rep denies this claim.
June 18, 2016 to present: Jules and Michael are photographed handing off their children outside their apartment.
Jules wishes a happy Father's Day to everyone but Michael.
What will happen now? Nothing is certain, except for the fact that Bravo will gladly welcome Jules back next season.