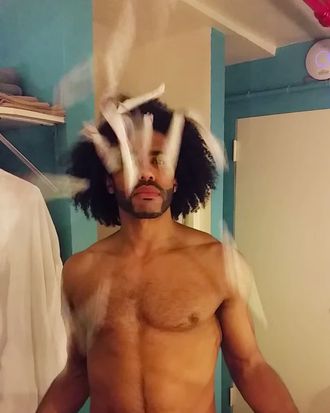 Photo: Courtesy of YouTube/Oak Onaodowan
Saturday was Menstrual Hygiene Day and Hamilton stars Daveed Diggs and Okieriete "Oak" Onaodowan took to Instagram to help end period stigma. Fortuitously, Diggs was only partially dressed.
Onaodowan posted a video of his castmate voicing support for Racket, a nonprofit organization that collects and distributes tampons and pads to women in need.
Diggs gives a shout-out to Margo Siebert, the group's co-founder and lead plaintiff in the class-action tampon-tax lawsuit in New York State before imploring someone off-camera to "make it rain … tampons." And rain they do, ricocheting down his glorious person.
If you only watch this video once, you are stronger willed than I am.