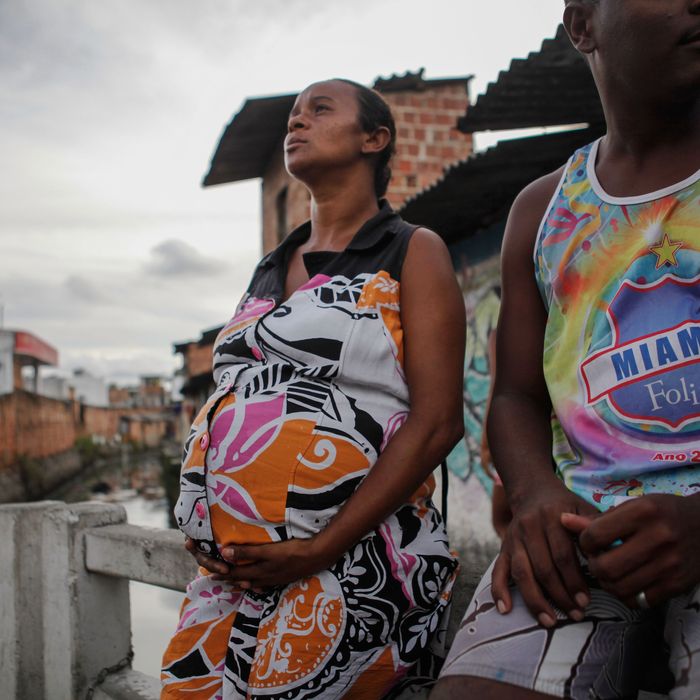 Pregnant women in Brazil.
Photo: Mario Tama/Getty Images/2016 Getty Images
The World Health Organization has told people living in areas with active transmission of the Zika virus that they should consider delaying pregnancy, presumably until further notice. The guidance affects people in 46 countries, mostly in Latin America and the Caribbean — often heavily Catholic areas that frown upon any method of contraception more advanced than the rhythm method.
The organization's interim guidelines say that it's on country health programs to make sure that:
In order to prevent adverse pregnancy and fetal outcomes, men and women of reproductive age, living in areas where local transmission of Zika virus is known to occur, be correctly informed and oriented to consider delaying pregnancy; and follow recommendations (including the consistent use of condoms) to prevent human immunodeficiency virus (HIV), other sexually transmitted infections, and unwanted pregnancies.
The W.H.O. also wrote that women who've had unprotected sex and are worried about Zika should have "ready access" to emergency contraception and counseling.
This advice will no doubt be controversial. Brazilian church officials said in February that "contraceptives are not a solution," but the Pope himself allowed that, in light of the epidemic, "avoiding pregnancy is not an absolute evil." (Abortion? Definitely still an evil.)
Women need birth control to plan their pregnancies. Some pregnant women diagnosed with Zika will want abortions, and they should be allowed to make that choice for themselves. In fact, women should have these rights whether or not there's a viral epidemic.