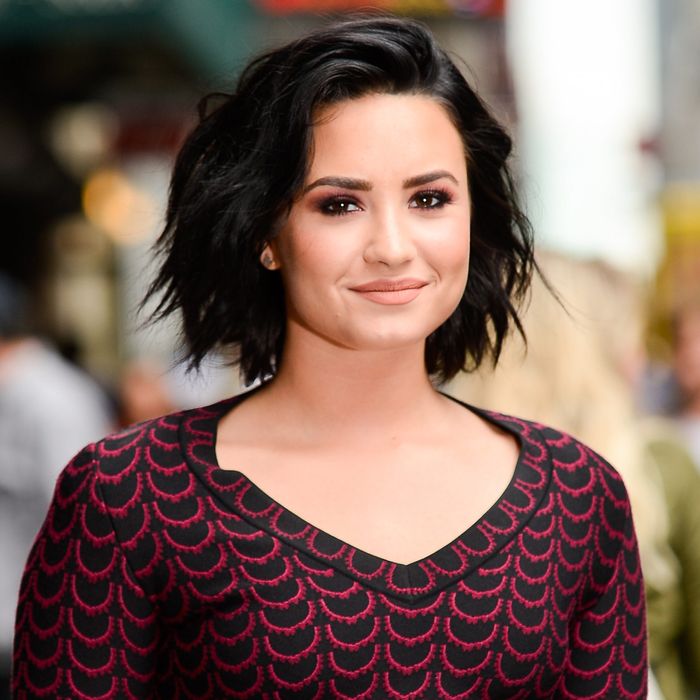 Photo: Ray Tamarra/Getty Images
Today, Demi Lovato announced that she is quitting Twitter and Instagram to focus her energies on Snapchat: a kinder, less interactive platform. While she didn't give a specific reason for her social-media purge, Lovato has a history of inciting ire on the web, whether it's subtweeting Taylor Swift or shading Mariah Carey. On this historic day, let us reflect back on some of the highlights:
The Kathy Wars, 2012–2015
Kathy Griffin and Demi Lovato have been feuding for years. Highlights include Griffin calling Demi the "biggest douche celebrity" she's ever met and calling her out for lip-syncing at the VMAs, and Demi's fans getting so angry that they sent Kathy death threats. Fun!
The Barbie Controversy, September 2015
Last September, it was announced that Zendaya was getting her own Barbie. Demi proceeded to anger people by "stealing Zendaya's moment" when she suggested that Barbie make a curvy doll in her image.
The Gaga Vomit Incident, March 2015
Demi was not happy when Lady Gaga seemed to be glorifying eating disorders by incorporating vomit into a performance, and she took to Twitter to express her grievances.
Gaga later denied that the puke had anything to do with eating disorders and that she takes these struggles "very seriously."
Swiftgate, February 2016
After February's court ruling against Kesha, Demi appeared to subtweet Taylor Swift for not speaking out about the case.
After Swift proceeded to donate $250,000 to Kesha's legal fund, Demi slammed Swift in a series of Instagram comments, writing: "Not everyone has 250k to just give to people. Would love to but I didn't grow up with money and def haven't made as much as her. At least I speak up about sh*t that's uncomfortable to talk about rather than trying to be politically correct 24/7."
She also wrote that she would "rather start a dialogue ABOUT WOMEN COMING FORWARD ABOUT BEING RAPED than throw money at one person" and that she is "seeing women use 'women empowerment' and 'feminism' to further brands without actually being the ones that have the uncomfortable conversations." Things got heated!
Swiftgate 2.0, May 2016
After Demi posted a selfie with Hailey Baldwin, Taylor Swift's squad reportedly unfollowed Demi on Instagram (we don't know exactly why the squad is so anti-Hailey, or whether they even followed Demi to begin with, but such is the elusive nature of online beef).
The Nicki Minaj Beef, May 2016
After Nicki Minaj neglected to tag Demi in an Instagram from the Met gala, rumors of beef circulated. A frustrated Demi responded to the controversy — as one does — with a furious middle-of-the-night Twitter rant.
Mariah Carey Meme-ghazi, June 2016
In what may have been the shade that broke the camel's back, a few days ago, Demi commented on a meme implying that Ariana Grande was a lesser version of Mariah.
Demi came to Ariana's defense, sniping: "You got the wrong way around honey." After Carey's fans clapped back, Lovato doubled down: "Mariah is a legend and is so talented but constantly disses people. It's nasty the way she treats Jennifer. Ari did nothing wrong."
We'll miss you, Demi.