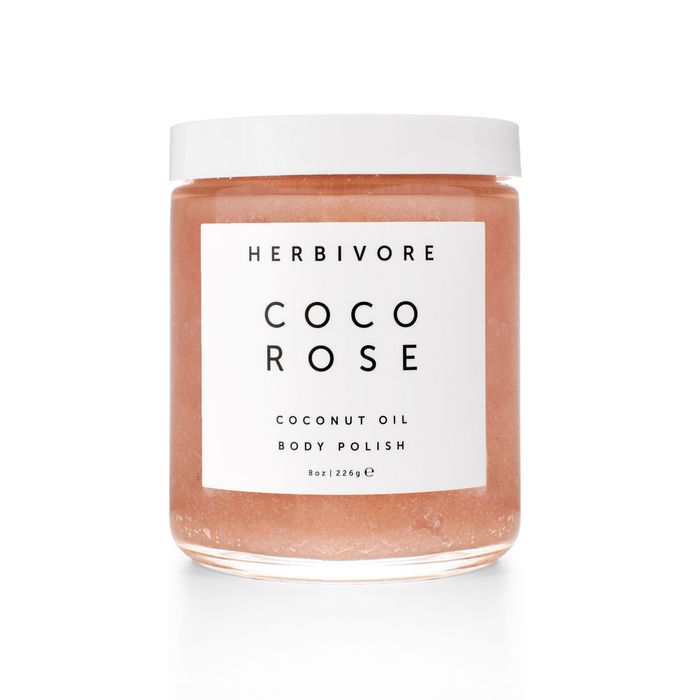 What's clear, slightly sticky, and makes a great hair treatment? Coconut oil, of course.
New uses for the natural ingredient continuously come into our lives, adding to a seemingly endless list of its benefits. There's the coconut makeup-remover wipe, the coconut conditioning treatment, the coconut-oil diet, and the coconut scrub. It's the latter spinoff that sparked my attention in Herbivore's Coco Rose Body Polish.
A scrub that folds in coconut oil isn't terribly innovative, but when done right, it's a shower-changing experience. First there's the ratio of exfoliant to oil. Some scrubs are too oily and make polishing your body into a slippery feat. Some scrubs are too dry and crumble far too easily. Coco Rose, with its perfectly balanced blend of sugar granules, coconut, and meadowfoam oil, sparks a wet emulsion that's neither too oily nor too dry. You can pick up a handful and coolly massage it over your skin without wasting the product or sliding in the shower.
Ease of use is just half the battle. The scrub itself is free of parabens and gnarly chemicals (like sulfates and preservatives). When rubbed over skin, Coco Rose melts quickly and evenly — leaving a thin veil of oil on your skin, which stays on post-rinse. The sugar grains are relatively large, which facilitates a vigorous yet pleasant scrub. It smells sweet too — like rose, naturally — and the scent slowly dissipates as the day wears on.
I scoop a handful of Coco Rose onto my body once a week for skin so smooth that it practically looks airbrushed. When I'm finished, I'll likely recycle the scrub's pretty glass to use as a makeup-brush jar, or maybe a candle handle. Something inside me feels like the coconut-oil lovers of the world would approve.
Herbivore Coco Rose Body Polish, $36 at Dermstore.