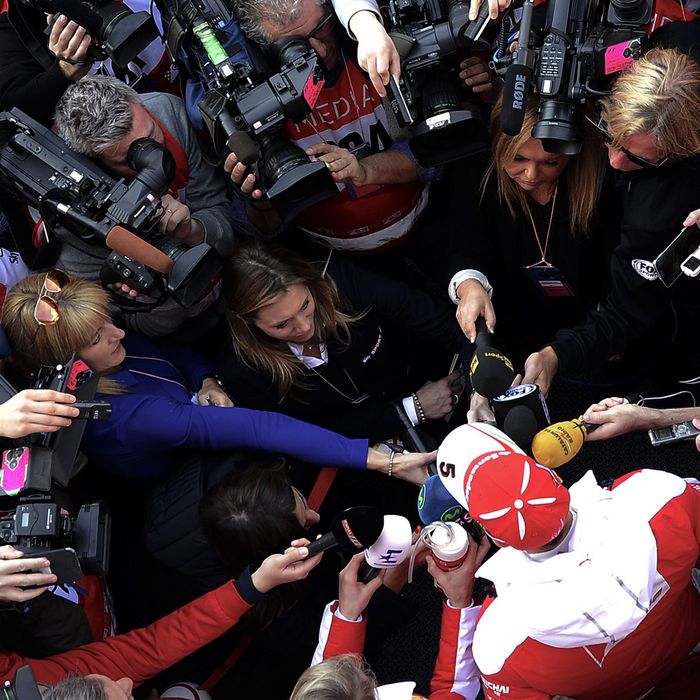 Press madness is real.
Photo: JOSE JORDAN/AFP/Getty Images
Shortly after appearing on season six of The Apprentice ten years ago, I started receiving calls from talent recruiters and news directors asking me to be an on-air business expert. This made sense; I was freshly off a tremendously successful business-related reality show on a major network and I have an MBA. I also received the rare decent edit from the reality gods, so I didn't come off as totally crazy.
Sure, I was fired. But the mood in the boardroom was unusually pleasant upon my departure. Trump said something nice-ish to me, and my team even gave me a big group hug before I rolled off with my suitcase into the sunset. I didn't win the title of the apprentice, but I certainly felt like I won the game I was playing. I had previously worked as a reporter for a local NBC affiliate in Arizona, so I figured I was in a good position to land a steady job in television news. Coiffed hair and smart suits, here I come. I was ready for my close-up.
First up, Fox Business News asked me to appear on Neil Cavuto's show to talk about a recent PR scandal. I was in Phoenix at the time so I would be on-air live remotely, talking in front of a green screen. When I arrived the hair-and-makeup person told me I looked "all wrong for Fox News" and insisted on entirely making me over. She sprayed and teased my hair into a hard helmet that looked fitting for a show dog at Westminster and applied so many layers of makeup that my cheeks and lips legitimately felt immobile.
Then to my horror, a producer is hysterically waving at me indicating that Cavuto already started the segment and I was supposed to be on air. They hadn't given me my earpiece yet. Someone finally shoved one in my ear, but the level was turned way down. Cavuto was talking and I was smiling through 7,000 layers of Avon Lady red lipstick, unable to hear a thing. Though the whole staff of the show was very nice about the disaster, I was not asked back.
It was at that moment that I decided to take control of my television career. If I was going to publicly fail or succeed I wanted it to be on my terms. I moved to Hollywood and became an entertainment journalist because I thought celebrity reporters get to have real personalities and just be themselves. It would be hard work, but also a lot of fun. It was.
The first thing I did was send an email to the head of talent casting at E! News saying something like:
My name is Jenn Hoffman. I'm a television host and reporter who would like to submit my résumé and talent reel for consideration at E! Networks. Currently I'm a reporter for Good Morning Arizona. Previously I was a reporter for NBC News and a contributor at Fox News.
My head shot, résumé, and reel is attached. I'm happy to provide any additional materials.
Within a few hours I received an email response. My résumé and reel looked great, it said, but "E! only accepts submissions from agents, managers and publicists."
I was fuming. Before The Apprentice, I had been a director at a PR firm that worked with female entrepreneurs. I didn't want to hire somebody to do a job I could easily do myself. Colleagues from the firm had even volunteered to do my PR for free, but I didn't want anyone else to speak for me. I wanted to speak for myself.
I was not going to let the lack of a third party get in my way. I'd just have to conjure up a third party.
I spent the next 24 hours creating an imaginary boutique PR firm that represented on-air talent. Their sole client was me.
The first thing I had to do was pick a name for the agency. I decided to use the last name on my original birth certificate: Magnatta. Next up, I needed to invent an employee to send emails and make calls on my behalf. I would have to use a variation of my own voice on the phone, so this person had to be a woman. I decided to name her MaryAnn, after my great-grandmother Mary and my grandmother Ann.
I had never built a website before, and Squarespace didn't exist, so I started to study basic HTML. After some laughable attempts at coding, I discovered Yahoo's site builder was fairly easy to navigate. I stayed up all night making that stupid website – my goal was to be auditioning at the E! Studios that week, so sleep would have to wait.
The next morning, my site and fake publicist were ready. I knew what I was doing was dishonest, but I felt good about it. Still, I didn't feel comfortable lying outright, so I decided to add one glaring giveaway that the entire company was a front. So on the "About MaryAnn Magnatta Media" page I added a photo of myself with a caption:
About MaryAnn: MaryAnn Magnatta is a character made for the PR world. Her sole purpose is to circumvent outdated policies and tear through ridiculous rules that keep honest, hardworking people from getting the chance they deserve. MaryAnn is a representation of that chance.
I re-sent the same email I had previously written to the casting people at E!, but from MaryAnn Magnatta's account. They wrote back immediately asking to schedule an audition for Jenn Hoffman that week.
I didn't book that show, but soon after I got hired for another job, on Fashion Emergency for the Style Network at E! I had a proper agent by then, but network execs remembered me from my previous audition set up by MaryAnn. Over the next few years I filmed several pilots for E! and was featured as a talking head on E! News Reality Scandals.
Creating MaryAnn was a reflection of how I've always lived my life. If there's something I want, there's no such thing as no. When I went to the open call casting for The Apprentice, thousands of wannabe contestants were already waiting in a ten-hour line. Instead of standing at the back, I marched right to the head of the line. "None of the people who are waiting on this line deserve to be on this show," I told the woman at the door. "They don't think they're important enough to be seen right away. I do. Interview me now or I'm leaving."

 I was seen right away. A few weeks later, I was filming the show.
It takes balls and a certain lack of fear to get what you want. Nobody is going to hold your hand, so you might as well invent a fake hand attached to an imaginary woman named MaryAnn.
Recently, of course, my former TV-show boss Donald Trump was in the news for allegedly doing the same thing I did: pretending to be his own publicist – in his case, on calls with reporters. Do I think he's lying about who spoke for him? Is he John Miller just as I was MaryAnn Magnatta? The truth is: I don't care.
I've worked on many sides of the industry — as a publicist, a reporter, and the talent — and I know how tricky it can be to navigate a relationship with the media. If Trump did pretend to be his own flack, it would make sense to me. Who better to speak for Donald Trump than Donald Trump? Anybody who deals with the media is understandably nervous about miscommunications or reporters actively twisting what they mean. It can feel safer to make sure you are the only person speaking for yourself, even when you're doing your flack's work yourself. I make no apologies for using my resources to my advantage, and I wouldn't expect Donald Trump to apologize for it either.