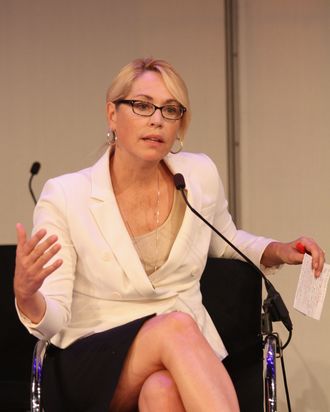 Photo: Laura Cavanaugh/Getty Images
Doris Burke loves basketball more than you. On Thursday, she will begin covering her seventh NBA Finals as a sideline reporter for ESPN and ABC. She was also a college-basketball star, coached basketball, did radio for basketball games, and is a TV analyst for the NBA. But no one puts Doris Burke in a box. At "Lefty" O'Douls, a classic dive in San Francisco, the day before game one of the NBA Finals, she talked about so much more than basketball. Like Hillary Clinton, Drake, and the Barefoot Contessa.
Doris Burke also loves the Barefoot Contessa more than you.
This is your seventh consecutive NBA Finals as a sideline reporter. You're a part of the longest-tenured Finals crew, with Jeff Van Gundy, Mike Breen, and Mark Jackson. How did you get to this point?
I am an accidental television person. I was an assistant basketball coach for two years at Providence and loved every second of it, but wanted to be married and have children and did not think that I could be a coach at the Division 1 level and be a mom. There were women who pulled it off successfully, but when I was the assistant coach at Providence, I started my days at 7 a.m. with individual instruction and probably ended them at 9 or 9:30 at night with telephone calls to recruits, which does not lend itself to successful marriage or parenting. The year I left, they put Providence College women's basketball on the radio and said, "Hey, you played here and you coached here, why don't you try it?" And that's how I got started.
Do you think if the era were different you would've wanted to play professional basketball?
Sure, yeah. I had an opportunity to go overseas and play professionally, but in the final game of my senior season, I blew my knee out. The surgeon says, "You need to make a choice here: We can shave the ligaments" — since I blew them both — "and move on, or you can play and we'll have to reconstruct, and then your process is going to be a lot longer." I said, "You know, I think I'm okay," and my career was over. But if I had known that the WNBA was a legitimate hope in the future, that would have changed my thinking. No question.
You're not just a minority in your field but often described as the first this, the first that. In terms of trailblazing, how do you feel about it?
I don't like that word. I wasn't the first woman to try to make it in the world of sport, right? There were so many that came before me. The story I always come back to is a story about Suzyn Waldman. She's trying to make it in baseball; she had experienced her share of ugliness. Long story short, she was in a scrum of media guys, 25 guys around the star baseball player. And he basically says, "I'm not talking until that c-word hits the road." And the group of men in front of her just turn around and look at her like, "We got a deadline here, can you move along?" Another professional baseball player from across the room hears what's going on and says, "Young lady, if you'd like to talk to a professional baseball player, I'd be happy to answer any question you have." She talks about that as being a seminal moment in her career, because he saved her. She was to the point where she was going to quit. Have I experienced some blowback in terms of not having acceptance? Sure, I have. But was it anywhere near what these women had? Hell no. And you want to know what my soft landing spot my whole career has been? Honest to God, the players and the coaches. Those men didn't see me as anything other than "We're just talking basketball here." So, trailblazer makes me super uncomfortable.
Well, that does remind of what happened with you and San Antonio head coach Gregg Popovich, when he wouldn't answer your questions besides saying "turnovers."
Yeah, and me choking back tears?
Yeah, I remember being very happily surprised that you admitted vulnerability after that. You're like Hillary Clinton in that people expect you to prove toughness in a way that men don't need to.
Yes, yes, displaying a level of strength and a lack of vulnerability, because that's what a prerequisite of the job is, when, in actuality, all of the things that make us human will help us do that job better. I've been expressing my vulnerability because it's the truth. I was literally on the verge of tears. And my take on that Popovich situation has changed. We all used to give him a pass because he would say to us privately, "Well, I just can't help myself. I'm in the game, and this is my job." But I don't give him a pass anymore. It now frustrates me to the point where I want to say, "I'm not giving you a pass because I've seen you when Jeff Van Gundy walks over there, and the interaction is totally different."
There are moments in which being a woman or a minority in a world dominated by white men, you have to actually say something because you're not always treated the same.
Correct. I remember sitting at the University of North Carolina in a press room with my producer, who happened to be a black man, and I am bemoaning my fate, saying, "I should be an analyst on higher-level games, and I don't know why I'm not." And he said to me, "Do you want a real answer, or do you want a bullshit answer?" I said, "I want a real answer." Your Hillary analogy is making me laugh — because I would only wear suits, and, generally speaking, pantsuits, because the man next to me was in suits and I wanted to project an aura of "I know what I'm talking about." And my hair was in a ponytail, and it was pulled back tight. He said, "Let your hair down. Soften your look. I know it goes against every fiber in your being to be evaluated for anything other than what you are saying as an analyst. But this is a visual medium." And whether it was a coincidence or not, once I had done that, the level of games I was being assigned changed.
Those words: soften, smile more. It's tricky. There's this great moment where everyone freaks out because you dribble a ball behind your back and you're wearing heels and a pencil skirt. Half of the freak-out is "That is so cool," and the other half is "Wow, look at this woman dribble a ball behind her back." I'm excited for a moment where that's not news.
Dick Vitale always used to say to me, "Remember, this is an entertainment medium." People are not tuning in to a game to know how smart you are about basketball; they wanna enjoy it. And it took Dick years of saying that for me to settle in and say, "It's also okay for me to have a little fun on the air."
You don't always ask the typical sideline questions.
These are men. And I love talking to them because they're interesting. By and large, they worked incredibly hard to get in the position they are in. There's not an athlete in the world who doesn't deal with the same issues you and I have: frustrations with our family, dealing with tragedy or loss, or happiness and a child's birth.
You can't talk about the NBA without talking about popular culture. The worlds of entertainment and basketball—
They're overlapping now.
You go to a Raptors game and Drake is sitting there.
Can I tell you something about the last time I was there? I just could not believe this happened. Drake turned around — my seat at game six was right behind him — makes a heart shape [with his hands], and points at me. I'm looking around behind me to see who's there, turn back to him, and then he points and he does it again. I texted my daughter and said, "You need to know Drake just did this to me."
Do you have a fantasy bucket list of people that you'd want to interview that have nothing to do sports?
Someone like Oprah. I also am a huge fan of the Barefoot Contessa because I love to cook, and my daughter and I — my daughter is not a sports fan at all — we connected through cooking shows. The Barefoot Contessa was our favorite. And her whiskey-sour recipe is off the chain.
Do you feel like a mentor to younger reporters, female or otherwise?
I'm obviously very sensitive to young women broadcasters because you know their path is going to be different. But I find that the younger generation is incredibly prepared. They're polished, they're professional, they're  ambitious — the landscape has changed drastically in terms of their reception. My biggest thing has always been that I don't want to screw it up for the women that might come after me. Everything I do, how I conduct myself, what my level of preparation is, how I deliver myself, how I am with the players and the coaches — if I can make it easier for the woman that comes after me, I will be a happy woman. The next generation of women that come through after me, they will go farther than I will.
That's the hope.
That's the natural order. That's what we want to happen. We want it not to be a big deal that our president is black. That shouldn't be a conversation. If Hillary gets it, let's not discuss her gender, let's discuss her qualifications.
Okay, back to basketball — if the Warriors beat the Cavs, do you think that this is now Steph Curry's league?
I don't ever look at the league like it's a particular player's. You know, Michael [Jordan] needed a rival in order for Michael to ascend to the level that he did.
Clyde Drexler.
Right. Steph to me was the MVP. No discussion about it. But if you were to ask me who I think the best player in the league is, I would tell you that player is LeBron. I would also tell you that we take LeBron's greatness for granted. I'm watching this dude do what he does and I can't believe people are taking him for granted! Frankly, I just wanna shake people and go, "Do you recognize we have a once-in-a-generation player?" And I'm not just talking about his physical prowess; LeBron James seems to be playing a different game sometimes than everybody else.
Even in these playoffs, there were a couple minute stretches where I saw him be the best scorer in the league. I saw him be the best passer—
In the league.
I saw him be the best defender—
In the league.
But I've been seeing him since I was 17. We're like, "Yeah, that's just LeBron."
I'm uncomfortable taking him for granted. I am equally uncomfortable with the — to use new terminology — shade that seems to be being directed at Steph. I'm sitting there watching those guys play a game that we've not seen before in the league. He has literally redefined what is a quality shot. So why are these two things happening? Maybe it's the narrative that starts to build, and we just jump on it.

These two teams will be in the Finals probably for the next couple of years.
ESPN would not mind.
Last question: Who is your favorite basketball player of all time?
I have too many people on that list, but Diana Taurasi, she is amongst my all-time greatest. You know what I admired about Diana? NBA coaches who came to the WNBA, they would get so frustrated because they would diagram a play for a woman, and she'd end up passing it. In the NBA, you'd never have to tell a player, "That's your shot" — he knows! But Diana, she was as good a passer as I've seen, but she didn't mind being a bitch.