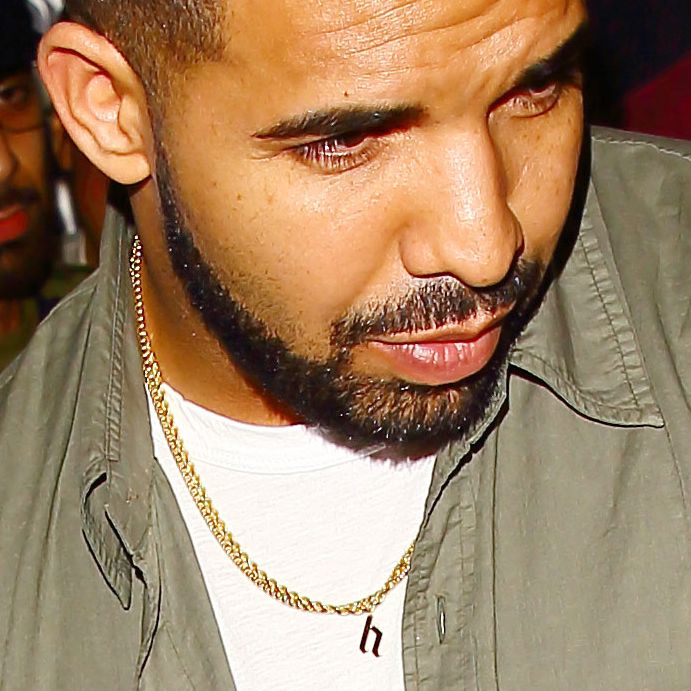 Photo: Splash News/Rita Ora Snapchat
In Staying True to Your Brand news, Drake was spotted leaving the Nice Guy in L.A. on Tuesday night after a supposed date with Hailey Baldwin. Even more significant, he was photographed leaving the club while wearing an H pendant believed to belong to Baldwin. This is yet another example of what appears to be a trend of Celebrities Trying to Send Messages to Us Through the Code of Jewelry.
Drake's pendant looks like it's by the same designer who made the J (or R, depending on whether you believe in conspiracy theories and/or photo flipping) necklace Rita Ora wore in her now-infamous lemon bralet snap, which fueled rumors that she was "Becky with the good hair" Beyoncé sang about on Lemonade. Not long after, Ora attempted to dispel these rumors through another bold jewelry choice of a "Not Becky" pin, which she wore to the Met Gala after-party.
And just last night, after rumors of a breakup with Zayn Malik swirled, Gigi Hadid left the Nice Guy wearing a G+Z necklace, throwing us all into an existential confusion.
Perhaps this trend of sending cryptic codes about one's relationship status via symbolic jewelry represents a longing for a different time, in which celebrities weren't quite so public and omnipresent on social media and could subsist on publicity fueled by a subtle gesture. Or maybe it's just become a fun celebrity pastime. Can't you just picture Hailey Baldwin and Rita Ora sitting up late at night on Etsy, searching for the perfect charms to plant on their way to the top?