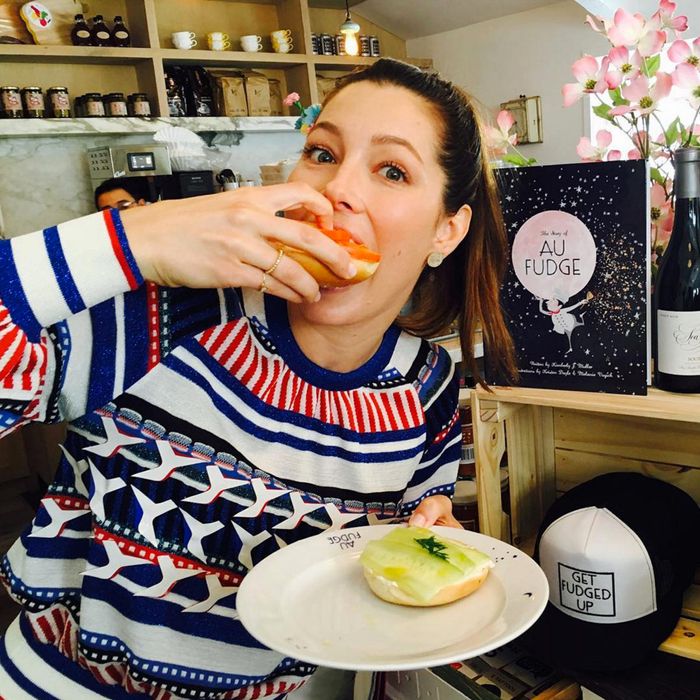 Jessica Biel at Au Fudge.
Photo: jessicabiel/Instagram
At some places, it's fine to drink alone (airport; bathtub). At others, it's frowned upon but ultimately understood (cemetery). At Au Fudge, Jessica Biel's recently opened restaurant for children, it's technically legal, so I tried it last week while on a work trip to Los Angeles.
I first heard about Au Fudge (like Oh Fuck) two-and-a-half years ago, when Page Six dubbed the developing project a "Soho House for kids." At the time, Jessica Biel was not yet a mother, and I was not prepared for how much I would come to know about her hopes and dreams for this restaurant. In the intervening months, I followed along as People.com produced Pulitzer-level reporting on Biel and her partner Estee Stanley's struggle to get the business off the ground (Their first chef quit! They couldn't get commercial permits!). I read countless interviews in which Biel described the concept as a "community clubhouse" and "a place where you bring your kids or your girlfriends." I learned in Vogue that Au Fudge would have an onsite "creative space" staffed by "au pairs" where children could play while their parents enjoyed $14 cocktails with names like "MILF" and "First Base." I celebrated the birth of Biel's first child with her husband Justin Timberlake and watched as the official Au Fudge Instagram account turned increasingly, disturbingly sexual.
Au Fudge finally opened in March, and I breathed a sigh of relief as The Daily Mail published paparazzi photos of Charlize Theron, Alessandra Ambrosio, and Tori Spelling marching their children into the West Hollywood establishment. Jessica, you did it, I thought. When I arrived in LA last Monday, it was the first place I went, despite the fact that I was childless and alone.
I showed up at 6 p.m. to a relatively empty restaurant: There were a few young families enjoying early meals inside and a group of moms near the bar in the back. A petite hostess dressed in a baby-blue pinafore led me past the indoor treehouse to a table on the white, Anthropologified patio, after I explained to her that yes, it was just me. I sat staring at the pink-printed menu for approximately 14 seconds before my waiter, Conor, arrived to explain it to me. With a voice similar in timbre and pace to Kenneth's from 30 Rock, he described the chicken nuggets ($15) as "just like Chick-fil-A's," the vegan Caesar salad ($18) as "out of this world," and the First Base cocktail ($14) as "my favorite."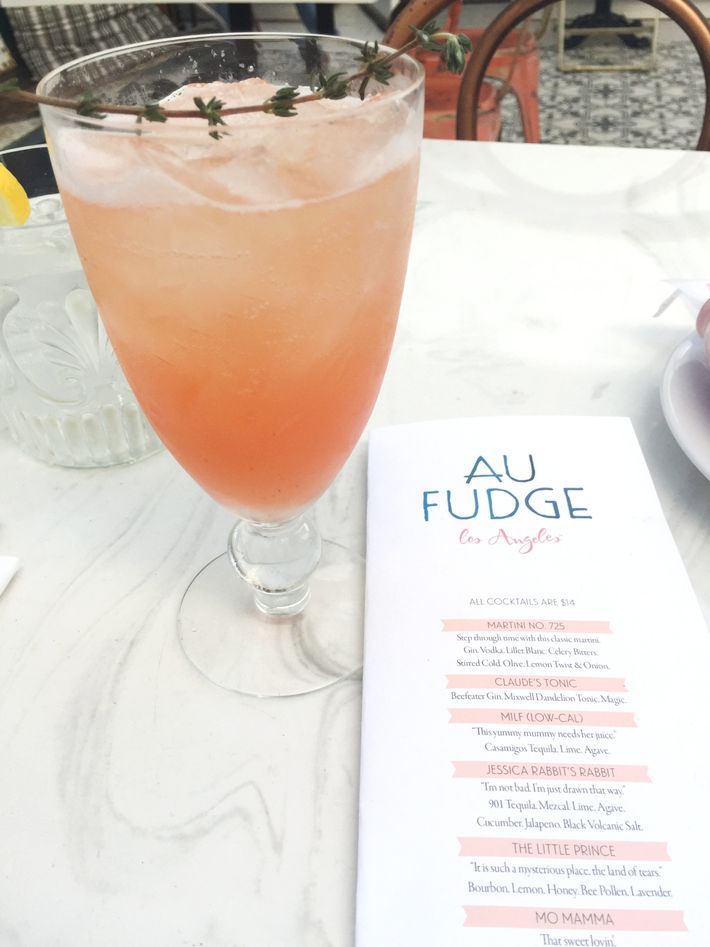 Feeling an immediate kinship with my new Au Fudge mentor, I ordered the First Base. It contained vodka, sparkling wine, and (I assume) 6 packets of Sweet'N Low. My favorite.
Shortly thereafter, a young mother wearing a tie-dyed headband, oversized green army jacket, and fresh lip injections sashayed onto the patio. Her hip-looking friend and two hipper-looking blonde toddlers trailed closely behind. There was drama immediately.
As the foursome settled into a booth six feet away from me, the hostess revealed that, unfortunately, the "creative space" was closed for the evening. "No," gasped the mom, whom I'll call Paige. "You're kidding," said the friend, whom I'll call Courtney. "AaaahhhhHHH," wailed the toddlers, whom I'll call Jade and Rivers, because I feel in my heart that those are their names.
In a low voice that suggested a recent Spirit Light, Paige told her children to "pipe down," lest they be removed from the restaurant. Jade quieted, hiccuping; Rivers found himself a new seat under the table.
I sipped my First Base, which, in addition to sugar, seemed to contain about four standard units of alcohol. For sustenance, I ordered the iceberg salad ($15) and truffled grilled cheese sticks ($12). Conor brought me Au Fudge's house-made spicy ranch on the side, because he knew I'd "love it." I did!
Biel told Vogue in March that she "approached this business from the perspective of what someone without kids would want in their favorite restaurant." So far, Au Fudge had everything I wanted: booze, cheese, sugar, role models. I watched as Paige and Courtney ordered two rounds of Second Bases (that's Au Fudge for doubles) in quick succession, while Jade and Rivers tucked into corn lollipops ($10). The children then decided to try to sit in every seat in the patio, which seemed like fun. "I'm here!" cried Jade, as she took up residence at an empty table across from mine. "I'm here!" yelled Rivers, from a cornflower blue cushioned seat closer to the treehouse. "I'm on the phone," said Paige to Conor, when he came to refresh their drinks. (She was on the phone.)
In order to spend more time with my new fudge family, I ordered dessert: the monkey bread ($14), another Conor favorite. It tasted like a hunk of brown sugar dipped in ice cream ("vanilla crème anglaise.") I debated trying another cocktail, but I didn't want to say "MILF" out loud. Rihanna's "Work" blared over the stereo, which I decided was a good message for Jade and Rivers. Corn lollipops don't come free. (They're $10.)
My bill came to $74.95.
While I waited for an Uber, I perused the "marketplace" at the front of the restaurant in a perilous state of slightly sloshy sugar high. It looked like the front of a Cracker Barrel, except instead of oven mitts and Americana pepper shakers, there were tiny bottles of artisan jam ($12) and toothpicks ($9.50). I stopped myself from buying an Au Fudge–branded infant onesie (you never know!) and skipped outside to grab the Uber. Then: Oh! I forgot my jacket. I returned to the patio, said goodbye to Conor one last time, and then ran back outside to find four stiletto-wearing 40-somethings stumbling out ahead of me and into my Uber. "Tight squeeze!" yelped one as they piled in.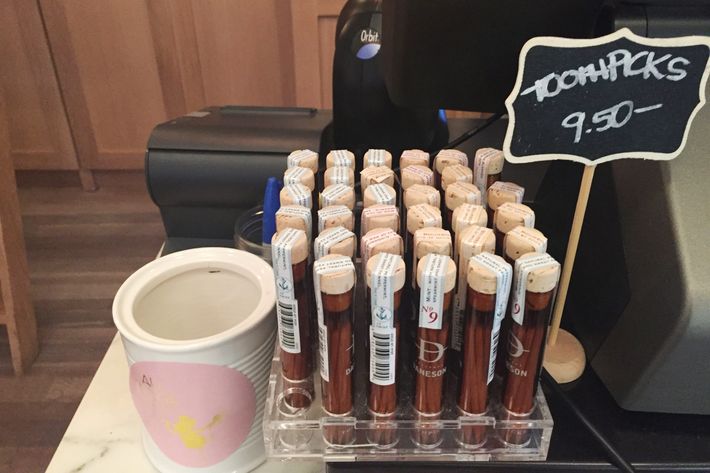 Paige and company remained inside, perhaps forever. When I left, Rivers was back under the table and Paige was still on the phone.
Ten minutes later, in a new Uber, the driver asked me if I worked at Au Fudge. "Just checking it out," I explained. "That's Bateman's wife's place, huh," she said. I told her Jessica Biel owned it. "Right, Bateman's wife," she concluded. "Bateman's wife," I agreed.
I would love to go back.