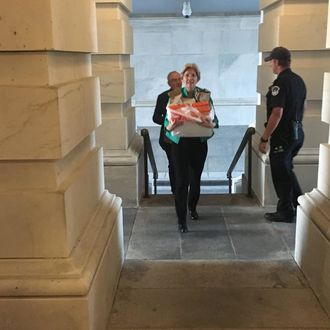 As the Democrats continue the sit-in that they began Wednesday morning to force a vote on two gun-control measures, it would be foolhardy to assume they've done it without a little fuel. Wednesday night at around the nine-hour mark, Senator Elizabeth Warren shouted to the room that she'd brought doughnuts. Now that's the spirit of democracy.
Warren tweeted to her followers, since she's a Massachusetts girl, these doughnuts wouldn't be any old D.C. doughnuts, but Dunkin' Donuts, which hey — doughnuts are doughnuts. I don't think anyone is complaining. It was also Warren's birthday yesterday. What kind of woman buys doughnuts for people on her own birthday?
As of 3 a.m., Republicans voted to adjourn the House while Democrats stayed for their sit-in. Guess America truly does run on Dunkin'.