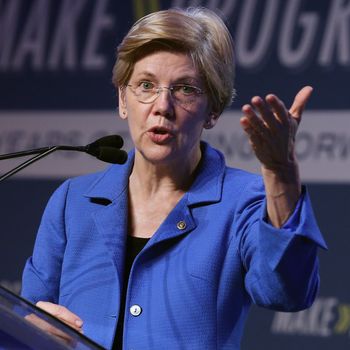 She's beating Trump at his own game.
Photo: Chip Somodevilla/Getty Images
Just a day after her advisers said she'd endorse Hillary Clinton "soon," Elizabeth Warren made good on her promise during an appearance on The Rachel Maddow Show Thursday night. "I am ready to get in this fight and work my heart out for Hillary Clinton to become the next president of the United States and make sure Donald Trump never gets any place close to the White House," she said, calling Clinton a "fighter."
Warren did some punch-throwing of her own Thursday night: Just hours before endorsing Clinton, she gave a speech at the American Constitution Society's annual convention in Washington, D.C., where she had some — ahem — choice words for the presumptive GOP nominee.
"Trump is criticizing Judge Curiel of following the law instead of bending it to suit the financial interests of one wealthy and oh-so-fragile defendant," she said, referring to Trump's racist comments about the judge overseeing a Trump University case. She pointed out that Curiel can't respond to the attacks because he's bound by the federal code of judicial ethics. In other words, "Trump is picking on someone who is ethically bound not to defend himself — exactly what you would expect from a thin-skinned, racist bully."
But she didn't stop there — Warren went on a full-scale anti-Trump rant, drawing the kind of cheers that only come from an audience watching someone being well and truly dragged:
What kind of a man is Donald Trump? Donald Trump says Judge Curiel should be ashamed of himself. No, Donald, you should be ashamed of yourself. Ashamed for using the megaphone of a presidential campaign to attack a judge's character or integrity simply because you have some god-given right to steal people's money and get away with it. You shame yourself and you shame this great country. Donald Trump says, they'll look into Judge Curiel because what Judge Curiel is doing is a total disgrace. No, Donald, what you are doing is a total disgrace. Race-baiting a judge who's spent years defending America from the terror of murder and drug traffickers simply because long ago his family came to America from somewhere else? You, Donald Trump, are a total disgrace. Judge Curiel is one of countless American patriots who has spent decades quietly serving his country, sometimes at great risk to his own life. Donald Trump is a loud, nasty, thin-skinned fraud who has never risked anything for anyone and who serves no one but himself. And that is just one of the many reasons he will never be President of the United States.
Does anyone else have goosebumps?