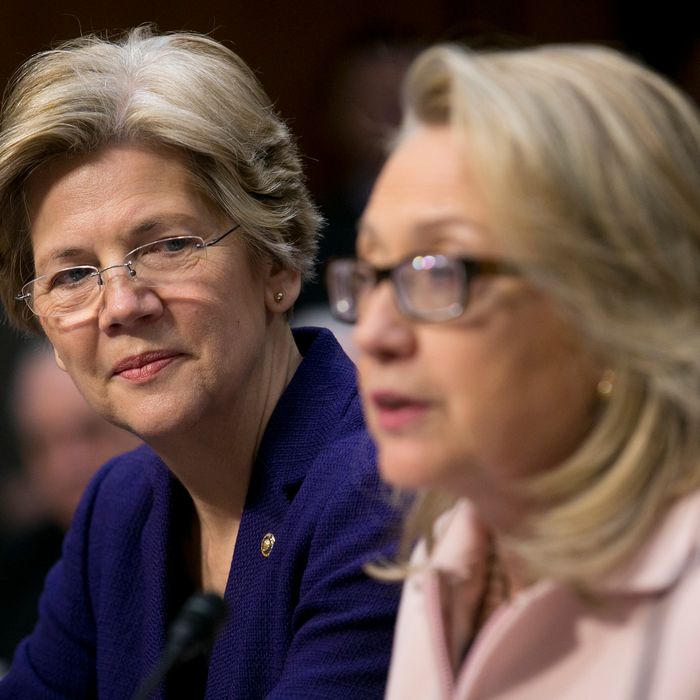 Dream team.
Photo: Bloomberg/2013 Bloomberg
In the fight against Donald Trump, Senator Elizabeth Warren has been one of Democrats' best weapons. She's pummeled the presumptive GOP nominee on Twitter and in speeches, calling him a "small, insecure money-grubber" and suggesting America "throw [him] down the drain." However, she's stopped just short of choosing a Democratic candidate to openly endorse.
But Hillary Clinton's decisive victory on Tuesday seems to have changed her mind, Reuters reports. According to "several sources" close to her, she's planning to endorse Clinton "within a week or two." And although she's not currently interested in serving as Clinton's running mate, she still "hasn't ruled it out."
Meanwhile, "very influential people" within the Clinton campaign are reportedly pushing for Warren to take her endorsement a step further and become Clinton's running mate. "You want a running mate who can take the fight to the other side with relish," one Clinton insider said of Warren. If Warren were to accept the role, not only would she potentially bring progressives with her, but she'd also be half of a historic two-woman ticket.
But in an interview with ABC, Clinton wasn't dropping any hints about her VP pick. When asked if she thought the country would be ready for an all-female ticket, she said simply, "I think at some point. Maybe this time, maybe in the future. But we're going to be looking for the most qualified person to become president should something happen to me, if I'm fortunate enough to be the president."