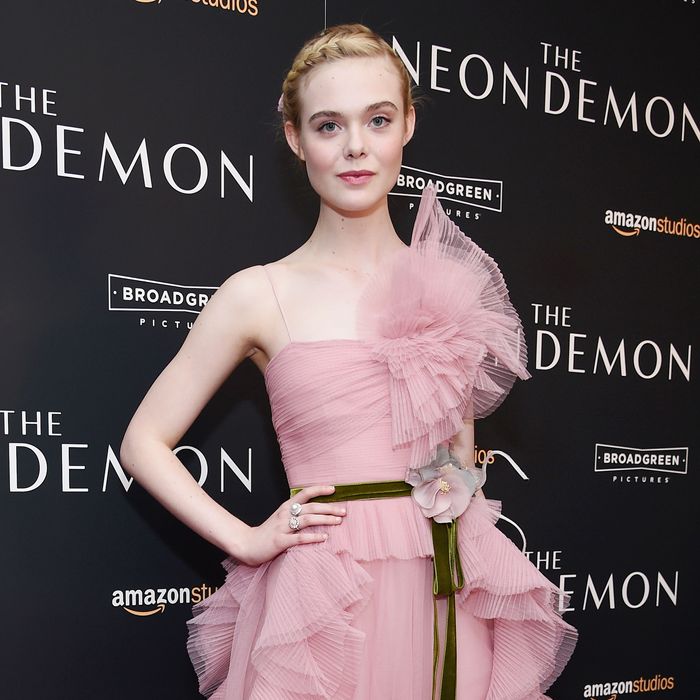 Elle Fanning at the Neon Demon premiere.
Photo: Dimitrios Kambouris/Getty Images
The Neon Demon, the latest film from Danish auteur Nicolas Winding Refn (Only God Forgives, Drive), stars Elle Fanning as Jesse, an aspiring fashion model newly arrived in Los Angeles, with a backpack full of fearless naïveté.
But Fanning, herself, is no stranger to the industry. She attended her first show at 13, and appeared in Opening Ceremony's spring 2015 presentation, so her prep was straightforward.
"[I] ate a lot of kale," Fanning told the Cut last night at the film's New York City premiere at Metrograph. "We were all trying to stay kind of fit for the movie, so they had a lot of kale on set — it was like eating lean. Me and Jena [Malone] would also do almond butter and green apples. That was our thing. I love that."
But in the cutthroat world of high fashion, kale and green apples aren't enough to satisfy anyone's appetite for long. Taking a page from Machiavelli, the film suggests the only way to succeed is to eat or be eaten, and the bigger fish you consume, the better your own chances of stardom. So we had to ask, if Fanning could eat anyone in the fashion industry, who would it be?
"Oh my god! Anna Wintour!" she says, laughing, at the backhanded compliment. "She's a very powerful woman, for sure, and she knows a lot of people."
How would you do it? We asked. Fanning laughed. Her publicist stopped the question.