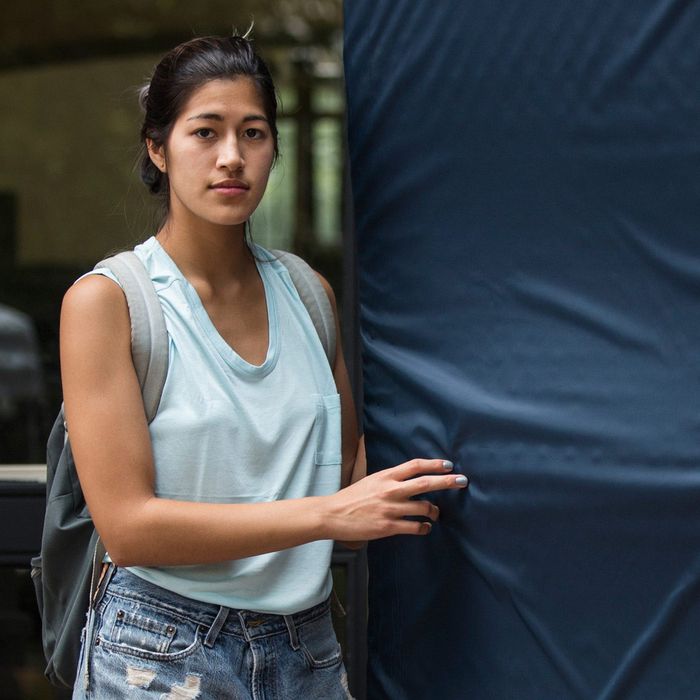 Emma Sulcowicz
Photo: Andrew Burton/Getty Images
Emma Sulkowicz, the former Columbia student who became known as "mattress girl," was recently awarded the 2016 Woman of Courage Award by the National Organization for Women.
Sulkowicz gained international fame for her senior thesis, Mattress Performance (Carry That Weight), in which she carried her 50-pound dorm-room mattress from September 2014 through May 2015 to protest the verdict that found her accused rapist not guilty. When she posted a photo of herself with the award to her Instagram, she also used it as an opportunity to include part of her speech, which called out cultural critic Camille Paglia. Paglia had harsh words to say about Sulkowicz's project — including calling it "a parody of the worst aspects of that kind of grievance-oriented feminism" — in a 2015 interview with Salon. Sulkowicz wrote:
Camille Paglia has publicly called my artwork a "masochistic exercise" in which I neither "evolve" nor "move-on." She speaks as if she, a white woman, knew what was best for me, a woman of color she's never met. Many people ask me how I've "healed" from my assault, as if healing were another word for "forgetting about it," "getting over it," or even "shutting up about it." To expect me to move on is to equate courage with self-censorship. The phrases—suck it up, move on, and get over it—are violence.
She went on to dedicate the award to "everyone who has not told me to get over it."