Everything You Need to Know About Today's Gucci Cruise Show
Photo: Venturelli/Getty Images
This cruise season, the fashion caravan of traveling editors, bloggers, and models has descended upon London. Dior presented its resort 2017 show on Tuesday in the city's stately Blenheim Palace, and today, Gucci made its cruise outing with a 97-look show held in the cloisters at Westminster Abbey — the first time a runway show was ever held at the historic Gothic church.
The stone hallways of the Cloisters, once used by monks for meditation and private study, were filled with creative director Alessandro Michele's signature codes: lace, denim embroidered with snakes and flowers, bows, and lots of loafers and platforms. Big-name celebrities appeared in Gucci looks: Elle Fanning wore a '60s-esque minidress with a ruffled spread collar and towering heels. A$AP Rocky sported a printed bomber jacket, and Alexa Chung arrived in a pretty pink chiffon dress. Soko (who took over Gucci's Snapchat for the day) entered the space in a metallic floral floor-length gown.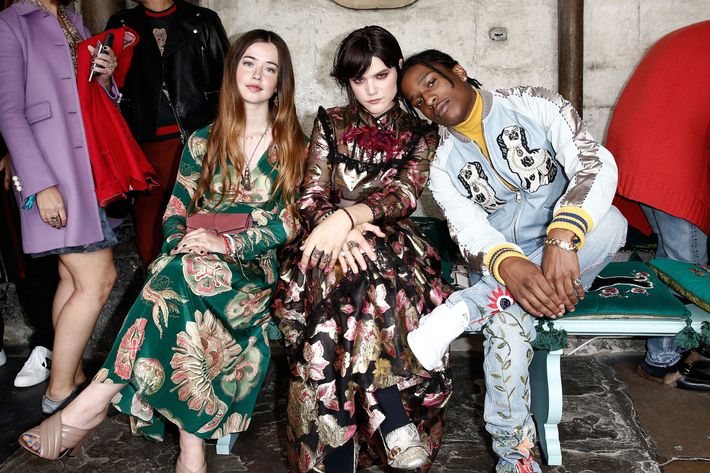 The invitation bore two bulbous, snake-twined eyes through which viewers could see cinematic scenes of Westminster Abbey's vaulted arches and glass windows.
Green-velvet pillows with various Gucci embroideries (more snakes, leopards, and dogs … the animal kingdom is big here) marked each seat and made for a warm show experience on a drafty June day. After the show, attendees kept the pillows as souvenirs.
Choir music began (it was "Scarborough Fair") as the models strode out. Michele presented his take on the Union Jack and other British signatures: tartan checks in the form of gowns and suiting; pleated skirts and punky spikes; and, of course, hats, in styles ranging from straw boaters to headscarves.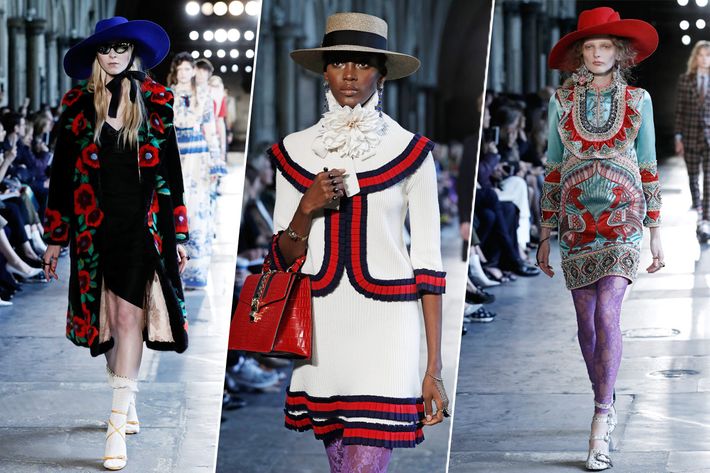 The now-iconic Gucci loafers were still prevalent, but some new shoe styles made an appearance. We liked the pointy-heeled brocade booties with buckles that snaked around the foot, while Spice Girls fans may go for the platform sneakers with rainbow-striped soles.
Quirky accents are not new for Gucci. The house offered cheeky nods to British street style, like purple lace tights, striped athletic socks paired with kitten heels, pop-color handbags covered with embroidery, and crazy intarsia furs covered with snakes.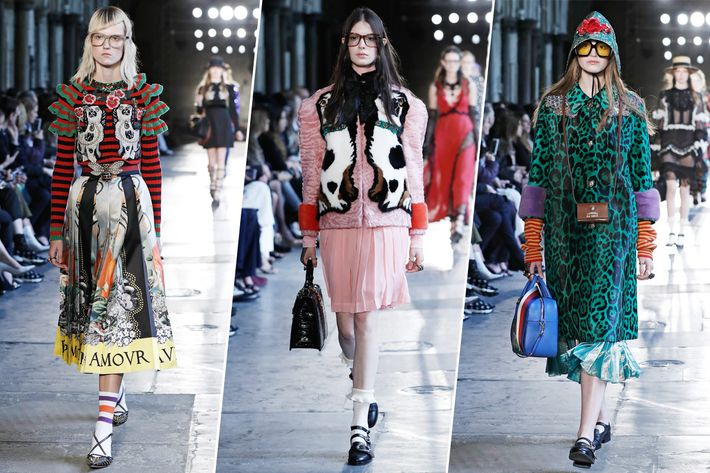 There were Über-femme mixes of sequins, chiffons, and ruffles.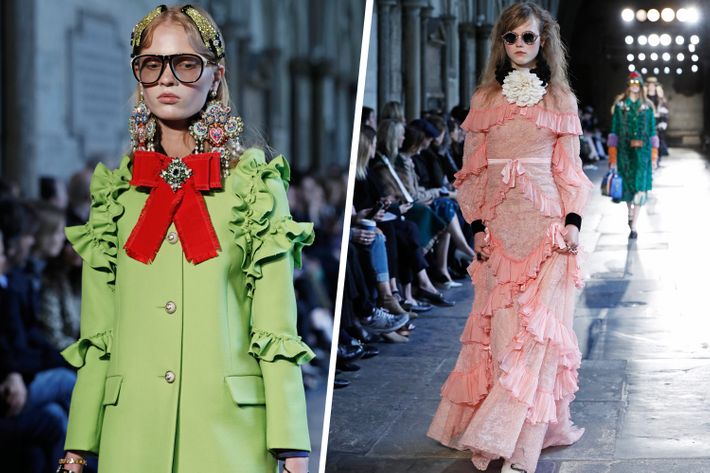 Logo tees skewed retro, while "Blind for Love" was written on shirts and the backs of coats.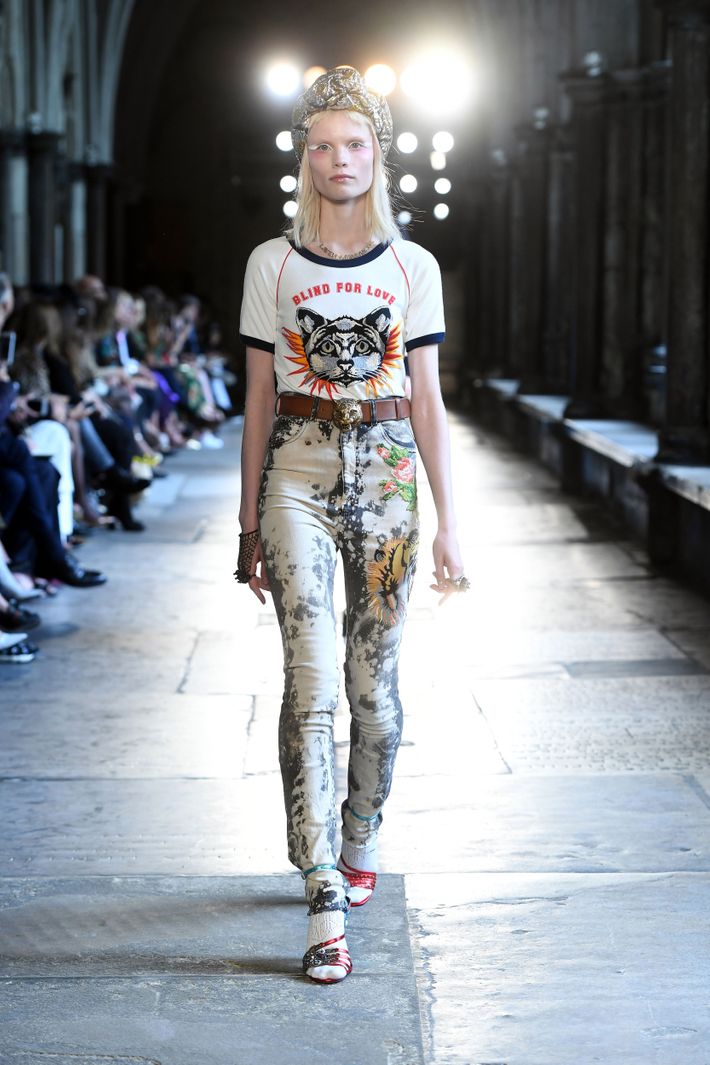 The beauty look: asymmetric bangs and quirky hair. One model wore amazing tricolor dip-dyed hair in brunette, blonde, and black.
British models Erin O'Connor and Jacquetta Wheeler made a runway appearance. O'Connor wore a black-and-red polka-dot tea dress, and Wheeler closed the show in an oversize trench.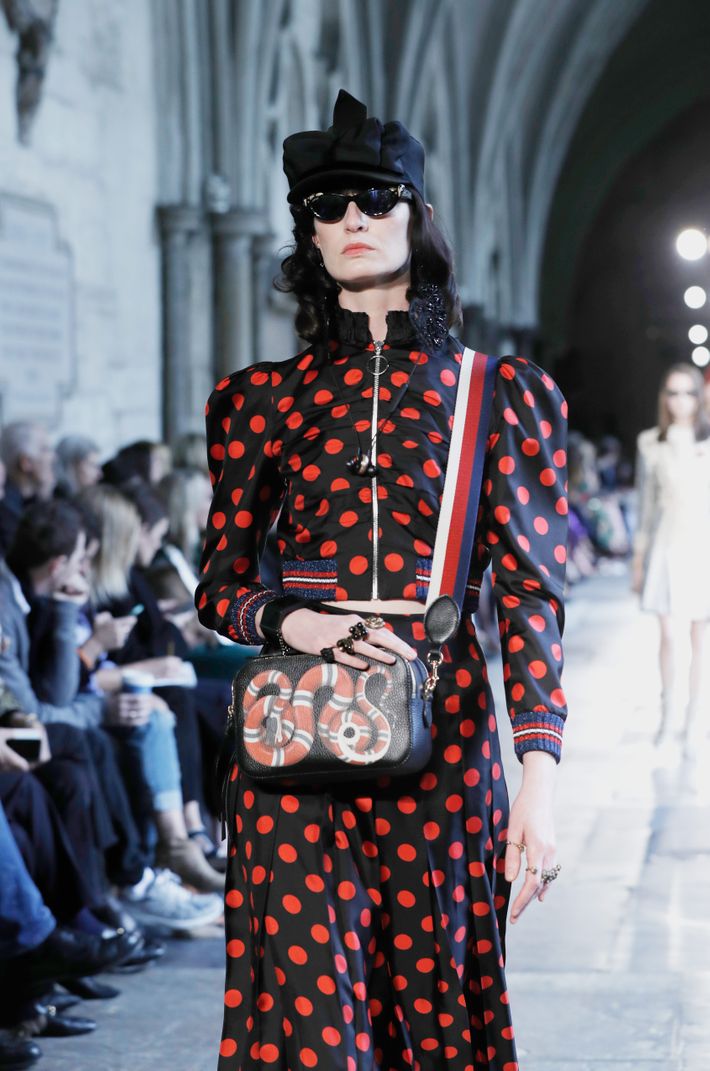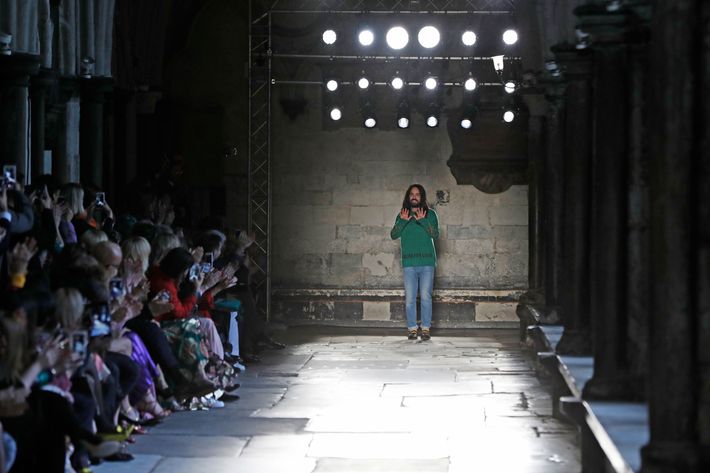 Tonight, a post-show celebration will be held and revelers will be treated to a rumored "very major" musical performance. Stay tuned on the Cut's Snapchat for more details.