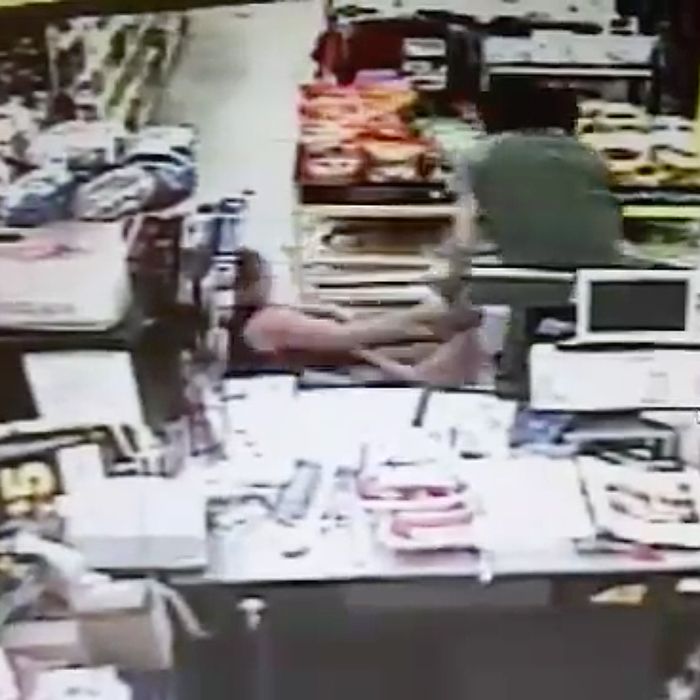 An attempted kidnapping in Hernando, Florida.
Photo: Courtesy of Facebook/Citrus County Sheriff's Office
A Florida woman rescued her teen daughter from an abductor who dragged the girl across the floor of a dollar store on Tuesday. In surveillance video the mom flings herself on top of her daughter, creating a literal tug-of-war for her daughter's life.
The video, posted to the local sheriff's office's Facebook page, shows 30-year-old Craig Bonello cruising a Dollar General aisle with a shopping cart. He stops, stretches his arms, and finds the mom and her 13-year-old daughter in the back. He grabs the girl and yanks her across the floor, hitting her head against a shopping cart while the mother chases after him.
Outside, the unnamed mom reportedly wrested her daughter from Bonello, who tried to drive away. An off-duty cop was coincidentally in the parking lot. Deputy Jonathan Behnen blocked Bonello with his patrol car and arrested him. No one was hurt.
"In my 10 years on the road I have never seen anything like this," a police sergeant said in a statement. "He truly intended to abduct this child right in front of everyone in the store."
Bonello will be charged with kidnapping and child abuse. Police records show he was arrested for trespassing a Walmart store last February. In a phone call with NBC, Bonello's uncle said he has been troubled for years and needs psychiatric help.
"Thank goodness the girl's mother jumped into action to prevent this man from kidnapping her daughter," the sheriff's office commander said in the statement. "And thank goodness Dep. Behnen used his training and experience to stop this man from escaping."