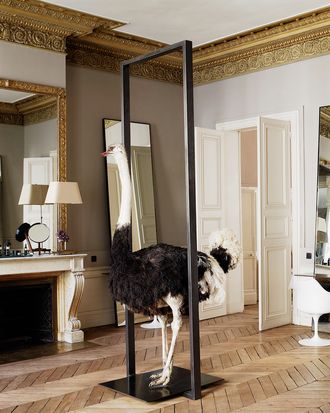 David Mallett's salon.
Photo: Courtesy of David Mallett
In Paris, you'll want to see David Mallett, whose salon in the second arrondissement of Paris draws clients like Carla Bruni and Charlotte Gainsbourg. Originally a mansion built in the 1640s, it's a light, airy space decorated with taupe herringbone floors, Eero Saarinen tulip chairs, and a regal taxidermy ostrich (who passed of natural causes). Malett describes it as a place where you could see "a princess, an actress, a model and the woman who works in the butcher's all talking and having a cup of tea." (On a visit last March, I didn't see any models or actresses I recognized, but did see a very beautiful older French lady wearing Miu Miu crystal shoes).
As an Australian who's worked in Paris for close to twenty years, Mallett is well aware of the romantic cliches that exist about French girls and French girl hair. Here he talks to the Cut about the oxymoron of undone hair and why French women don't do layers.
You came from Australia. What was the biggest difference for you in adapting to French beauty culture? How would you describe your approach to hairstyling?
I started hairdressing when I was 16. When I was 21, I won the Australian hairdresser of the year award. I then worked in London, Italy, and Paris — I came here to do a job with Lenny Kravitz for Emanuelle Alt. When I was 37, I opened the salon. I now have a 9-year-old son named Max and consider myself to be a pretty lucky guy.
My vision of hair is eclectic and super-influenced by my travels. France was the melting pot of styles and techniques. My team is super international: we have people from Vietnam, Israel, South Africa, and all over the world, and we deal with the whole world through the lens of Paris.
We decided to make the salon an original space. It's an old mansion that was built in 1640. We wanted to have a place that made people feel good and happy. We work a lot with cinemas, fashion shows, advertising, and are very involved and up to date without being dictatorial. I hate dictatorial hair stylists. Hair is meant to make you feel beautiful and beauty is very individual.
People talk a lot about the difference between the way Frenchwomen and women of other countries approach their hair. What differences have you noticed?
For me, the biggest difference is that French women wash their hair a whole lot less. I'll encounter women that haven't washed it for 10 days. At first, I was like Hmm, gross. Then I suddenly started to realize that they never had dry scalp. French women also cut their hair less often. It's about every three months, and that's plenty. In Australia, I would see them go about every 4 to 6 weeks.
The French prefer everything very subdued and muted, with no excessive highlighting. Everything is an understated, sexy, undone look. It's never like they tried too hard. When it comes to hair styling, the perfect recipe is self control and not overdoing it. It's natural but better. The cut is simple. The hair is often in a loose pony or a low chignon.
The other thing is that the French women accept movement in their hair. Sometimes, American have that flat, straightened look. To the French, they would be like, My hair looks dead. They like it to have spring, a little unruly movement and self-expression. It shows personality and freedom. They hate that flat-ironed, stuck-to-the-head look. It's very non-French.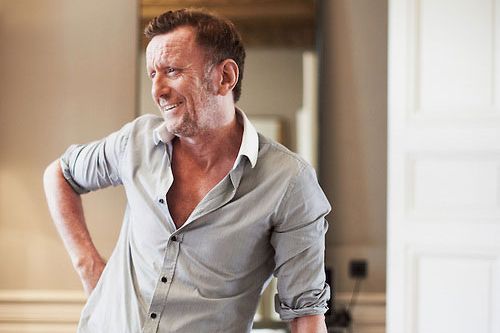 How can you tell that they think about it a lot?
Because they talk about it to me about all the time! We sit there for an hour or an hour and a half talking about how they developed their look.
French women also like their haircut grown out. After a blowout, they often say, "Mess me up so it doesn't look like I've been here." They want a messy bedroom bounce. The perfect hot iron curl — they don't find it cool. The French find themselves super cool, even if perhaps no one else does.
Do you ever think it's funny that these women with money to spend want undone hair?
Well, there's a lot done to it. We spend hours coloring it to not look like color and to make it look soft and subdued, rather than being aggressive and new. I think it's all about making a remark about yourself. Subdued is just as complicated. It takes a great deal of effort.
What's the difference between hair that looks undone and hair that actually doesn't have anything done to it?
Undone hair can just look undone and foul. Studied undone hair is like a blow dry that has been messed up. There are people who can get away with actually undone hair with beautiful texture. But I prefer undone-undone. It's a very good color, cut, and concept, with very little maintenance.
I find that in their 40s and 50s, women tend to go for more classic. The younger girls, like Lea Seydoux, they go for the tousled, overdone French things. After a certain age, it changes to suit your image. But nothing makes a woman look older than stiff blow dry. It makes them look like robots. Hair has to have life and movement. French women are connected to life. It doesn't have to be perfect.
But no frizz. I hate frizz. Anything frizzy and dry is unacceptable. And French women do not like it. They especially hate frizz around hairline or when they're on holiday, getting out of the sea or boat, and it becomes nasty and uncontrollable. So before summer, they'll often come in and do a soft keratin around the hairline so it doesn't frizz. It also makes blowdries last longer.
What would be your advice to American women who want a little bit of Frenchness to their hair?
They should stop over-layering their hair. When you over-layer, it misses thickness and fullness on the ends. I hate hair over-layering on the top, unless it's a 1980s Toni and Guy look. Keep the edges thick and thin out the hair slightly on the ends.
They should try balayage instead of foil highlights, which makes the roots less noticeable. For hair color, they should try a patina over their color, it's a transparent color wash that makes the color become more subtle and subdued.
When you blow-dry, leave a bit of bend, tie it up, and leave it out. Don't over brush your hair, and finger comb bits of it instead. Allow your hair to have a slightly worn-in look. Allow it to look a bit tousled.
Over your years of experience from working with celebrities from Natalie Portman to Diane Kruger, what have you learned about having a good relationship between a hairstylist and a client?
The No. 1 rule is that your hairdresser should never send you to the basin without talking. Every hairdresser should see you walk in and how you dress. It should be a long conversation. If you don't feel that, then leave. On that first visit, you should have a coffee and talk to them. What type of hair makes you dream? What do you hate about it? What's the worst haircut you ever had?
It's a process of elimination until I start to find what makes someone look good. Sometimes the first time, I do very little. Especially if they say "Every time I go, they cut it too short." People want to be taken seriously. Investigate your hairdresser.
If someone requests something that won't look good, I try very politely to guide them away and say I don't feel it. In the 15 years I've been hairdressing, I've refused twice.
This interview has been condensed and edited.