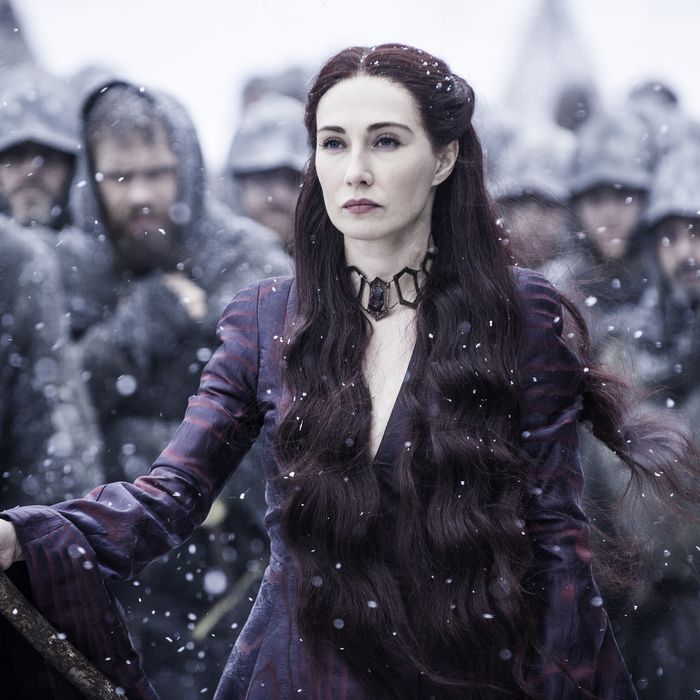 One of the biggest moments on Game of Thrones this season came when a necklace was removed. Melisandre's (Carice van Houten) big reveal came when she took off a choker, which allows its wearer to conceal her true form. According to Michele Clapton, who oversees most of the costume design on the HBO series, the choker's design was established back when they introduced her character.
"I wanted something that was so quickly identifiable with her because she's out of place," she says. "I wanted her to be really strong, so we came up with that heptagonal piece. When we first designed it, it was supposed to glimmer and flash. It became too much of an issue to do that."
It was by no means the first time jewelry has been used as a plot point on Game of Thrones or in George R.R. Martin's book series. "Costumes are so linked to the characters, and jewelry often tells a story about the [them]," explains Clapton. Poisoned necklaces have taken the lives of two of Cersei's (Lena Headey) beloved children, Joffrey and Myrcella, and it's possible that a similar scheme may be brewing as her daughter-in-law, Margaery (Natalie Dormer), turns her attention toward the High Sparrow (Jonathan Pryce). Last season, Daenerys (Emilia Clarke) left an iron-and-pearl ring as a breadcrumb for the search party she knew would come looking for her after her dragon dropped her at the feet of the Dothraki.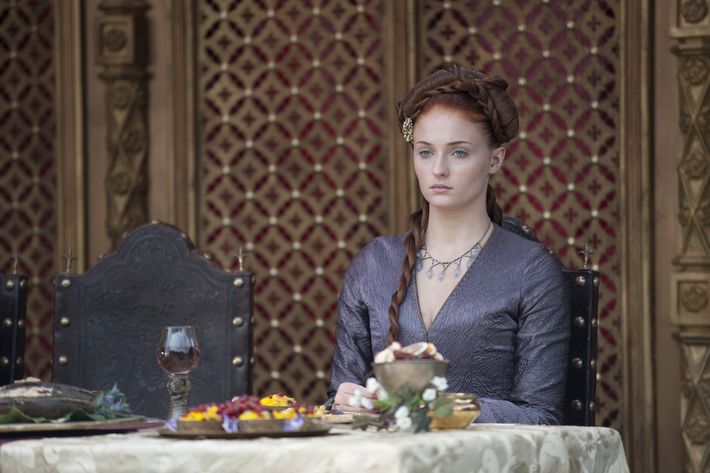 It's not always used to push a plot point forward, either — often it's to express what a character may not be able to say out loud.
"We use jewelry for Cersei a lot," says Clapton. "When she's feeling insecure, like with Margaery, for instance, she wears these big, clunky gold pieces to show that she's a Lannister and important and has status. "
Accessorizing is not limited to the female characters. The Hand of the King may periodically change, but his necklace is designed, Clapton says, to symbolize "linked hands guiding the way." Littlefinger (Aidan Gillen) wears a mockingbird pin just so to stress his self-made importance. Upon their reunion early in the series, Theon's (Alfie Allen) father chastised his last remaining son when he admits he didn't pay the "iron price" for a chain.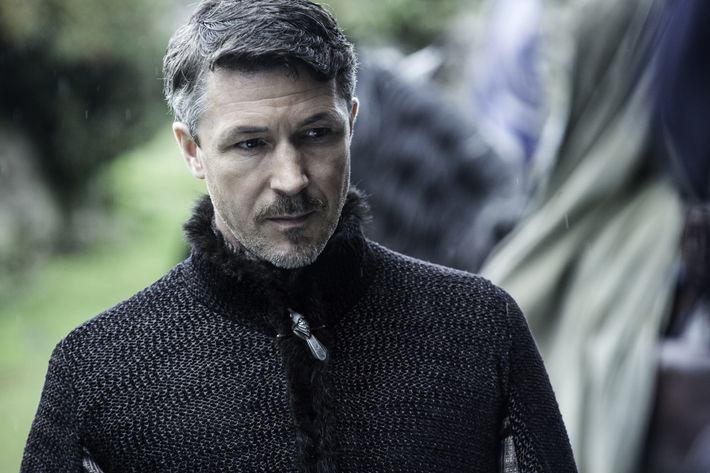 "It just sums up his whole character," Clapton says. "He's so stupid in many ways; he doesn't ever think things through."
HBO has long capitalized on fans' obsession with these baubles. It sells versions of those worn on the show on its website, and partners with designers like Pyrrha, which makes handcrafted talismans that allow viewers to pledge allegiance to one of the familial dynasties on the show.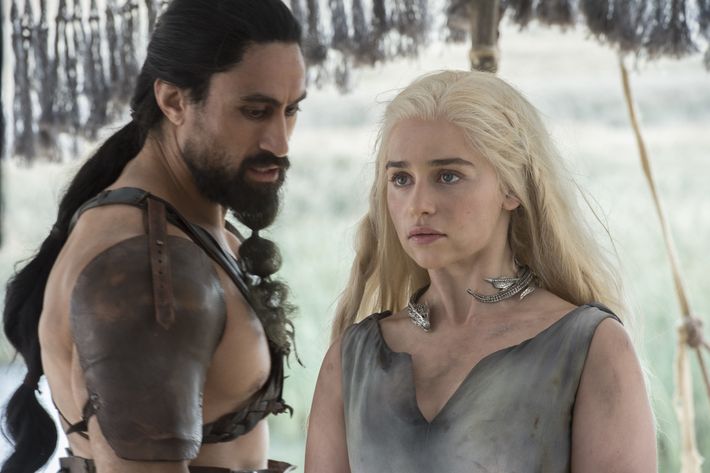 Clapton also recently collaborated with London jewelers Yunus & Eliza on a retail collection based on pieces Daenerys wears in seasons five and six. (One piece, an intricate silver dragon choker, was seen on Clarke's neck in Sunday's "The Battle of the Bastards" when Daenerys meets with Theon and Yara.) Clapton says she'd be open to doing lines based on other characters' wardrobes. And staying with the show gives her an opportunity to design the most important look of all: the crown for the victor in the game of thrones.
"I try to make each crown have some relationship to the person wearing it," she says. "One of my favorite crowns I've ever done is for someone in episode ten." She declined to say who that person may be.