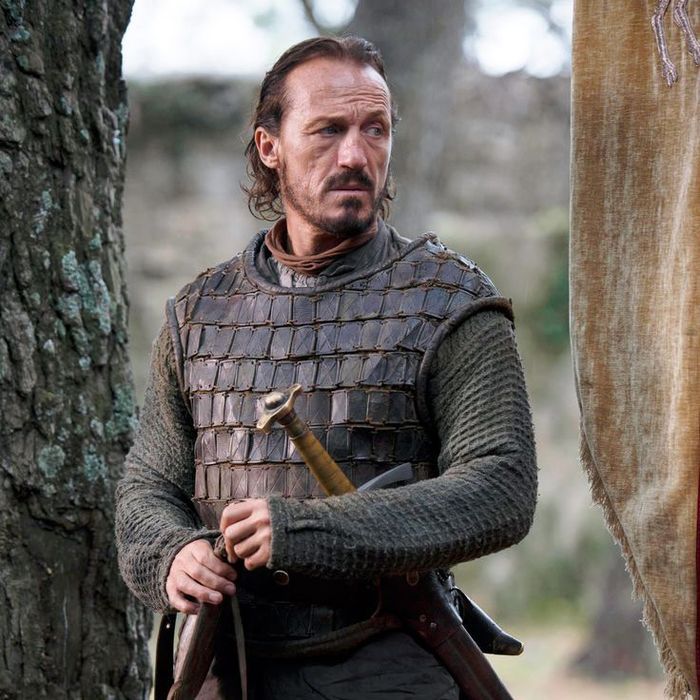 Jerome Flynn as Bronn.
Photo: HBO
Game of Thrones is always objectifying its female characters. Here is where we objectify the men right back (sorry, Kit Harington).
Ever since we lost Tywin Lannister, Game of Thrones has been pretty dull viewing for those of us who prefer seasoned men with charisma to ponytailed pretty boys. This year, we've been seeing a whole lot of the latter: prodigal son Jon Snow, indie singer Ramsay Bolton, Scandinavian hunk Jaime, Daario, Theon, Tommen, Grey Worm, Bran, etc., and very few men who can silence a room with their English-acting gravitas.
But last night was a good night for those of us who proudly hold the Silver Fox sigil (you can call us House Slattery). The Blackfish (Clive Russell), the most badass, steely-eyed patriarch since Tywin, was seriously unimpressed by Jaime Lannister and his little army (which, when coupled with Olenna calling Cersei "the worst person I've met," made this a great episode for Lannister siblings getting owned). And Deadwood star Ian McShane, as itinerant holy man Brother Ray, provided one of those rare Game of Thrones moments where the appearance of a world-class actor overshadows the story itself.
The acting on Game of Thrones tends to be hit or miss. In general, it's less individual performances that consistently stand out than specific scenes or well-delivered lines. But there's a certain class of actor — usually over 45, salty as hell, and from the British Isles — whose magnetism simply overwhelms everything else onscreen. Last night, we got that in spades.
Meanwhile, those still looking for their Charles Dance fix can find him playing the dad of Emilia Clarke's disabled boyfriend in YA weeper Me Before You. Bring Kleenex!