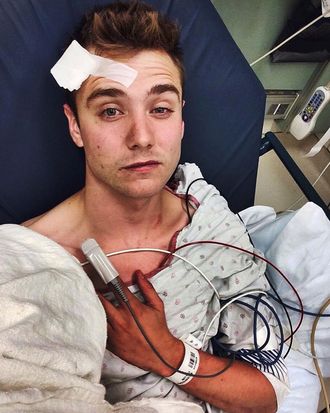 McSwiggan's hospital bed selfie.
Photo: calummcswiggan/Instagram
On Tuesday, Calum McSwiggan — an openly gay YouTube star who's known for discussing LGBT issues in his videos — posted a disturbing photo to Instagram. It showed him in a hospital bed with a heart rate monitor connected to his finger and a bandage on his forehead.
But according to the Los Angeles Times, police who arrived on the scene found no evidence the assault had ever taken place. In fact, it looks like the "hate crime" claim may have been an attempt to distract from what actually happened, which is this: Cops arrested McSwiggan at around 2:30 a.m. on Monday on suspicion that he vandalized a car. He was booked on vandalism charges and his bail was set at $20,000. As you can see in his booking photo, he doesn't have any obvious injuries.
After making several calls, the YouTube star was reportedly "observed injuring himself with the handle and receiver to a pay phone." The resulting gash to the head required six stitches and a hospital stay — which is when McSwiggan took the Instagram photo.
But McSwiggan recently posted a status to Facebook that tells a different story. According to the post, the reason McSwiggan vandalized the car in the first place was because it belonged to one of three men who attacked him outside the club, kicking him "in the body multiple times," breaking three of his teeth, and bruising his arm, shoulder, wrist, and collarbone.
"I can not say for 100% that this was because I was gay but I can't think of any other justification for this random attack," he wrote. He went on, "In a moment of devastation, anger and blind rage I kicked the wing mirror of the attacker's car until it broke and then ripped it off with my hands. I also scratched the front of the car with the broken wing mirror."
He admits to injuring himself at the police station, but says he did it to keep his father from having to post bail. "In a moment of desperation to get out of the cell, I took the pay phone off the wall and hit myself once across the forehead with it as hard as I could," he wrote. "I do not regret doing this as I could still be in the jail cell if I didn't."
Responses to his post have been mixed. "When our citizens are dying and you wanna make this about you … absolutely pathetic. You embarrass our community and I hope this judge throws the book at you," one user wrote. But another responded with, "We are supposed to be a community and still when one of us is down, we judge him." 
McSwiggan was charged with falsifying a police report; if convicted, he faces a maximum of 364 days in jail. His next court appearance is July 19.