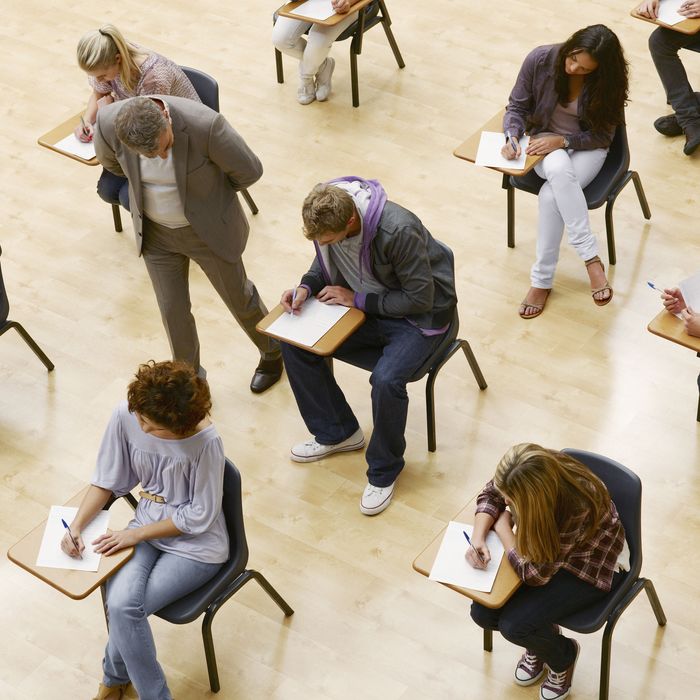 Is the SAT sexist?
Photo: Chris Ryan/This content is subject to copyright.
Ah, the bygone days of high school: long nights gossiping with friends, hanging out behind the supermarket, stress dreams over getting an SAT score that will get you into the college your parents want you to go to. Weren't they fun? While some of us wouldn't be caught dead taking the SAT again, a handful of professional SAT tutors sat down this year to get insight into how the test has changed. Believe it or not: they think parts of it are sexist.
This year, after a much-discussed revamp of the test that included no penalty for wrong answers and a return to the 1600 score, tutors found what they believe to be two questions that could have an effect on girls taking the test. In the math section, there was a chart that showed fewer girls than boys in math classes, and in the verbal section, test-takers were asked to analyze a Catherine E. Beecher essay that argues "by divine law, women have a lower station than men and wield their influence through the domestic sphere," the Times reports. The essay appears next to a counterargument by Angelina E. Grimké that says someone's sex should not limit them.
The College Board says that they do not believe the test reflects gender stereotypes that could have an impact on girls' scores, and that the new test was looked at more thoroughly to weed out stereotypes and roadblocks than any version of the SAT before it. But tutors and researchers on test-taking did not agree: An associate professor of applied psychology at NYU, Joshua Aronson, said that the Beecher passage could induce "cognitive fatigue" in girls when taking the test, causing them to labor over the passage longer than necessary.
But there is at least some hope: Aronson told the Times that in the years since he pioneered research on stereotypes in test-taking in the mid-90s, girls don't think as much about female stereotypes as their predecessors. Why would that be? "Girls are the good students now; boys are a mess," he said.