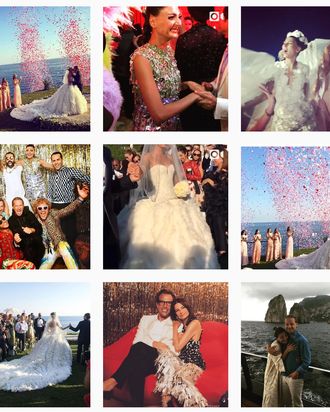 Too much. I love it!
Photo: Courtesy of Instagram
With every passing day, it's becoming increasingly more likely that I will not be getting married on Capri. When I google Capri, I am told that it is an island in the Gulf of Naples that is known for its "rugged landscape, upscale beach resorts and high-end shops selling handmade leather sandals and signature limoncello liqueur."
"High-end shops," I muse while choking back a burnt coffee. "Leather sandals," I think as I look down at my sandals (not leather). Limoncello is a drink I know about because of Danny DeVito. Did you know that Danny DeVito sells his own brand of limoncello? You do now. Limoncello is also the signature liqueur of Capri (see above). Other than that, Danny DeVito and the island of Capri have very little in common.
This little heaven on earth (pronounced Cah-Pree, not Ca-Pree) is a place reserved for the well-dressed "thems" of the world: the George Clooneys, the Beyoncés, Kim Kardashian and her mom, the people who enjoy a little "digestif" after a plate of fresh hams. It is the place where the likes of Giovanna Battaglia and her beau Oscar Engelbert chose to get married in one of the few Instagram events worthy of diligent stalking thus far this year.

Did I previously know who Giovanna Battaglia and Oscar Engelbert are? No, I did not. Did I spend one long hour on Sunday trolling the hashtag #gioandoscar in order to see what matrimony on Cahpree is like for the lavish thems and their fresh hams? No. I spent two long hours. And it did not exhaust me. It only made me stronger.
I am told by my more fashionable colleagues that Giovanna "Gio" Battaglia is a senior editor for Vogue Japan and a very close confidante of Anna Dello Russo, who was described to me as "that tall woman in the crazy clothing in all the street style photos."
You could tell me that Battaglia is the heir to the DeVito limoncello fortune and I'd believe you, but that's neither here nor there. Her many wedding outfits were captivating in their number and extravagance, her Birth of Venus–style photo backdrop was simultaneously impressive, grandiose, and a hair tacky, and when Battaglia literally donned a disco ball over her head, I knew this wedding could not be topped (and that's coming from someone who has never even been to Cahpree!). I love this bitch's wedding and I plan on recreating it, piece by piece, for a sixteenth of the price at a beach house on the shores of New Jersey (pronounced Jer-Zee). Everyone is invited to attend.
Here are the many things I found while scrolling the #oscarandgio and #gioandoscar hashtags over the weekend: the bride in at least five different "looks" (at a certain point, I lost count), guests dressed in neon-pink furs and insane head crowns (not the flower kind — Coachella this was not), glitter, sequins, and boat shoes (sometimes together), and a lot of burlesque outfits and hula hoops.

This wedding is what I imagine the movie Hail, Caesar! is like, which I cannot confirm because I have not seen it. Was the Gio and Oscar wedding inspired directly by the Coen brothers' latest film? Not saying it was, not saying it wasn't, but you can probably bet that it was. There were a lot of pin-cushion chaise lounges. I'm into it.
There is something so exciting about a wedding that goes all-in, especially when you yourself know that you will never be so up-front and brazen with details like tassels and confetti and shimmer at your own wedding, or funeral (whichever comes first). This bitch looks really happy. And wouldn't you be? You are the glitter-infested star of your own glamorous Hollywood heyday movie, one that may or may not have been directed by the Coen brothers.

I am told that "off-the-shoulder" tops are incredibly in for the summer, and there was no shortage of them at the Bat-Engel nuptials, which just goes to show that this bitch has her shit together. The bride even dangled a parasol over her shoulder in her first official wedding outfit (a dress with a train that could fit five of her friends beneath it).
In terms of weddings, no detail was spared: In one Instagram post, a chandelier appears to hang from the air. I can say for sure this was the best wedding I wasn't invited to, and that's without the guarantee that there was a limoncello toast at the end of the ceremony. You'll just have to trust me that there probably was.
Cin cin!