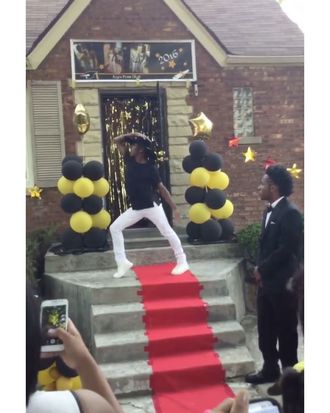 Footage of a teen slaying.
Photo: Courtesy of Facebook/Jay Scott
Some girls are okay with their prom dates picking them up by honking the horn and then meeting them at their car door. Others, like this spectacular teen, will make them sit and wait as they re-create the entirety of an iconic music video. 
One devoted Beyhive member enlisted her friends to imitate the exact choreography of Beyoncé's "Formation" video before she made a grand reveal to her date. And they totally nailed it.
The prom goddess then emerged in a stunning yellow gown, ready to take on the impromptu red carpet on her front steps with the poise of Beyoncé herself. Watch the whole thing here: