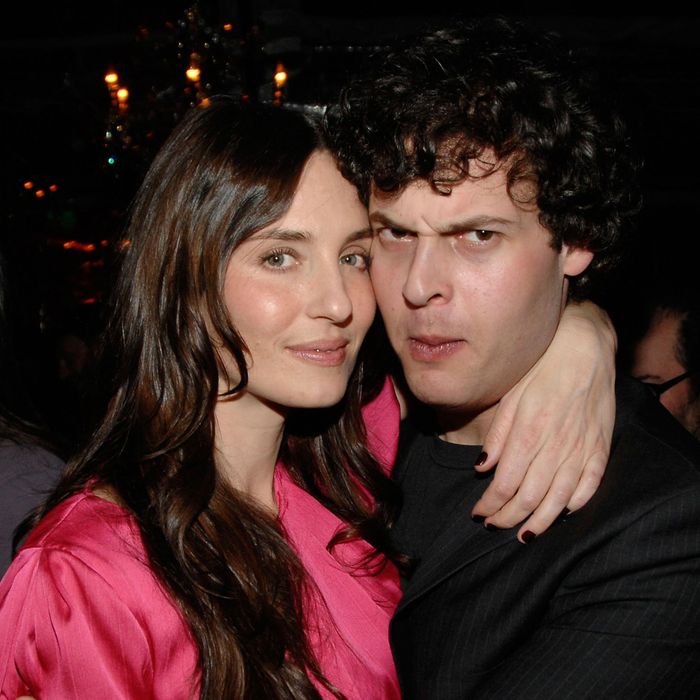 The alleged murderer Blake Leibel with another woman in 2008.
Photo: BILLY FARRELL/Patrick McMullan
Years ago a graphic novelist wrote an opening scene that chillingly came to life last month, when the man allegedly murdered his girlfriend and — just like the serial killer he created — drained her body of blood.
On Tuesday, 35-year-old Blake Leibel was charged with torturing, mutilating, and killing his girlfriend less than three weeks after she gave birth to their first child. In his novel, the killer is executed on death row. Now, Leibel could also face the death penalty.
The scion of one of Toronto's more affluent families, Leibel looked just like his father, Lorne, a real-estate tycoon and self-described "Ferrari man" who sailed for Canada in the 1976 Olympics. His mother, Eleanor, was heiress to a plastics fortune. He and his brother Cody moved to Los Angeles in 2004, where Cody took after their father and became a real-estate developer. Leibel, on the other hand, used an $18,000 monthly allowance from his parents for more creative pursuits. For a few years he wrote some misses within the entertainment industry: an animated version of the Mel Brooks movie Spaceballs; a comic-book space opera with aliens and dinosaurs at war; and a comedy called Bald, about a bald man and four blonde women in bikinis.
But in 2010 he wrote his best-known work, Syndrome, a novel about a sadistic serial killer that begins with what would become an eerily familiar scene, as reported by the Washington Post:
A television news reporter stands outside a prison on the eve of a serial killer's execution.

"Why are you here, standing against the lawful sentence of this monster who preyed on women and church-going families?" the reporter asks a woman protesting the execution.

"Hold it right there," the protester answers. "How can he be a monster if he's made in the image of god?"

The graphic novel then cuts to images of the serial killer hanging a naked couple from their ankles and slashing their throats — draining them of blood.
At one point, Syndrome's serial killer describes his sexual pleasure from murderous acts. In his other works, Leibel continued to play with evil and psychopathic themes, including a screenplay about a madman on a killing spree. Then his personal life began to unravel.
Court documents after his mother Eleanor's death in 2011 show that Leibel claimed he had no financial income while supporting a wife and son, according to the Los Angeles Times. Leibel called his relationship with his father "bitter" while seeking more of his family's wealth in a 2014 court battle. That year, he also met Iana Kasian.
Like Leibel, the 30-year-old Iana Kasian was the daughter of a sailor. Born in Kiev, Ukraine, she studied law in college and worked in tax inspection before coming to the U.S. on a student visa in 2014. She met Leibel very soon after the move and was apparently captivated with Hollywood, snapping selfies in front of Hollywood's star-lined sidewalk.
Leibel filed for divorce from his wife in 2015, though the case is still pending in court, according to the L.A. Times. Kasian lived with Leibel in West Hollywood and last month gave birth to their first child, on May 3. In a recent Facebook picture, she gives a tired smile to the camera while holding the baby girl close to her chest.
After midnight on May 20, Leibel was arrested on suspicion of sexual assault and released on $100,000 bail. He wasn't charged and Kasian's friends said she wasn't the victim, but the incident seemingly "shattered" their relationship: Kasian moved out of their apartment and in with her mother, who was visiting to help with the infant.
On Tuesday of last week, Kasian went back to the apartment to talk to Leibel and never returned. A neighbor said several people in the building heard screaming but couldn't tell whether it was real or from TV. On Thursday, after Kasian's mother reported her missing, West Hollywood police found the apartment door barricaded shut with furniture and bedding. Leibel seemed "agitated and uncooperative," Los Angeles Sheriff Lieutenant Dave Coleman told reporters.
Deputies forced the door and found Kasian's mutilated dead body drained of blood — just like the victims in Syndrome's opening scene. Leibel was arrested.
The novelist appeared in a Los Angeles courtroom on Tuesday and pleaded not guilty to torture, mutilation, and first-degree murder charges. Wearing a padded suicide jacket with his hands cuffed in front of him and chains wrapped around his waist, he looked unkempt: curly hair, stubbly cheeks. At one point he trailed his finger along the windowsill.
Raising questions about Leibel's mental capacity, his attorney Alaleh Kamran prompted the judge to order a psychological evaluation. If convicted, he could face the death penalty, though prosecutors said they will decide later whether to proceed. Leibel is being held without bail and due back in court on June 14.
While Kasian's mother cares for the baby, her family is raising money online to have her body brought back to Ukraine and to fund the custody battle.